Amid third wave, candidates on campaign trail stick to safety norms
Several TMC contestants are adhering to protocols in their door-to-door campaign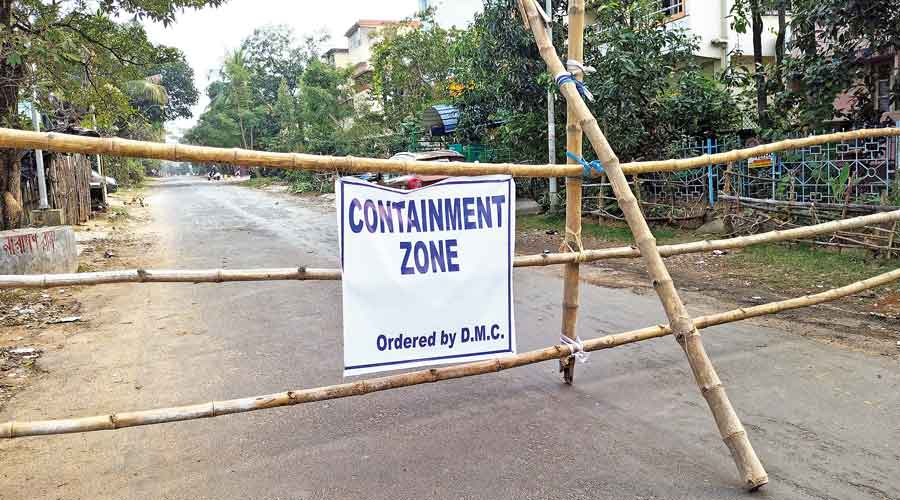 A barricade erected at a containment zone in Durgapur on Sunday.
Dipika Sarkar
---
Bolpur/Siliguri
|
Published 10.01.22, 01:44 AM
|
---
A Trinamul Congress candidate in the upcoming Chandernagore Municipal Corporation elections is incorporating Covid-19 safety protocol in the midst of the ongoing third wave in her door-to-door campaign.
Monika Mandal, 35, accompanied by one or two party workers, has been distributing surgical masks to voters who appear at their door without one. She also appeals to the voters to keep public health at the fore during the pandemic.
Mandal had lost her husband to Covid in May last year.
"I know exactly how important it is to keep people safe from the third wave. Yes, I want votes from people, but not if they are compromising their health. I always try to take measures to protect myself and also others from the virus," said Monika, who has been fielded in ward 5. The polls will be held on January 22.
Trinamul sources said Asok Mondal, Monika's late husband, was an aspiring nominee from the same ward before Covid hit.
"I have requested my party colleague not to accompany me in large numbers during the campaign as I am afraid of losing people to the virus," she added.
Nine wards out of 33 in Chandernagore have been declared as containment zones, prompting candidates to campaign using their phones or social media platforms.
Abhaya Bose, a Trinamul candidate who is in the poll fray from the Siliguri Municipal Corporation, is depending on social media to minimise visits to her voters.
"Social media allows seasoned politicians as well as new incumbents an equal opportunity to reach out to voters and interact with them on various issues and policies of our parties. We have started using social media ahead of the upcoming polls as we can not make large public gatherings because of the restrictions," she said.
Despite there being noble examples like the above two, corporation officials admitted this week that curbing poll-time activities of "most candidates" during a pandemic had proven difficult.
"We have repeatedly asked candidates of all parties to follow Covid guidelines. Those who are violating the norms will be prosecuted as per the disaster management acts," said S. Arun Prasad, district magistrate of West Burdwan, under which Asansol Municipal Corporation falls.
According to the State Election Commission's guidelines, a candidate may take only four persons during a door-to-door campaign and attendance at outdoor meetings is curbed at 250.
On Sunday, police arrested the BJP's Pursurah MLA Biman Ghosh, and the party candidate from ward 16 in Chandernagore, Sandhya Das, for campaigning with nearly 30 persons.
"Trinamul is violating the Covid protocol everyday but police are not taking action at all. All protocol is for only the BJP," said Ghosh who is also the organisational president of the party in Arambagh. Trinamul leaders in Chandernagore have claimed that the allegations of the BJP were false as the party had been conducting phone campaigns.
"We have already prepared a database of phone numbers of the heads of nearly 46,000 families in Chandernagore and the list of the numbers have been provided to all candidates according to their wards. We are aware of taking care of the voters first," said Munna Agrawal, a Trinamul candidate from Ward 31 and Chandernagore town committee president of the party.
Apart from Trinamul, the BJP and Left candidates also claimed that they were utilising social media and were campaigning over phone to avoid physical contact.
"We will digitalise our election manifesto this time and will publish it on different social media platforms. Each of our candidates will go live during stipulated slots so that people can hear them.
Considering the present situation, a good section of people want to play it safe and stay away from even smaller public meetings convened in their wards. Such online interactions can enable us to talk to them," said Saman Pathak, Darjeeling's district CPM secretary.