Alipurduar workers stuck in Bhutan return home
Calcutta social worker took up the task to draw the attention of Union foreign affairs ministry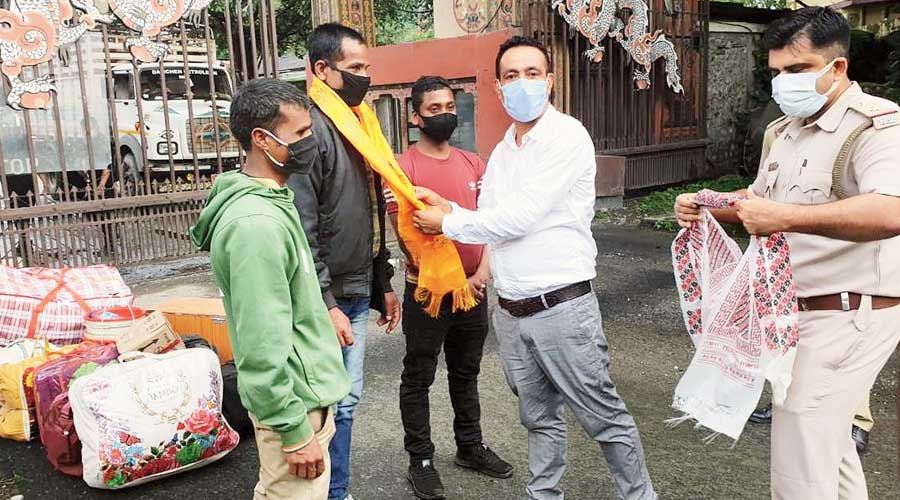 ---
---
Three youths from Madarihat of Alipurduar district, stranded in Bhutan and allegedly forced to work without pay for the past three months at a construction site,  crossed the India-Bhutan border and headed for home on Thursday, courtesy an initiative by a Calcutta-based social worker and the governments of both countries.
Sources said in January last year, masons Nur Jamal Haque, Ali Hussain and Raju Haque, who are in their late 20s, went to Bhutan with a labour contractor. They were engaged at a construction site near Thimphu, the capital city of Bhutan, and their daily wage fixed at Rs 750 for each.
"Everything was fine till December," said Ali.
Things took a turn for the worse after the labour contractor, who is also from the same district, decided to return to India for some days.
"He had told us and representatives of the construction agency that he would return to Bhutan soon. He didn't return. It was then  that we came to know he owes the firm Rs 3 lakh," Ali added.
Those in the construction firm told the trio that they will have to repay the money.
"We were dumbstruck to learn we have to clear his debt," Nur added. "We told them about our financial limitations but they did not listen. Gradually, they snatched our identity proof and other documents and from March onwards stopped paying us. We only got food and were forced to work."
Finally, the desperate trio put up a video clip on social media on May 27, narrating their ordeal.
The video came to the notice of Sadiqul Islam, an IT professional and social worker in Calcutta.  
Realising the trio were helpless in Bhutan, Islam took up the task to draw the attention of the Union foreign affairs ministry.
"The ministry acted on our information and soon contacted the ministry of foreign affairs and the ministry of labour and human resources in Bhutan. Also, officials in Alipurduar district and the Consulate General of India in Bhutan were also apprised (about the trio)," Islam said.
In Bhutan, the ministries concerned set the ball rolling. Bhutanese officials went to the construction site – Hongtsho near Thimphu – and assured the trio they would get their dues and documents. The promise was kept, said the trio.
"We are grateful to both the governments and to Sadiqul Islam," said Raju.   
On Wednesday, their Covid tests were carried out and on Thursday, they set out in a cab for Phuentsholing, the commercial capital of Bhutan that shares borders with Jaigaon of Alipurduar. Around 5pm, they reached Phuentsholing, crossed the border and entered Jaigaon, where police and Jaigaon Development Authority officials welcomed them, and headed for Madarihat. "It feels like a happy dream," said Ali.
Surendra Kumar Meena, the district magistrate of Alipurduar, thanked the Consulate General of India in Bhutan and the Bhutan government for all the help.