Actor-lawmaker Tapas Paul passes away in Mumbai
Condolences and tributes poured in from across the country soon after the news broke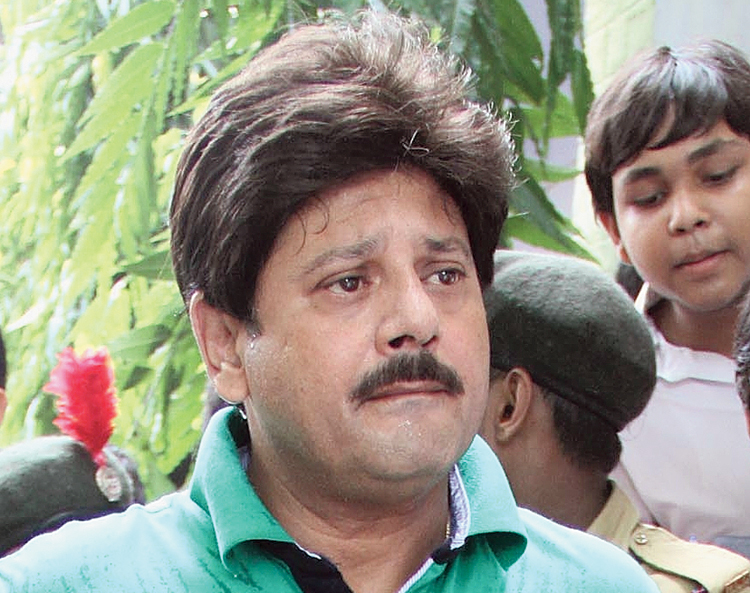 ---
|
Calcutta
|
Published 18.02.20, 07:56 PM
---
The journey of Tapas Paul, one of Tollywood's go-to lead actors of the 1980s and '90s, ended at a Mumbai hospital early on Tuesday at the age of 61.
An element of pathos in Paul's life was palpable for many who saw him make the journey from the stereotypical bhalo chheley of Bengali cinema through a chequered political career to "Chandernagore-er maal" towards the end of his public life.
The man who had spent a decade and a half as an often controversial lawmaker of the Trinamul Congress passed away in virtual oblivion.
"The loss of Tapas Paul who was one of the very first actors, I have worked with is felt by many. May God bless and comfort his family during this difficult period," tweeted Bollywood icon Madhuri Dixit, who debuted in cinema alongside Paul in Abodh.
The 1984 movie by Hiren Nag was his Bollywood debut.
Four years earlier, Paul had started his film career in Tarun Majumdar's Dadar Kirti. He acted in over 170 films — directed by the likes of Tapan Sinha, Dinen Gupta, Prabhat Roy and Buddhadeb Dasgupta — in a career spanning over three decades.
Two-term Krishnagar MP and two-term MLA of erstwhile Alipore constituency, Paul had a history of cardiac and nerve-related ailments. He had been hospitalised on February 1. His wife Nandini said he had been put on the ventilator till February 6.
"After that, he was taken off the ventilator and was in the process of getting better… Suddenly, his condition declined. He died of cardiac arrest," she said. Paul is survived by Nandini and their daughter Sohini.
Condolences and tributes poured in from across the country soon after the news broke. Residents of Choumaha in Nadia, where he had issued the infamous rape-and-kill threat on video during an election campaign in 2014, were shocked by the news of Paul's demise.
A large number of residents in Choumaha, 40km from Krishnagar, gathered around the Ashok tree — where Pal had made that statement on June 14, 2014 — and said celebrities should stay away from politics to ensure lasting adulation by the people.
On Tuesday, a group of residents of Chandernagore, his birthplace, paid homage by lighting candles in front of the one-storey house where he was born and brought up.
Born on September 19, 1958, Paul graduated in bio-science from Hooghly Mohsin College.
"Saddened & shocked to hear about the demise of Tapas Paul. He was a superstar of Bengali cinema who was a member of the Trinamool family. Tapas served the people as a two-term MP and MLA. We will miss him dearly. My condolences to his wife Nandini, daughter Sohini & his many fans," tweeted Trinamul supremo Mamata Banerjee.
He had joined her party in 2000 and remained active in it till his arrest by the CBI in December 2016 in connection with the Rose Valley deposit-mobilisation default case.
Paul's mortal remains, said a Trinamul leader, would be kept at Peace Haven on Rafi Ahmed Kidwai Road in Calcutta on Tuesday night after a visit to his Golf Green residence where those in the entertainment industry would pay their respects.
On Wednesday morning, his cortege would be taken to Rabindra Sadan, where figures from the government and politics would be present. The cortege would then be taken to the Keoratala crematorium for last rites with state honours.
As a romantic, bhalo chheley hero, he endeared himself to audiences of Bengali cinema and became a household name from his debut, going from strength to strength with films such as Bhalobasha Bhalobasha (1986), Anurager Chhowa (1986), Guru Dakshina (1987), Uttara (2000) and Mondo Meyer Upakhyan (2002).
Many in the Trinamul family recounted how his ties with the party had got weaker in the past few years, especially after his arrest, which kept him in custody — mostly at a private hospital in Bhubaneswar — for over a year.
"Tapas was among the first from the entertainment industry to join our party when it was just trying to find a foothold. He stayed — although he didn't have to — through difficult times in the 2004-2006 period and won challenging elections. But he lost relevance towards the end," said a source.
Other than a public act of defiance by a group of Trinamul leaders at an Amherst Street event in 2013 against how the party was being run — their ire was mainly against then de facto Number Two Mukul Roy, who is in the BJP now — Paul was unflinching in his loyalty to Mamata, said a senior Rajya Sabha member.
According to him, till Paul's arrest, the Bengal chief minister often got angry with the actor-lawmaker but always got around to forgive him.
"Even after the Choumaha video from that 2014 campaign came to the fore, she had asked — in a virtual act of defence — if she should kill him for the lapse," the MP said.
Filmmaker Tuhin Sinha, with whom Paul was working in what turned out to be his final film, titled Banshi, said he was very keen to return to his first love.
"He kept saying that he was yearning to be an obhineta (actor) once again, from a neta (leader)," he said.