Debts of gratitude from places as far apart as Rome and Siliguri have blended in Darjeeling to serve up the possibility of a restaurant that will be run by the young.
The plan for the restaurant was announced in Darjeeling on Wednesday when a businessman addressed students who had been handed certificates after being trained for three months to be multi-cuisine chefs and general duty assistants (nurses).
It was the latest serendipitous milestone in a long chain of events dating back to the Elizabethan age and laced with love, loss, palace intrigue and merciless retribution. Possibly unknown to itself, Darjeeling was swept up into the tide of seemingly unrelated occurrences in Rome 126 years ago, in 1893.
That was the year Babington's Tea Rooms, one of several iconic teahouses in Rome, opened at Via Due Macelli. The first tea it served was Darjeeling Tea.
That nugget of information was passed on from generation to generation and reached Chiara Bedini, the fourth-generation owner of Babington's.
A year ago to date, Bedini met Anneysha Ghosh, director of Hausos Ventures, a Hyderabad-based consultancy, through a common friend. The meeting on July 10, 2018, in Rome discussed a collaboration to impart skill-development training to youths in Darjeeling.
The idea of skill-development courses on multi-cuisine chefs and nurses in Darjeeling germinated at that meeting. The course was funded by Bedini, who wanted to give back something to the hill station whose celebrated tea had been served at Babington's.
"My great-great-grandmother, Isabel Cargill, and her friend (Anna Maria Babington) came to Rome and started Babington's Tea Rooms in 1893. The first tea they served was Darjeeling Tea," Bedini said on Wednesday in Darjeeling, where she had come to hand over certificates to students who had completed the skill-development courses.
Heartbreak had brought Isabel to Rome. Isabel, whose father founded the city of Dunedin in New Zealand according to the Babington's website, had travelled all the way to England to marry the man she loved but was spurned. She then went to Rome with Anna Maria, a descendent of Anthony Babington, who was hanged for plotting against Queen Elizabeth I.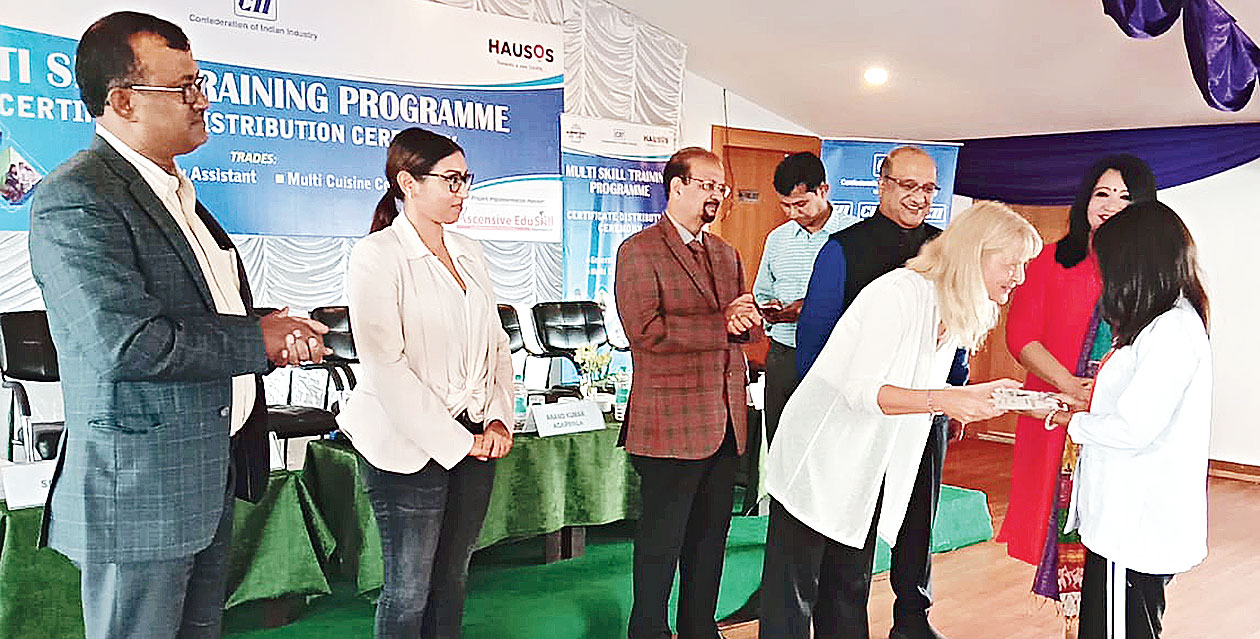 Chiara Bedini, the owner of Babington's Tea Rooms, hands over a certificate at the valediction ceremony in Darjeeling on Wednesday as consultant Anneysha Ghosh (second from left) looks on Telegraph picture
The two friends pooled in £100 and started Babington's Tea Rooms at Via Due Macelli where the flourishing English community would sip tea and read newspapers.
The venture was a success and within a year the teahouse moved to Piazza di Spagna at the foot of the Spanish Steps near the fountain of Bernini.
"Tea was then only available in pharmacies and sold as medicine," said Bedini.
Bedini said she and Ghosh worked on a plan to collaborate with the Confederation of Indian Industries (CII) to impart skill-development training to youths from Darjeeling.
In a year, 50 students were selected and trained for three months to become multi-cuisine chefs and nurses. Many of the students have already received offers to work as trainees at restaurants.
Naresh Agarwal, a former CII chairman who was at the validation ceremony along with Bedini and Ghosh, told the students in his address to form a group of 10 or 12 and set up a multi-cuisine restaurant in Darjeeling, which he promised to fund.
"I am from Darjeeling and am settled in Siliguri. I want to give back something to my place," said Agarwal.
"The restaurant will be named Bedini's Multi-cuisine Restaurant," he added.
Bedini, taken by surprise at the announcement, said: "As long as the restaurant also serves tea, it's fine with me."
The announcement by Agarwal comes at a time when Darjeeling's own administration, the GTA, has for the past one year been sitting on a promise to build a skill-development centre that would have equipped local youths to launch initiatives similar to the proposed restaurant.
After a hills business meeting in Darjeeling in March 2018, the CII had approached the GTA to set up a multi-skill-development centre. Sources said the GTA had promised help and that a building had been identified for handover to the CII for the project.
But a year on, not much has moved. Sources said the CII would approach the new GTA chairman and principal secretary afresh.