Four East Midnapore blocks submerged for two weeks
The situation is the same in Patashpur and Bhagabanpur, where over four lakh homeowners suffered damage and 65,000 persons were displaced
---
Tamluk(EastMidnapore)
|
Published 02.10.21, 01:40 AM
|
---
Residents of four blocks in East Midnapore, including Patashpur and Bhagabanpur, continued to remain flooded for almost 15 days after the Keleghai broke several of its dykes on the night of September 16 following heavy rains.
As residents cry for alleviation of their situation and immediate repairs of the breached embankments, officials of the irrigation department and the district administration have pleaded helplessness in the face of a challenge that has emerged in the form of several wooden bridges spanning the river in the vicinity of areas where the worst flooding has taken place.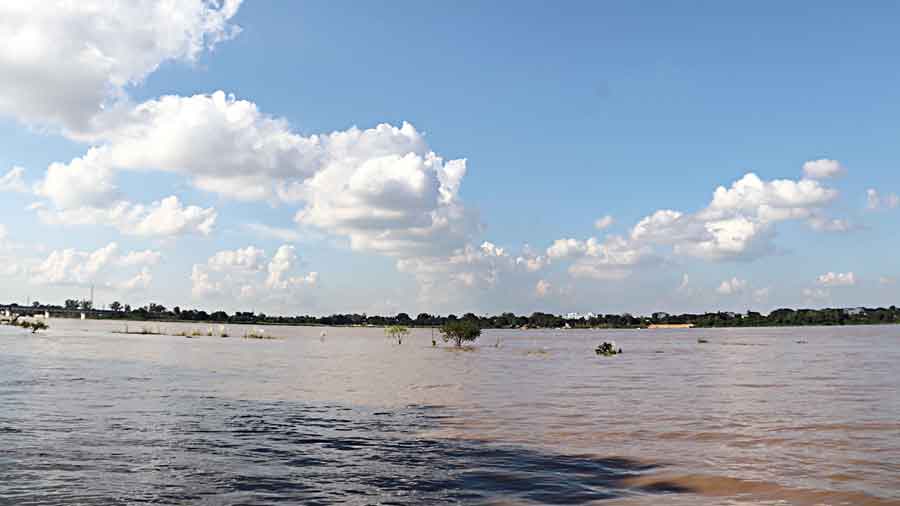 "We are only waiting for the water level to abate further because our only way to bring repair materials in now is by the river. We are prevented from doing that because of the wooden supports that these two dozen-odd bridges stand on. The wooden stilts are coming in the way of  boats that are used to ferry lengthy items such as wood and bamboo poles," said a district official, referring to the Amgechhia area where river water was as far as 200m inland as of Friday.
The situation is the same in four blocks of Patashpur 1 and 2, and Bhagabanpur 1 and 2, where over four lakh homeowners suffered damage and 65,000 persons were displaced. The district officials are also manning at least 383 relief camps in the area.
"The flooding last week was so severe that the river is taking too long to return to its former level. Till then, roads are unusable and we have to rely on rivers for ferrying supplies," Patashpur 1 block development officer Parijar Roy said.
"An additional problem is that the Keleghai is a quick-flowing river as we are lower-lying than West Midnapore and Jhargram," he added.
Irrigation minister Saumen Mahapatra concurred with the district officials, saying repairs could be commenced in a week "if good weather holds up".
"Once we found boats large enough to carry repair materials, we learned that the vessels had no way into Amgechhia owing to the bridge pillars. But we should be able to start remedial work as soon as the water level becomes normal," he said.
Sources cited an additional hurdle in the way of the Bhupatinagar police station, which has been operating out of a local school building. The police station remained marooned even on Friday.
"The panchayat cannot coordinate with them for relief materials as a result," said an official.