3 Trinamul workers killed in Bengal districts
Faction feuds blamed, but Trinamul says BJP 'masterminded' murders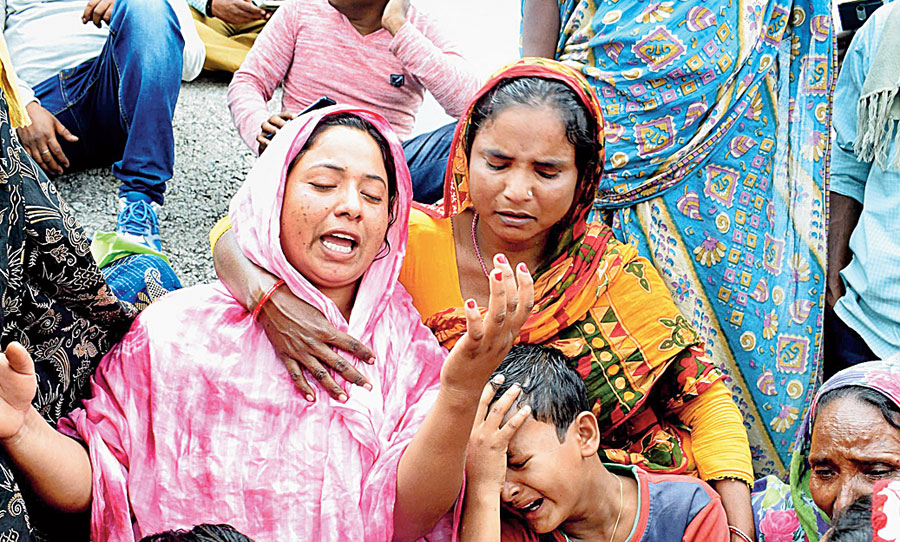 Family members of Nazimul Sheikh grieve at Murshidabad Medical College and Hospital on Monday.
(Chayan Majumdar)
---
Behrampore/Calcutta
|
Published 25.02.19, 09:08 PM
|
---
Three Trinamul workers have been shot dead since Sunday in Murshidabad's Behrampore and South 24-Parganas in murders blamed on faction feuds.
Nazimul Sheikh, 40, a local committee president of the ruling party's youth wing, was killed around 10.30am on Monday at Niyallishpara in Behrampore.
"Nazimul was going home to Musuridanga from Khagra in Behrampore town on his bike. Eyewitnesses told us that four men wearing helmets waylaid Nazumul and one of them pumped three bullets into his chest from point-blank range. The assassins sped away soon after the attack," said an officer of Behrampore police station.
Preliminary investigations indicate Nazimul used to live in a rented house at Khagra with second wife Nasrin Bibi. His first wife Golchehara Bibi, an elected Trinamul member of a local gram panchayat, lives alone at Musuridanga where Nazimul was heading on Monday morning at the time of the incident, the police said.
According to Golchehara, Nazimul used to be a loyalist of Rajib Hossain, a functionary of the Murshidabad zilla parishad. "There was a rift between the two a month ago, after which Nazimul joined Rajib's brother Soumik Hossain's group. Everyone can understand why my husband was killed," Golchehara said.
Rajib denied any differences with Nazimul. "He had a rivalry with his first wife's brothers on land issues. But I am clueless about the motive behind the murder. He was not my competitor. Why should I kill him?" Rajib asked.
Murshidabad superintendent of police Mukesh Kumar said a murder case had been started. No arrests had been made in the case till Monday evening.
In South 24-Parganas, Kartik Naskar, 26, was shot dead in Canning's Daria around 9pm on Sunday and later stabbed to ensure he was dead, said a police officer.
Kartik's wife Sabnam Naskar is the chief of the Trinamul-run Daria gram panchayat.
Residents put up a roadblock for several hours with Kartik's body on Sunday night. The blockade was lifted after the police assured the demonstrators that the culprits would be arrested.
In Kultali's Jawalaberia, also in South 24-Parganas, Trinamul youth wing leader Suraj Ali Mondal was gunned down by five bike-borne men who shot him from close range on Sunday night. Suraj was rushed by residents to a health centre in the vicinity where he was declared dead on arrival.
Trinamul leaders accused the BJP of having "masterminded" the murders. But Bengal BJP president Dilip Ghosh rejected the charges and alleged that such crimes had spiralled in Bengal because "anti-socials" had joined Trinamul.
"Everyday, there are political murders. All anti-socials have joined the ruling party and Trinamul leaders are becoming victims. There is no point blaming the BJP. The most worrying part is that even the common man is becoming a victim of Trinamul infighting, like in the case of the attempt to kill Joynagar MLA (Biswanath Das). The BJP wants to stop political murders in Bengal," Ghosh said. Das was targeted in December last year.