People can't be divided: Mamata at Nandigram
Mamata visits Nandigram for first time after announcing candidature
In the Assembly seat's 355 booths, voters total 2.53 lakh; over 69,700 voters — around 27.55 per cent — belong to the minority community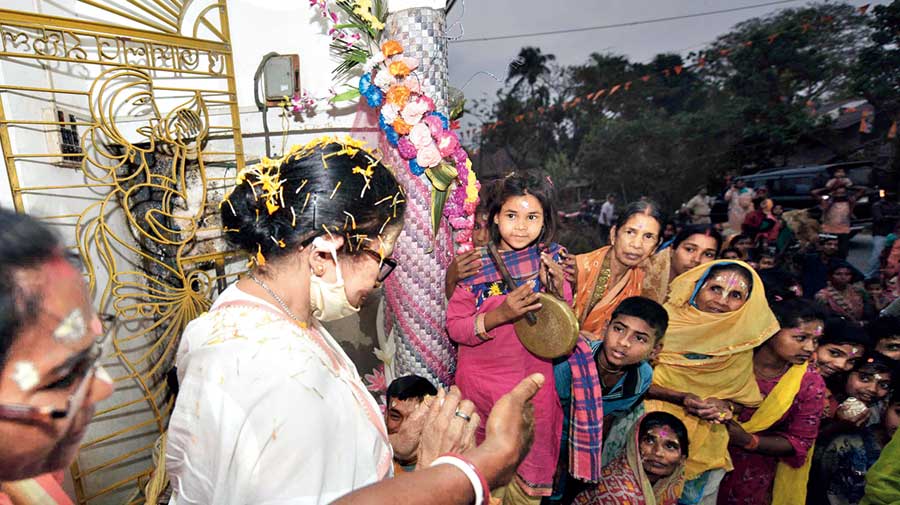 People shower flowers on Mamata in Nandigram
Telegraph picture
---
Calcutta
|
Published 10.03.21, 01:35 AM
|
---
Mamata Banerjee has chosen Nandigram to launch the second biggest battle of her life, too, taking by the horns the bull of polarisation and daring the proponents of the BJP's brand of Hindutva to compete with her in practising the true form of Hinduism.
"Some will try to break up homes, polarise, with that '70:30' concept. Do tell them that it's actually 100:0. People cannot be divided like that," Mamata said in Nandigram on Tuesday on her first visit there since formally announcing her candidature from the Assembly seat.
She did not name Suvendu Adhikari, the turncoat who has been citing a "70:30" formula — dog-whistling the approximate ratio of Hindu and Muslim voters in the Bengal electorate — implying that substantial support from the "70" would be enough to outweigh the support of the "30".
Adhikari, now with the BJP, has also been suggesting that Mamata is an outsider in Nandigram. On Tuesday, Mamata replied that a daughter of Bengal was far less of an outsider than people trying to call the shots from Delhi.
Uproarious laughter rippled through the audience when Mamata said: "April 1, that's when Nandigram votes. Make them April fools, please." 
Addressing Trinamul workers in Nandigram, Mamata said: "I have a surname too, like everybody else. That makes me a Brahmin home's daughter. Should I talk about it? Should the many leaders and workers here (both Hindus and Muslims)… talk about their last names?"
"Nandigram, you taught us… at the peak of the movement, fighting for your lives and land between the bullets and the bombs, you resisted the terror, with the sound of azaan (the Islamic call to prayer) being sounded side by side with shankhadhwani (the sound from blowing the conch shell)," Mamata said to thunderous applause.
In the Nandigram Assembly seat's 355 booths, voters total 2.53 lakh. Over 69,700 voters — around 27.55 per cent — belong to the minority community. Adhikari has been saying in his public addresses that the "remaining" 1.83 lakh voters — tacitly referring to voters of the majority community — would be "enough".
But Mamata warned: "Don't try to play the Hindu card with me. If you want to, first declare whether you are a good enough Hindu. The ideals of Hinduism are about loving the people."
Chanting several shlokas, Mamata asked: "You want to teach me Hinduism? You really want to play that game with me? Think again."
That refurbishing her Hindu credentials — deemed a necessity in the face of the saffron ecosystem's Hindutva onslaught — would form a large part of her campaign this time has been evident for some time. After her speech on Tuesday, Mamata made several temple visits, offering prayers to Hindu deities, and has lined up similar visits on Wednesday too.
She underscored how she plans to release her party's poll manifesto on Maha Shivratri, on Thursday, in Calcutta.
Mamata took time to address the other focus of Adhikari's attack.
"Some have been saying I am supposedly an outsider. I am a daughter of Bengal, even I am an outsider now? What about the people from Delhi… trying to call the shots? They are not outsiders?" she asked.
"Then I should never have been the chief minister… then I simply had no right. No outsider can ever become the chief minister here, can they?" asked Mamata, seeking to touch a raw nerve in the BJP that remains unable to go to the polls with a homegrown chief minister candidate.
The Trinamul chief directly asked the workers present at the meeting if she should withdraw from the contest.
"If you genuinely believe I shouldn't contest from here — my nomination is to be filed tomorrow — tell me, and I won't contest. I don't need to. If you think I am a daughter from your homes, born of your movement here, only then (ask me to contest)," she said to loud cheers in the affirmative.
Underscoring how easy it would have been for her to contest from Bhowanipore instead, she spent time reminiscing her long association with Nandigram and its people, especially from the turbulent times of 2006-08.
Mamata acknowledged that the anti-land acquisition movements in Nandigram and Singur had played a pivotal role in Bengal's modern history — they certainly propelled her to power in 2011 — and said she would have contested from either seat this time.
"Remember, when I came here (in January)…. I had tried running an idea by you, the people here responded overwhelmingly with positivity. Your courage, your enthusiasm, your respect, your love… it convinced me," she said.