15 acres reclaimed in bulldozer drive
It was carried out along Asian Highway 48 — also known as the Pasakha Road as it connects Pasakha, one of the transit routes to Bhutan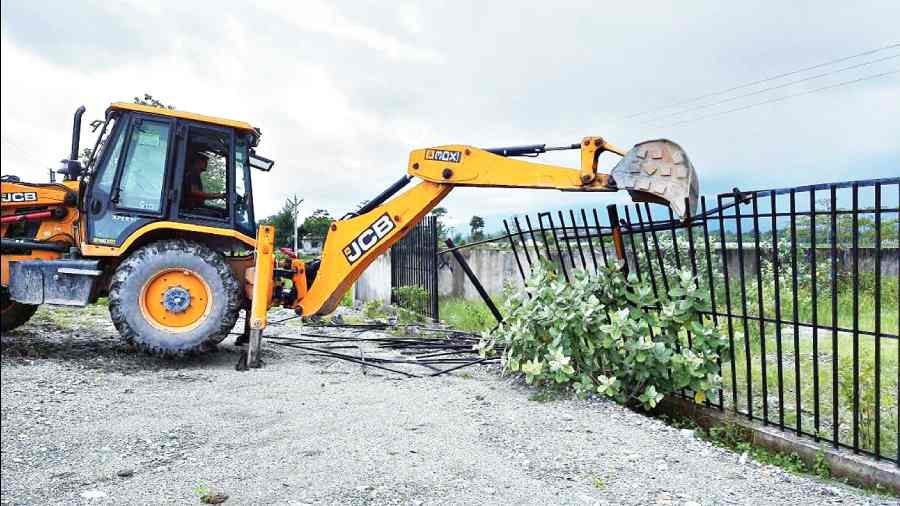 An excavator pulls down the wall of a government plot in Jaigaon on Saturday.
Anirban Choudhury
---
Alipurduar
|
Published 23.05.22, 01:37 AM
|
---
The Alipurduar district administration on Saturday demolished illegal walls and fences put around government plots to retrieve parcels of government land which have been encroached by land mafias in different parts of the district particularly in and around Jaigaon, the town that sits on the India-Bhutan border with Phuentsholing on the other side.
The drive was carried out along Asian Highway 48 — also known as the Pasakha Road as it connects Pasakha, one of the transit routes to the neighbouring country.
"Land mafias at various locations had encroached government land and raised boundary walls or put fences. We had served notices earlier but they did not vacate the land, which is why the drive was carried out yesterday to recover the land. Such drives will continue and in due course, we plan to step up vigilance by setting up checkpoints. The checkpoints would be used to keep a watch on government land and any attempt to encroach such land would be prevented," said Surendra Kumar Meena, the district magistrate of Alipurduar.
Over the past few weeks, the administration and police in different districts of north Bengal are carrying out drives against land mafias and recovering land.
In Alipurduar, there are reports that several stretches of government land have been encroached and even sold to people with forged papers.
"A truck terminus is under construction at Gotibari that is near the international border. There are parcels of government land near the terminus. A section of land grabbers are trying to grab these plots as there is a demand for plots because people want to open eateries, shops and garages near the terminus," said a source.
Meena, while speaking about the drive, said they could retrieve around seven-eight plots, all of which are unused government land.
"We could recover around 15 acres of land from both sides of the highway. The state government has taken a zero tolerance policy against the land grabbers and we will not let them illegally occupy any land, be it government or private," he added.