Sikkim talks today on BEd admission
Dissatisfied candidates allege many with lesser marks have been selected and additional quota system introduced to favour people in power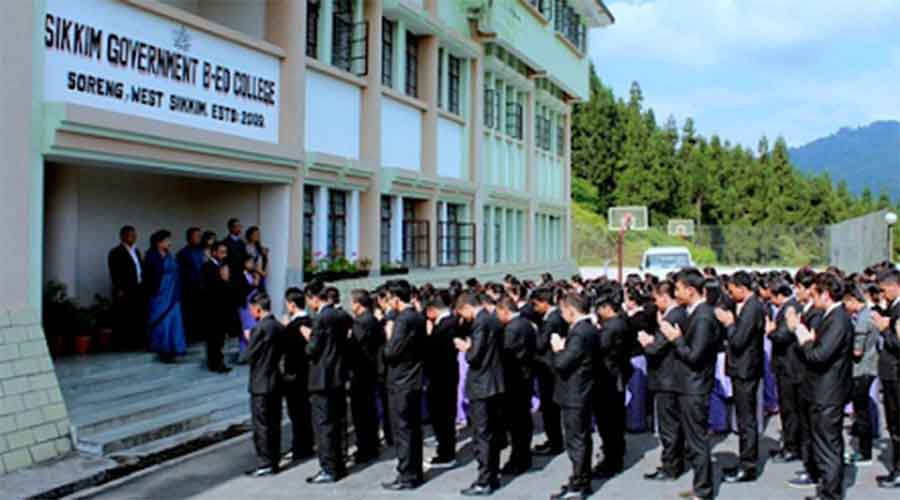 ---
|
Siliguri
|
Published 29.01.21, 05:38 AM
---
The Sikkim education department has a called a meeting in Gangtok on Friday to address the grievances of the dissatisfied candidates seeking admission to Sikkim Government B.Ed College at Soreng in West Sikkim.
The meeting will be chaired by G. P. Upadhyaya, additional chief secretary |and head of the education department, and include authorities of the B.Ed college and representatives of the candidates.
The vast majority of the 1,225 candidates who had sought admission to the college are unhappy at the |manner in which 150 applicants were selected. They want the names and percentage of marks of the successful candidates to be made public and no alteration should be made in the criteria for the selection.
Unlike in the previous years, no entrance examinations for admission to the college were held this year because of Covid19, and the government had said admission would be granted on the basis of the marks secured by the candidates in graduate and postgraduate examinations.
The dissatisfied candidates, however, allege many with lesser marks have been selected and additional quota system introduced to favour people in power.
"They (officials of the education department) are only trying to manipulate us and are buying time. We will not budge from our position. If the matter is not resolved tomorrow (Friday), we might stay put indefinitely at the HRDD office (human resources development department, the venue of the meeting," said Lal Bahadur Bhujel, a spokesman for the candidates.
At the time of inviting admission to the college, the notification had said out of the 150 available seats, 20 would be reserved for serving teachers, 10 for candidates without certificate of identification (COI), three for differentlyabled and the remaining 117 for COI holders.