Indian Army rescues tourists stuck in Sikkim snow
According to the Met office in Gangtok, the heavy snowfall was caused by the influence of strong westerly flow and the moisture incursion from the Bay of Bengal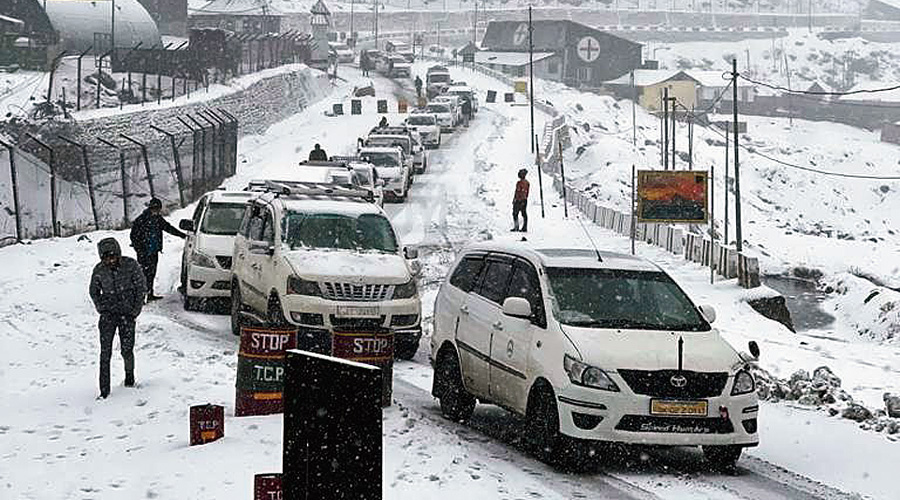 ---
|
Siliguri
|
Published 02.04.21, 12:30 AM
---
The Indian Army on late Wednesday rescued more than 450 tourists from Yongdi in North Sikkim where they had been stranded because of heavy snowfall.
The tourists, who had travelled to North Sikkim in 120-odd vehicles, got caught in a sudden and severe snowstorm, making the travel unsafe because of heavy accumulation of the white flakes on the road.
"The tourists, including women and children, were rescued and vehicles evacuated by creating vehicle safe lane by clearing snow," said the army in a press release.
North Sikkim is very popular with tourists who throng the area near the border with China in their thousands every year. "Tourists (those stranded) were provided (with) medical support. There were no major injuries," the army release added.
According to the Indian Meteorological office in Gangtok, the heavy snow was caused by the influence of strong westerly flow and the moisture incursion from the Bay of Bengal.
"This also resulted in heavy rainfall in parts of East Sikkim. The weather condition, however, is expected to improve in the next few days," said an official.
As a precautionary measure in view of the second wave of the novel coronavirus in some parts of the country, the Sikkim government has made it mandatory for all tourists entering the state from April 7 onwards to carry with them Covid-19 negative reports.
"The hotel owners, travel agents, homestay owners shall ensure that the tourists staying in their establishments carry a negative RTPCR report conducted 72 hours prior to their arrival," said a fresh set of guidelines issued on Wednesday.
The guidelines also state that if the tourists enter without the Covid test reports, the onus would be on the hotel owners, travel agents and homestay owners to get them tested either through RTPCR or TrueNat at designated testing sites in the state.
When Sikkim opened its doors to tourists on October 10 last year, tourists had to similarly carry negative Covid-19 reports.
But that requirement was gradually eased out after Covid cases came down.