Govt staff involved in drugs to face axe: P.S. Tamang (Golay)
The Sikkim chief minister stated that the accused would be punished with compulsory retirement to set an example to others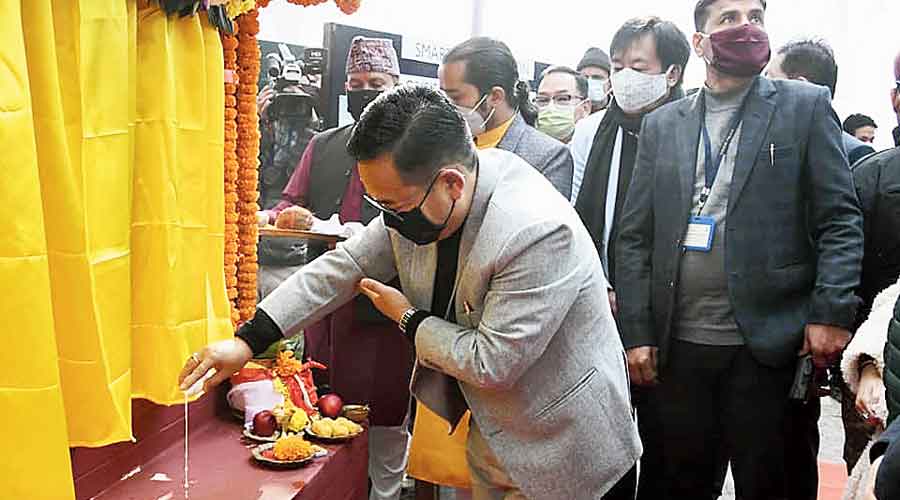 ---
|
Siliguri
|
Published 09.01.21, 12:09 AM
---
Sikkim chief minister P.S. Tamang (Golay) on Friday said that any state government employee, including police personnel, found involved in drugs would be punished with compulsory retirement to set an example to others in a larger effort to turn Sikkim into a drugs-free state.
Speaking at the foundation stone-laying function of a smart police station-cum-crisis response centre at Namchi in South Sikkim, the chief minister said the punitive measure would be implemented without favour.
"Not only police personnel, any government employee found involved in drugs will be sent on compulsory retirement," he said.
The SKM's government's decision comes in the wake of the recent arrest of an assistant sub-inspector of police with a record haul of prescription drugs.
"The other day when one police personal was found involved in drugs, I was the one to say he shouldn't be spared and his service terminated immediately," said Golay.
The chief minister also said henceforth, drug testing would be introduced in every police station of the state.
"From now onwards, we will start carrying out tests in each and every police station to unearth drug users. We will be starting this, and I have already told the DGP (Sikkim Police)," he said.
Golay's remarks suggest no distinction would be made between those dealing in drugs and those using them. But, in September 2018, the previous Pawan Chamling government had amended the Sikkim Anti-Drugs Act (SADA), 2006, decriminalising the use of drugs and, instead, treating substance abuse as a disease while at the same time increasing the quantum of punishment for those dealing in drugs.
The smart police station-cum-crisis response centre would be constructed at an open ground adjacent to the existing Namchi police station at an initial estimated cost of Rs 4.88 crore.
"The tender process has been completed. We will issue the work order within the next couple of days. The project will be completed within 18 months," said Thupden Gyatso Bhutia, the chief executive officer of Namchi Smart City Project Ltd.