Covid: Sikkim makes modification in protocol for family tourists
The Himalayan state opened its doors afresh to tourists from Monday, but for only those who were fully vaccinated, meaning those who had taken two jabs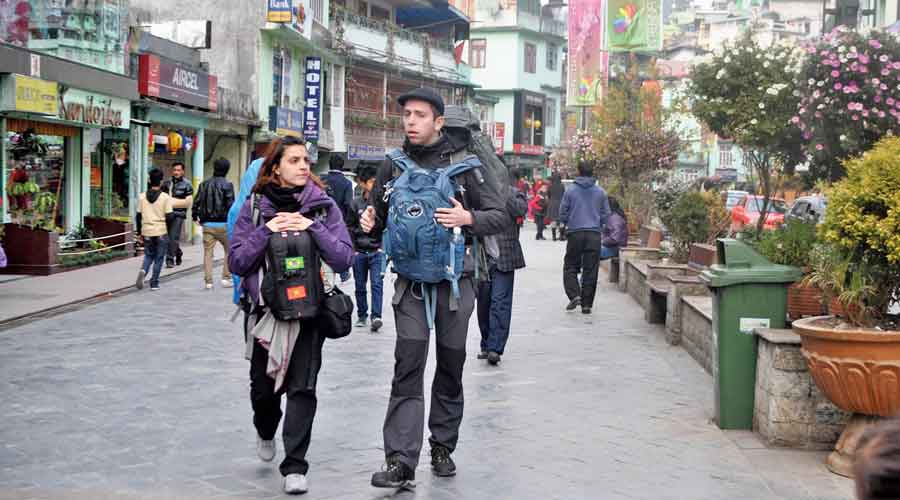 MG Marg, the famous promenade in Gangtok.
File photo
---
Siliguri
|
Published 09.07.21, 01:44 AM
|
---
The Sikkim government on Thursday made a modification in its protocol for tourists wanting to visit the Himalayan state following feedback received from tourism stakeholders, making it easier for families to visit the Himalayan state.
Sikkim opened its doors afresh to tourists from Monday, but for only those who were fully vaccinated against Covid-19, meaning those who had taken two jabs. Thursday's relaxation issued by the state home department allows the entry of a group of tourists of the same family, provided one of whom has been vaccinated fully and other members have undergone RT-PCR tests not earlier than 72 hours before entering the state.
"In case of tourists entering Sikkim, if one or more members of the same family have received double dose of COVID-19 vaccine, while others have received only a single dose or they are accompanied by children below 18 years of age, such individuals shall also be allowed to enter with valid RT-PCR report conducted within 72 hours of arrival," said a press lease issued by the Sikkim home department.
The home department also iterated that tourists who had not been vaccinated at all or had only taken a single dose of jab would not be allowed entry for now.
Sikkim had only allowed the entry of persons who were fully vaccinated. This, tourism stakeholders said, had led to unpleasant situation in the case of a group of family where when only those who were fully vaccinated were given entry and others were not.
"Since it is very difficult to define a group, this relaxation applies only to family groups where if a member of the family is fully vaccinated and others are not, they will be allowed entry on the production of RT-PCR reports within 72 hours of arrival," explained a home department official.
Since the majority of tourists visiting Sikkim travel in public vehicles, tourism stakeholders, particularly drivers, said it would be impossible for most of them to either be fully vaccinated or get RT-PCR test done every time they enter.