Untold story of helicopter shot
Kiran More recalls Sushant Singh Rajput's journey to be Dhoni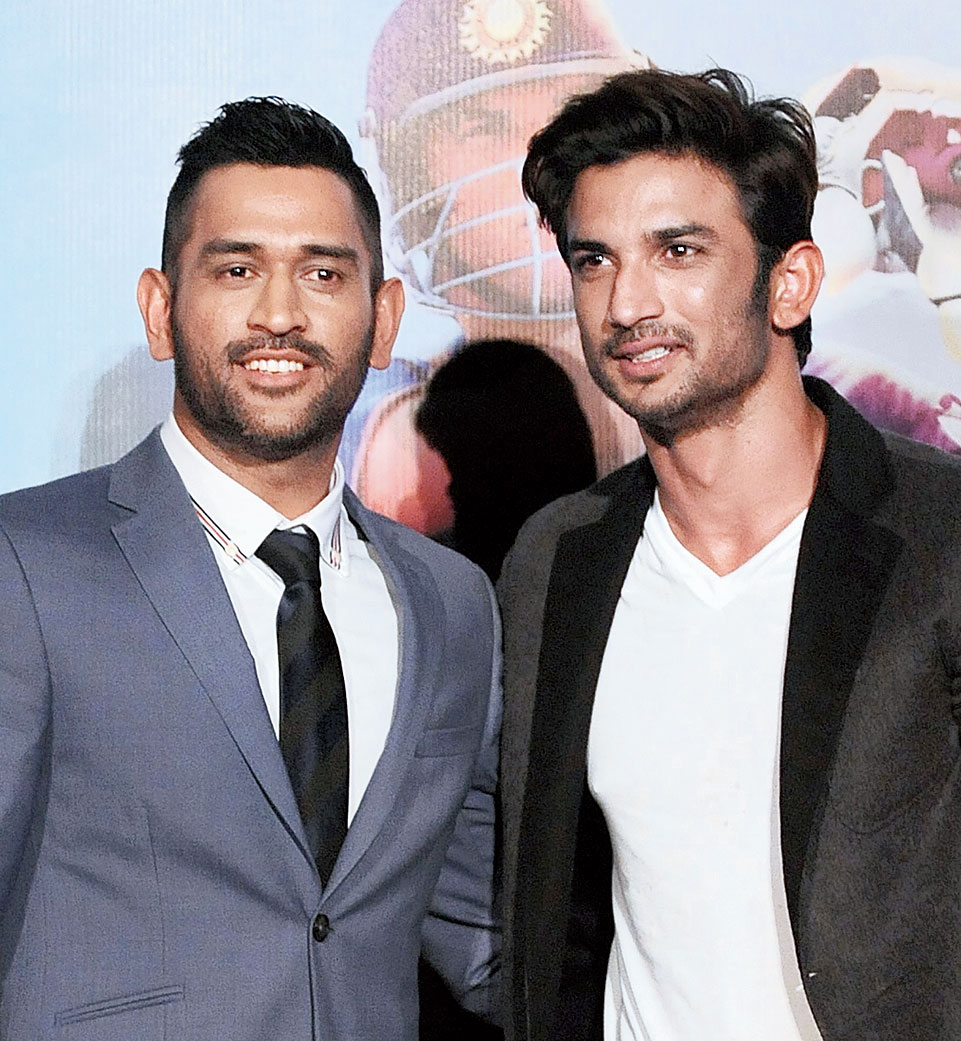 Mahendra Singh Dhoni and Sushant Singh Rajput
File picture
---
Calcutta
|
Published 15.06.20, 01:51 AM
|
---
Sushant Singh Rajput couldn't play like Mahendra Singh Dhoni, but he played Dhoni well.

It was quite a transition that Sushant had to undergo, after all it's not easy to portray the character of India's most decorated cricket captain on the screen. But Sushant took his time, mastered his craft and slowly re-modelled himself as Dhoni. The result — MS Dhoni - The Untold Story — created ripples in the Bollywood Box Office.
On Sunday, after the actor ended his life at just 34, former India wicket keeper and national selection committee chairman, Kiran More, fondly recalled Sushant's journey to be Dhoni. Sushant used to train under More in his bid to make the portrayal of Dhoni's character in the biopic as close to reality as possible.
"When I came to know that I would have to mentor Sushant for playing Dhoni's role in the movie, I was a little apprehensive. But our first meeting ironed out my doubts. And the day he came for his first training, at the Bandra Kurla Complex (BKC) ground in Mumbai, he carried the huge cricket kit himself and asked the security not to help him… That spoke a lot about his dedication. Together we worked for nine months… I simply can't believe we would not meet again," More, who also acted in the film, told The Telegraph on Sunday.
"He used to train for seven to eight hours a day. And he had the hunger to learn the cricketing techniques. He used to ask me technical questions after the training sessions. He never missed any scheduled training session and was very humble and hard working," More added.
More recounted how Sushant faced some problems replicating Dhoni's 'helicopter shot'. "It took some time but he mastered Dhoni's helicopter shot in the end. The shots which were shown in the film were original. When he finished training, he was as good as a professional cricketer," More said.
"He was very particular about his cricket training. Maybe sometimes I was okay with one of his shots, but he played it again and again to be better at it. For those nine months, he was an aspiring cricketer. I had never seen him take extra rest during training sessions. Sometimes he used to motivate other people too. He was a very charming character. I am saying was, but I still can't believe he is no more."
For More, Sushant's demise is like a personal loss. "We lost a lovely kid, a hardworking, educated and successful person and a very dear friend of mine, and that too so early," the 57-year- old said.
More and Sushant were in touch, though they had not communicated with each other for more than a year. "We exchanged messages even after the film was released. But as we both were busy in our respective fields, we couldn't talk regularly.
"We are going through a tough phase. So we have to be strong mentally. We need to keep good connections with our family and friends. Especially for the people who are staying alone… We need to keep ourselves engaged."
Another former India cricketer, Pranab Roy, who too acted in the movie, has vivid memories about Sushant. "I didn't shoot any scenes with him, but during the break in shooting, we had very healthy discussions. He used to come to The Cricket Club of India (CCI) and one day I was also there… More introduced me to him and very soon he was asking me cricketing questions.
"He asked me – 'dada, I am playing the helicopter shot but facing difficulties to clear the ground.' I told him to play the shot when he got the ball on the off stump or outside off stump. He quickly made a note," Roy recalled.
"He told me he loves to play cricket and that he played for the U-19 state team. Our interaction lasted for half an hour and we didn't even talk about the film once. We only talked about cricket," the former national selector said.
"He was very interested about Calcutta and its sporting culture. I invited him to come to my place and exchanged phone numbers. I am very shocked to know the sad news of his demise," Roy said.
Some stories remain untold.