Trent Boult's strategy: 'Short' & simple
Boult gave equal credit to Kyle Jamieson, who came round the wicket and bowled short balls to keep Kohli quiet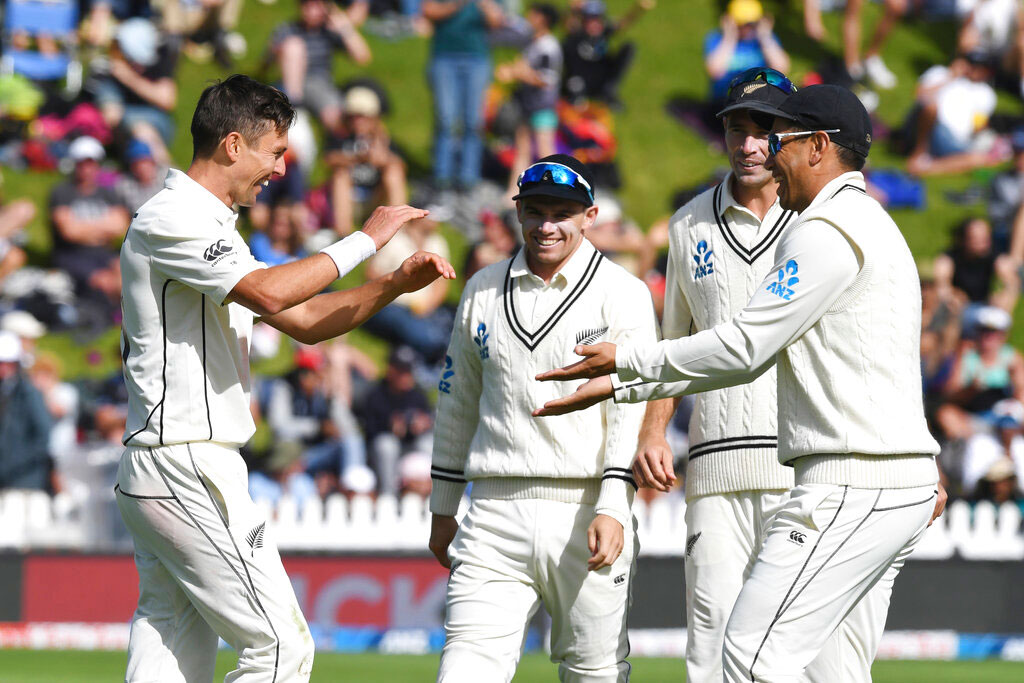 Trent Boult (left) celebrates with teammate Ross Taylor the bowling India's Cheteshwar Pujara for 11 during the first cricket test between India and New Zealand in Wellington on Sunday
(AP)
---
Calcutta
|
Published 23.02.20, 08:25 PM
|
---
New Zealand left-arm pacer Trent Boult on Sunday said he didn't want Virat Kohli to settle down and hence targeted him with bouncers, which eventually brought the India captain's downfall.
Kohli made 19 off 43 balls before trying to hook a Boult bouncer only to be caught by wicketkeeper BJ Watling, providing New Zealand with an opportunity to close the first Test match in Wellington quickly.
India ended the third day at 144/4 in their second innings, still trailing New Zealand's first innings total by 39 runs. Earlier, resuming on 216/5, New Zealand lost two wickets for the addition of only nine runs, but Colin de Grandhomme, debutant Kyle Jamieson and Boult himself came up with vital contributions to take the hosts' total to 348.
For India, Ishant Sharma took five wickets, while Ravichandran Ashwin snared three. Revealing his game plan against Kohli, Boult, after the end of proceedings at the Basin Reserve, said: "Virat likes to feel the bat on ball like a couple of their guys. Definitely almost we miss, he hits and he hits it well and gets boundaries.
"From our point of view, we were trying to dry that up and for me personally, using the crease and the shorter ball was a good plan to try and control his scoring rate."
Boult gave equal credit to Jamieson, who came round the wicket and bowled short balls to keep Kohli quiet. "It is nice to draw the error out of him, but I think the way that Kyle has been bowling the whole match, especially that spell he bowled to Virat and not letting him get away to a racing start was a big part of it," the senior speedster said.
Boult said the red ball has not been swinging quite a lot these days and hence he had to change the ploy of creating angles. "Generally, the wind is the biggest thing to deal with. But if I can chop and change those angles and not let a batsman get familiar or get set with what I am trying to do, then I hope that will interrupt him," he said.
"That's the luxury of being a left-armer and being able to use those subtle changes. The red balls here in New Zealand haven't been swinging as much as they have in the past, and if that's not happening for me, then it comes down to changing angles and using different parts of the crease," said Boult.
'Incisive' NZ quicks
Ashwin, on the other hand, acknowledged that New Zealand's pacers made the going a lot tougher for India in this Test.
"They are bowling lovely lengths and have been incisive in the second innings even when the pitch is not the same as it was in the first day. They have made it hard for us and it's like the Test has just begun for us," Ashwin said at the media conference.
Asked what kind of total can be defended in the fourth innings, Ashwin remained non-committal.
"I know to keep it simple and say this is defendable and this is not, (it) is pretty much how you would want me to present it.
"… But it's very far away and there is still enough in the surface. However small a target we can set, the better it is for us."
While Mayank Agarwal was the only Indian batsman who mixed caution with aggression, Ashwin did not want to compare individual styles of batting.
Cheteshwar Pujara's 11 off 81 balls did hamper the momentum as India had gone into a shell. But Ashwin did not single out anyone.
"It's a fine line and you don't really know when to attack and defend and can really get caught in between both situations. Mayank has been in rich vein of form and it matters. He has had the continuity as he also played the India A games and the ODIs.
"The bat flow is very beautiful on the ball and all these things do make a difference. I think everybody is sticking to their game plans, which has given them rewards over the years. To really ask them to see someone else and copy them is not the right thing to do," said Ashwin.
Asked about the failure of the Indian top order in both innings, Ashwin pointed to the underlying moisture in the pitch that got retained.
"There is enough in the surface. It was very moist on the first day and they had watered it considerably, and when it rained, they did not cover it quickly. So the dent created on grass did not let us play our shots," said Ashwin.