Tokyo Olympics: Not Lovlina Borgohain's day, still a bronze
She went down 0-5 to reigning world champion Busenaz Surmeneli in Tokyo on Wednesday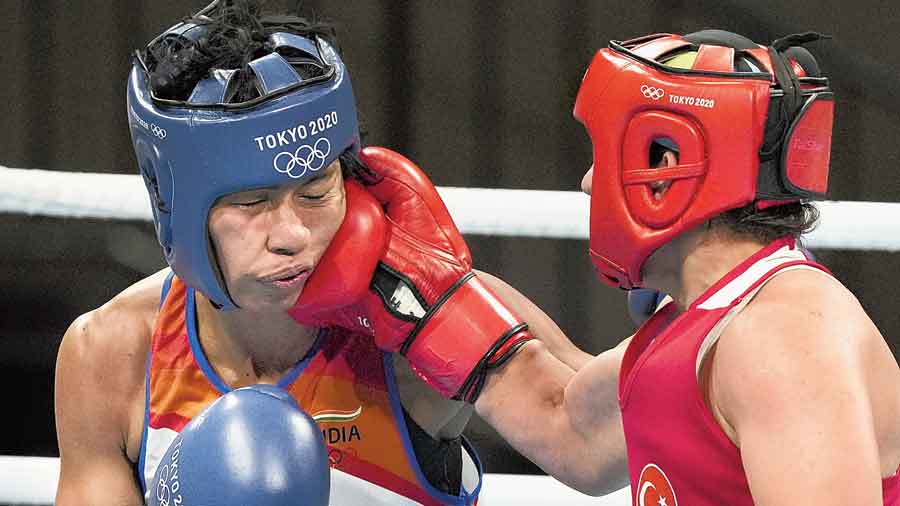 ---
Calcutta
|
Published 05.08.21, 01:19 AM
|
---
India boxer Lovlina Borgohain (69kg) settled for a bronze in her debut Olympic Games, going down 0-5 to reigning world champion Busenaz Surmeneli in Tokyo on Wednesday.
It ended Lovlina's hopes of upgrading the colour of the two boxing Olympic bronze medals won so far by India — Vijender Singh (Beijing) and MC Mary Kom (London).
"I'm sorry I couldn't win a gold for my countrymates," Lovlina said in a video message on Wednesday. "But I'm glad I won a medal which I dedicate to the people of India, to the people of Assam. It is, thanks to their prayers, that I have a medal today and will in future attempt to bring more glory for my country."
Initially, the 23-year-old Indian had stood up to the strong challenge but she came undone after Surmeneli got down to connecting her vicious hooks and body shots. The third round was especially punishing for Lovlina, who faced two standing eight counts — a call by the referee to determine if the boxer can continue. Surmeneli, also 23, was unrelenting in all three.
"It was a tough bout for Lovlina, facing as she was the top seed. It wasn't easy to go past her. We have been gearing up for this challenge for
the past four days but today it just wasn't Lovlina's day. Some days your body works, some days it doesn't. That is a part of the game," national women's coach Mohammed Ali Qamar told The Telegraph from Tokyo.
"Lovlina faced some hard punches as a result of which she couldn't play her normal regular game. But technically she was sound.
"Yes, we had hoped to change the colour of the medal… unfortunately that was not to be. But Lovlina certainly deserves praise for clinching an Olympic medal on her debut.
"My dream of playing at the Olympics was never realised. I am happy that as a coach, I'm part of a medal win," Qamar added.
Lovlina accepted her opponent was better on the day. "Today, I could not execute my strategy. My opponent was strong, I thought if I play on the backfoot, I would get hit, so I went on the offensive but it didn't work out," she explained. "I wanted to hit her confidence, par hua nahi. She was relentless."
Right now, all she is looking forward to is a month-long vacation — maybe longer — a vacation she has not taken in many years. "I have worked for eight years for this medal. I have stayed away from home, not been with my family, not eaten what I would have liked to. So it's time for a break."
And after the break, what next? "We rest for some days and then embark on our preparation for the World Championships," said Ali Qamar. "Before that, we need to analyse what aspects we need to improve on. The we work forward, with renewed vigour."
Written with PTI inputs