Tears and cheers greet Saikhom Mirabai Chanu in Manipur
She was seen hugging her mother Saikhom Ongbi Tombi Leima and her father Saikhom Kriti Meitei as security guards formed a ring around her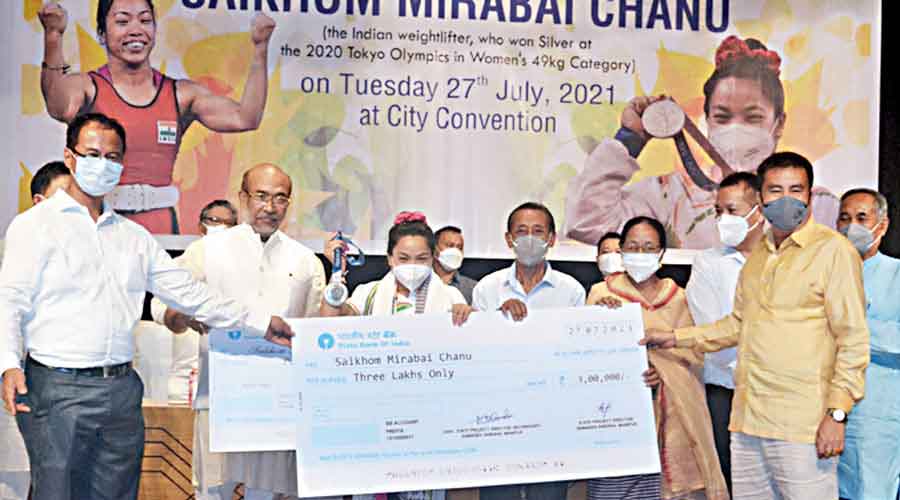 Manipur chief minister N. Biren Singh (second from right) felicitates Tokyo Olympics silver medallist Mirabai Chanu in Imphal East on Tuesday.
Robert Sapam
---
Imphal
|
Published 28.07.21, 02:00 AM
|
---
When she last visited her home at Nongpok Sekmai village in Manipur, it was with a regret and with a dream. The regret of the debacle of Rio and the dream of exorcising that ghost and winning a medal for the country.
On Tuesday, Saikhom Mirabai Chanu came home. The ghost had been exorcised. The dream fulfilled.
The silver-medal winning weightlifter touched down at Imphal's Tulihal International Airport on Tuesday morning to a tumultuous welcome from hundreds of people who had gathered notwithstanding the restrictions imposed owing to the pandemic.
A stringent training regimen after the 2016 Rio Games had limited Mirabai's visits to her home over the past five years. The 26-year-old was seen hugging her mother Saikhom Ongbi Tombi Leima and her father Saikhom Kriti Meitei with tears rolling down her face as security guards formed a ring around her.
Before Chanu could speak, she was whisked away by chief minister N. Biren Singh and her family members, who had come to the airport to receive her. She was driven to the City Convention Centre at Imphal East where a reception function had been organised in her honour.
As assured by the state government, Chanu was handed her letter of appointment to the post of deputy superintendent of police (sports) by chief minister Biren Singh along with a cash award of Rs 1 crore. She was also gifted an additional Rs 25 lakh as participation fees in the Olympics.
Chanu herself was overcome with emotion. "Words cannot express how I feel at the moment. But I have to give credit to my family members, especially to my father and mother, who brought to me the world and supported me through thick and thin. My respect to my teacher L. Anita Chanu and Brojendro Singh and others who went through lots of trouble to help me reach where I am today. I dedicate my medal to my family members. I have performed today but I have many miles to go for further glory."