Table Tennis Federation of India talks tough on Manika Batra
According to Arun Banerjee, the apex body is awaiting reports from manager MP Singh and Soumyadeep Roy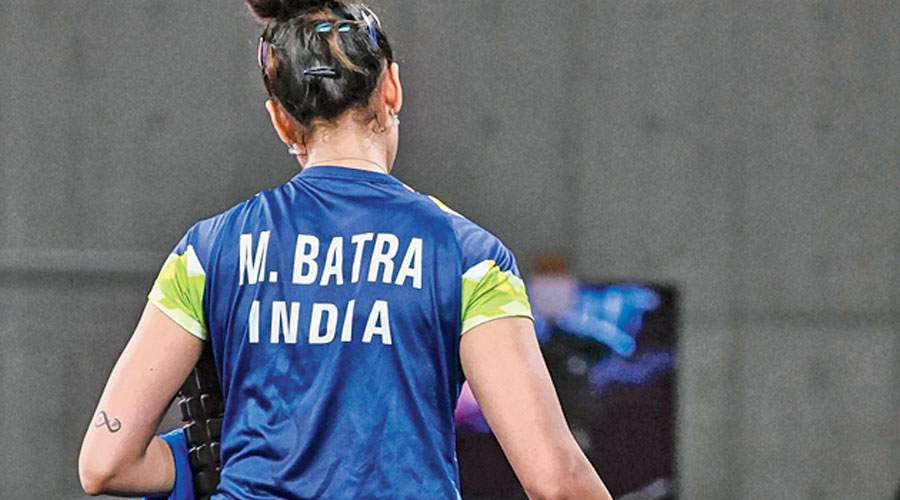 ---
Calcutta
|
Published 28.07.21, 02:01 AM
|
---
Manika Batra's refusal to allow national table tennis coach Soumyadeep Roy stay at her corner during the Tokyo Olympic Games has not gone down well with the Table Tennis Federation of India (TTFI). According to Arun Banerjee, the federation secretary, the apex body is awaiting manager MP Singh and Roy's reports and "strong action will be taken against the erring paddler."
Manika insisted on having her personal coach Sanmay Paranjape during her singles matches who did not have access to the competition venue since Soumyadeep is the designated national coach.
"What she has done is unpardonable. She also alleged that Soumyadeep is Suthirtha Mukherjee's personal coach. That's wrong. She trains at his academy (Soumyadeep Poulomi UTT Table Tennis Academy), that's it. Manika knew from the beginning that Soumyadip is the national coach and due to covid-19 regulations only 33 per cent of the team will be coach and support staff.
"Her coach (Sanmay) was given the P category accreditation card, which allowed him to have practice sessions with Manika. I do not know why she created such a fuss. We are waiting for the manager and the coach's report and action will be taken after that.
"We are returning on Saturday. I want to have an executive committee meeting in the first week of August. The committee will decide on Manika's fate," Banerjee told The Telegraph from Tokyo on Tuesday.
"We did send Sanmay and S Raman's (Sathiyan Gnanasekaran's personal coach) names to the IOA. But these are extraordinary times. So they were given access to practice sessions. It was very unprofessional of Manika not to allow Soumyadeep at her corner. This has left a bitter taste in the mouth for everyone concerned," he added.
Manika lost to Austrian and No.10 seed Sofia Polcanova 8-11, 2-11, 5-11, 7-11 in the third round. Manika parted with her long-time coach Sandeep Gupta in March 2019 and shifted base to Pune to work with Sanmay.
A source, however, doubted whether TTFI has the guts to come down heavily on the star paddler. "She is a big name. I will be last person to believe there will be any action taken against her. What was the federation doing when she did not attend the camp for Tokyo in Sonepat? Were the officials sleeping? In TTFI there are different rules for different people. If someone else had done this she would have been promptly suspended. They play tough with soft people. That has always been the case," the source said.
The source also questioned the rationale behind criticising Soumyadeep after Sathiyan bowed out in the first round.
Raman was on record saying Soumyadeep did not push Sathiyan enough during the match. "Ok when a paddler loses it's the coach's fault. And he wins the credit goes to the player. That's funny isn't it? Tell me one thing, in the past one-and-half years Soumyadeep hardly worked with him. So now why blame him for Sathiyan's early exit?
"How would he know about Sathiyan's game? Herein lies the importance of national camps. When you do not attend camps this has to be the outcome. Even Manika refused to come since she thought it would disturb her practice plans. I hope TTFI makes it mandatory for every table tennis player to attend camps," he said.