Sorry Bhajju pa, says Ashwin after home feat
With the dismissal of Ben Stokes, the third of his five victims on the day, the spinner went past Harbhajan Singh's tally of 265 home wickets in India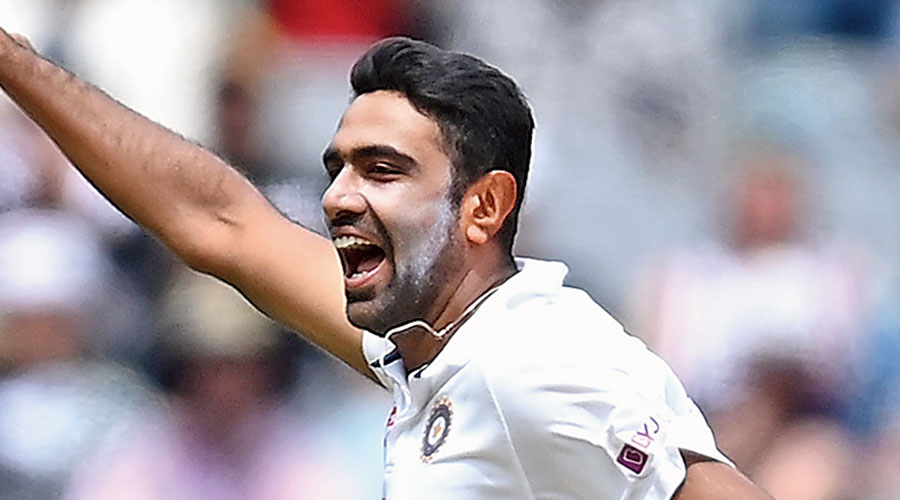 ---
Calcutta
|
Published 15.02.21, 01:52 AM
|
---
Ravichandran Ashwin believes tackling quicks bowling at 140kph or more in seaming conditions is tougher than dealing with spinners on a turning track.
"The only comparison I can say is that when the ball is moving around at 140-150kph in seaming conditions and takes off the deck, that has to be more challenging than somebody bowling at 85-90kph. So when the ball is moving around at such speed, the challenges are clearly way greater," the off-spinner, who became the first to dismiss left-handed batsmen 200 times in Test cricket on Sunday, said during a virtual interaction after stumps on Day II of the second Test.
"It's just the same way when you play spin. You have to take your time, buy your time and then probably cash in a little later. It's another form of art, as simple as that."
With the dismissal of Ben Stokes, who was the third of his five victims on the day, Ashwin went past Harbhajan Singh's tally of 265 home wickets in India and is now behind only Anil Kumble (350 wickets at home). "When I was watching the 2001 series (versus Australia), where Bhajju pa was playing, I didn't even imagine that I would become an off-spinner for the country," said Ashwin, recalling his early days.
"I was still a batsman for my state, trying to accelerate a career towards batting and playing for the country. A lot of my teammates from that age and generation used to make fun of me as I used to try and bowl like Bhajju pa.
"So from thereon, to come on and actually go past him has to be incredibly special. I didn't know of it earlier, but now that I do know of it, I feel happy. Sorry Bhajju pa," the senior off-spinner expressed.
'Give Pant a break'
Not looking back since that SCG Test, Rishabh Pant again impressed with the bat with an unbeaten 58 in this game to stretch India's first-innings total to 329. Thereafter, he also took two fine catches diving to his left, off the bowling of Mohammad Siraj and Ishant Sharma.
Praising Pant for his good work, Ashwin emphasised the need to let him build on his confidence.
"Rishabh was constantly compared with MS Dhoni for a long time.
"Now he gets compared with (Wriddhiman) Saha regarding his wicketkeeping, but sometimes it's just better to give people a break and let them build on their confidence," Ashwin said.
"When you are constantly being compared to someone who has done well for years, it can be really hard. So I really do feel for Rishabh."
Scorecard
India
1st innings (overnight 300/6)
R. Pant           not out          58
A. Patel          st Foakes b Moeen 5
I. Sharma      c Burns b Moeen    0
K. Yadav        c Foakes b Stone    0
Md Siraj        c Foakes b Stone    4
Total (all out; 95.5 overs)            329
Fall of wickets: 7/301, 8/301, 9/325
Bowling: Broad 11-2-37-0, Stone 15.5-5-47-3, Leach 27-3-78-2, Stokes 2-0-16-0, Moeen 29-3-128-4, Root 11-3-23-1
England
1st innings
R. Burns        lbw Ishant    0
D. Sibley        c Kohli b Ashwin     16
D. Lawrence            c Gill b Ashwin         9
J. Root           c Ashwin b Patel     6
B. Stokes       b Ashwin       18
O. Pope         c Pant b Siraj           22
B. Foakes      not out          42
M. Ali c Rahane b Patel     6
O. Stone        c Rohit b Ashwin     1
J. Leach         c Pant b Ishant        5
S. Broad        b Ashwin       0
Extras (b-4,lb-4, nb-1)     9
Total (all out; 59.5 overs)            134
Fall of wickets: 1/0, 2/16, 3/23, 4/39, 5/52, 6/87, 7/105, 8/106, 9/131
Bowling: Ishant 5-1-22-2, Ashwin 23.5-4-43-5, Patel 20-3-40-2, Kuldeep 6-1-16-0, Siraj 5-4-5-1 
India
2nd innings
R. Sharma     batting           25
S. Gill  lbw Leach     14
C. Pujara       batting           7
Extras (b-5, lb-3)    8
Total (1 wicket; 18 overs)           54
Fall of wicket: 1/42
Bowling: Stone 2-0-8-0, Leach 9-2-19-1, Moeen 7-2-19-0