Shami in good zone to scalp 'big names'
His focus has been on the red ball, and he's looking to get sharper by working on his lengths and seam movement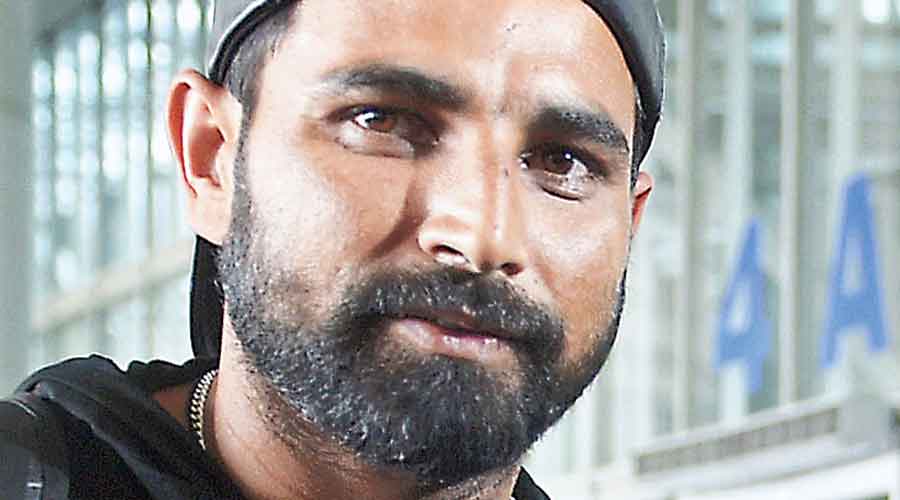 ---
|
Calcutta
|
Published 22.11.20, 04:13 AM
---
The performance of India's quicks will again be crucial to the team's prospects during the tour Down Under, especially in the four-match Test series.
With no guarantee yet on senior-most pacer Ishant Sharma's availability, Jasprit Bumrah and Mohammed Shami may have an even bigger role to play against an Australian unit, which is stronger than the side India beat in 2018-19.
On his part, though, Shami believes he's "in the right zone" after a successful IPL in the UAE. In an interview with bcci.tv, the speedster said: "My performances for Kings XI Punjab in the IPL have given me a lot of confidence and put me in the right zone.
"The biggest advantage is that I can now prepare for the upcoming series without any pressure. There is no burden on me and I am very comfortable at the moment.
"I had worked hard on my bowling and my fitness during the lockdown. I knew that the IPL would take place sooner or later and I was preparing myself for it."
Virat Kohli and Co. have already spent more than a week in quarantine in Sydney, but Shami's focus has been on the red ball, and he's looking to get sharper by working on his lengths and seam movement. "We're going to have a long tour starting with the white-ball matches, followed by pink and red-ball Tests. The red ball has been my focus area, and I'm working on my lengths and seam movement.
"I have always felt that once you start pitching the ball at the lengths you aim, you can succeed in different formats. What you need is control.
"I've done well with the white ball and now spending time at nets bowling with the red ball. You don't bowl in the same area since both formats are different, but your basics don't change much."
The return of David Warner and Steve Smith, who were both unavailable during India's last tour of Australia owing to ball-tampering bans, and the emergence of the supremely talented Marnus Labuschagne has strengthened Australia's batting. The task won't be easier for India's bowlers, but Shami prefers to focus on their skills instead of the names in the rival camp.
"Our fast bowling group can bowl at 140kph-plus and you need that kind of pace in Australia. Even our reserves are quick and you don't get to see that kind of an attack.
"We thrive on challenges, while we also have the experience. We have variety in our spin attack too.
"We can bowl fast, but we are all different. Our skills are different. Our team has quality batsmen too and we bowl at them at nets.
"We don't look at names, we focus on our skills. You can be a world-class batsman, but one good ball will still get you out," Shami emphasised.
Elaborating on the success that India's pace attack has had over the last few years, Shami added: "The success of this group is largely because of the camaraderie we share among ourselves.
"There is a healthy competition but no rivalry within the group. We hunt in pairs."