When 'Indian McEnroe' volleyed home a bronze
Reliving Leander's unmatched feat in the 1996 Atlanta Olympics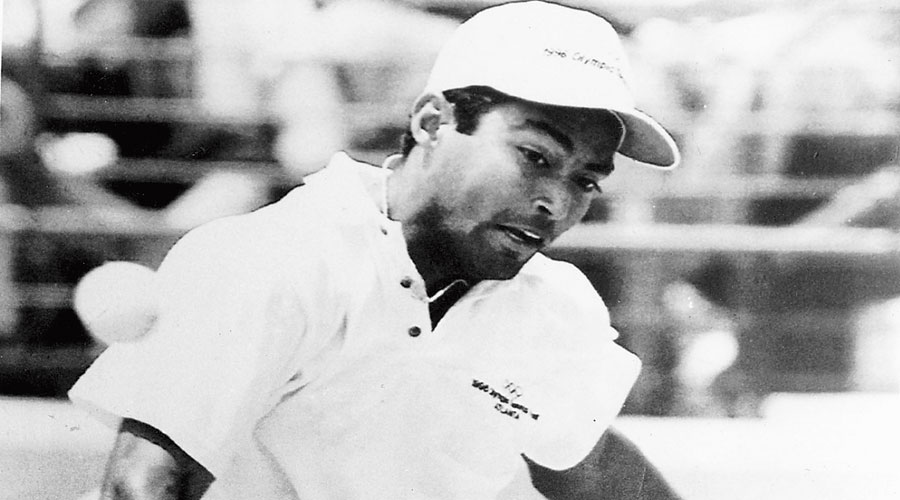 ---
---
It's not often that the sheen of bronze equals the glitter of gold. But one such day was August 3, way back in 1996, when Calcutta's very own Leander Paes walked his way into the hearts of millions of Indians, winning an individual Olympic medal after a long, long gap of 44 years.
That bronze medal still remains the only medal in Olympic tennis for India. Since that Atlanta Olympics, India have never returned empty-handed in individual sport from the quadrennial spectacle.
In the bronze medal play-off match against Brazil's Fernando Meligeni at the Stone Mountain Tennis Centre, Paes overcame a first set loss, regrouped and went on to win the next two sets to earn the bronze 3-6, 6-2, 6-4.
"My match winning point came as Meligeni's lob went marginally long... The stadium was packed with Indians, my wrist was throbbing in pain but all I could think of at that time was that I finally have the medal for which I had worked very, very hard all my life...
"As I was in a lot of pain, the celebrations that night was rather quiet. Dad took us out for a drink... and then the Indian community in Atlanta came together to host a dinner in my honour. They all wanted to see and touch the medal. It was something that belonged to every Indian," Paes said.
Meligeni, after the loss, had compared the young Indian to none other than John McEnroe. "He follows up a soft drop volley with a hard drive. How can you read him? Something like John McEnroe."
When the 23-year-old, ranked 127 in the world then, made it to the Olympics as a wild card, most expected him to be another journeyman. But Paes had other ideas.
"Ever since I picked up a racket, at the age of five, my dream had been to win an Olympic medal to match my father's," Paes told The Telegraph from his residence in Mumbai. His father, Dr Vece Paes, was part of India's bronze medal-winning hockey team in 1972 Munich Olympics.
The two bronze medals share pride of place at the Paes residence. "They are kept next to each other," said Paes.
After beating 14th seed Italian Renzo Furlan 6-1, 7-5, came the match that captured the imagination of the whole nation — an Olympic semi-final against Andre Agassi, the top-seeded favourite playing in front of his home crowd.
Paes lost, but how. In his autobiography Open, the eventual gold medallist Agassi wrote about the match: "In the semis I meet Leander Paes, from India. He's a flying jumping bean, a bundle of hyperkinetic energy, with the tour's quickest hands. Still, he's never learned to hit a tennis ball. He hits off-speed, hacks, chips, lobs — he's the Brad of Bombay. Then, behind all his junk, he flies to the net, covers so well that it seems to work. After an hour, you feel as if he hasn't hit one ball cleanly — and yet he's beating you soundly. Because I'm prepared, I stay patient, stay calm, and beat Paes 7-6, 6-3."
And what was going through Paes's mind ahead of the match? "Agassi is one of the toughest competitors in the world of sport. But as the match progressed I did have my moments. Had I not injured myself (a torn ligament in his wrist), it might have been a different story. I had played my heart out and was only thinking that I had come too far to go back empty handed," Paes said.
Jaidip Mukerjea, who was the India coach in Atlanta, said: "Paes was very focussed, but really we never thought he will go that far. That match against Agassi was just fantastic. I think that was the only time when I saw Paes being overawed by the occasion. But against Meligeni, he needed to stay focussed and he did. It was not an easy match, but he made all our dreams come true."