Alain Prost vs Nigel Mansell. Steve Davis vs Alex Higgins. Germany vs Brazil. In these great sporting rivalries, one party brings artistry, flair and unpredictability, while the other thrives on discipline and control.
Now tennis is awaiting a classic instance of its own. Novak Djokovic (order) and Carlos Alcaraz (chaos) are about to meet in the most anticipated grand slam semi-final since Roger Federer and Rafael Nadal faced off four years ago.
The appeal of their marquee showdown on Friday extends beyond the contrast of styles. This encounter has huge symbolic value, especially as the winner will be a shoo-in to collect the Coupe des Mousquetaires after Sunday's final.
Should Alcaraz win, he will have overcome one of the "Big Three" tennis legends over the full distance (best of five sets) for the first time. It would be a rite of passage, a trial by combat, a moment that says "The king is dead, long live the king!"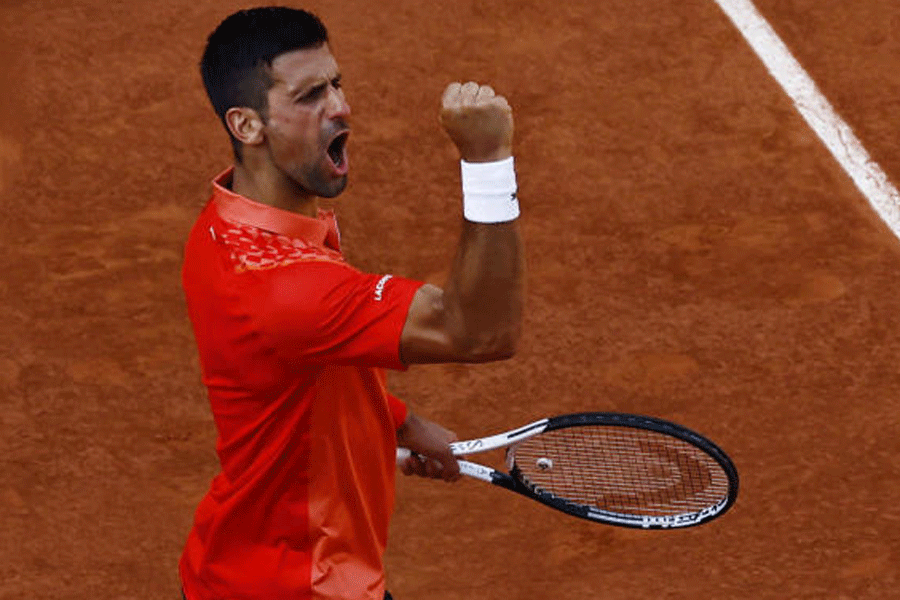 Novak Djokovic. File photo
But if Djokovic were to win, he would once again be shoring up his aura of invincibility at the majors, as well as virtually guaranteeing a record-breaking 23rd major on the court that Rafael Nadal has made his own.
If the outcome feels unpredictable, that is partly because we have no data. Djokovic — who turned 36 last month — and 20-year-old Alcaraz have taken turns to hold the world No. 1 ranking since last year's US Open. Bizarrely, though, they haven't played each other at all over this period.
There remains only a single entry on the Djokovic-Alcaraz head-to-head chart: a thrilling three-setter, claimed by Alcaraz at the last gasp, which dates back 13 months to the unique high-altitude conditions of Madrid last year.
The bookmakers have Alcaraz as their favourite — a surprising choice, perhaps, given that he has only 35 wins to his name at the majors, including a maiden title at last year's US Open. Djokovic has 353.
But then Alcaraz is a beguiling figure to watch. His range of options is so broad that any computerised version of Carlos Alcaraz Tennis (there'll be one along soon, no doubt) will need an extended, button-heavy controller.
His favourite stroke is the drop shot, especially when played off the forehand side — and he makes it look so stylish and straightforward that other players have started emulating him. (ATP statistics show that ten per cent more forehand drop shots have been deployed on the tour since Alcaraz emerged.)
Then, when he's not dragging you towards the net, he's pushing you towards the back fence with the fizziest forehand since Nadal's.
It's a brutal combination, which utterly befuddled the 2021 French Open finalist Stefanos Tsitsipas during Tuesday's quarter-final.
Earlier the same afternoon, Djokovic had seen off Russia's Karen Khachanov in four sets. During this tournament, he has come through five tie-breaks without making a single unforced error.
Hence the expectation of a clash of cultures on Friday, with the smiling magician coming up against the most clinical executioner of this or any other era.
In Alcaraz, Djokovic faces a hungry and fearless young challenger. So while Friday's meeting may not be a final, it still feels like the most consequential match of the year.
The Daily Telegraph in London