NBA Academy, basket of talents
As of now, the programme has assisted four more Indian youngsters to get into prep schools or colleges in the United States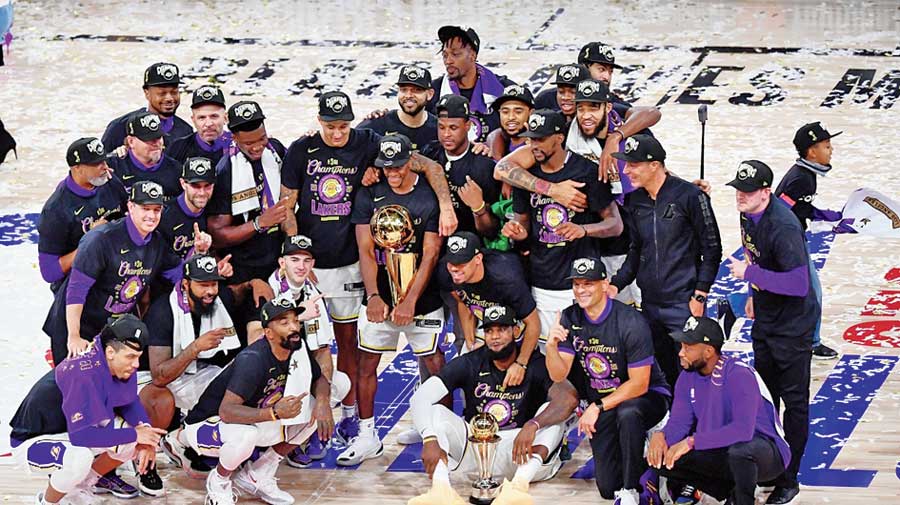 ---
|
Calcutta
|
Published 17.12.20, 02:03 AM
---
As the 75th year of the National Basketball Association (NBA) kicks off on December 22, everyone within the league continues to grapple with attempts to return to normality under decidedly abnormal circumstances.
While each team will play 72 regular-season games, the schedule factors in an abundance of Covid-related precautions.
The Los Angeles Lakers were crowned as champions of a coronavirus-hit season on October 11.
The popular American franchise is a favourite with basketball enthusiasts all around the world and that includes India as well.
Basketball, as a sport, has been around in India for a long time. But it has been injected with fresh life in the recent years after the NBA took interest in the Indian market and also started working to improve the game at the grassroots level in this country.
The NBA Academy India has been one such step in that direction.
The academy, set up on the outskirts of the national capital in 2017, has been providing the top talents across the country with best of facilities and coaching.
Few years in, the Academy's efforts are starting to show. Princepal Singh became the torchbearer for the NBA Academy program when he became the first Academy prospect to sign with the NBA G League Ignite — a new team of elite young prospects — in July 2020. Of his three years with the Academy, he spent one-and-a-half in India and the rest at the Global Academy in Australia.
As of now, the Academy has assisted four more Indian youngsters to get into prep schools or colleges in the United States. They are Jagshaanbir Singh, Pranav Prince, Amaan Sandhu and Riyanshu Negi.
Girls like Harsimran Kaur, Ann Mary Zachariah and Sanjana Ramesh have graduated from the Academy to join various college teams.
The six-foot-10-inch power forward Princepal, however, isn't the first Indian in the NBA.
Satnam Singh was the first Indian to be drafted into the NBA when the Dallas Mavericks selected him as the 52nd overall pick at the 2015 NBA Draft. Satnam was soon sent to the team's G-League affiliate, Texas Legends, while Amjyot Singh joined the minor league in 2017, turning up for Oklahoma City Blue before joining Wisconsin Herd.
All these efforts make India's basketball captain Vishesh Briguvanshi very optimistic of the future of Indian basketball. The 29-year-old Arjuna awardee told The Telegraph from Bangalore: "Academies like NBA India train our players well, providing all facilities. They turn the players into assets for the country."
In 2017, Briguvanshi had become the first Indian to be signed by Australia's National Basketball League. He was to train with the Adelaide 36ers but he suffered a knee injury and wasn't able to go.
Feels Briguvanshi: "Even if some of them play for leagues outside the country, they always come back to play for India and when they do, they bring back a world of experience and help in fetching the country medals."