MS Dhoni: Cricketer extraordinaire
Unfolding now is the last World Cup MS Dhoni will play. This is in celebration of a most extraordinary and exhilarating sportsman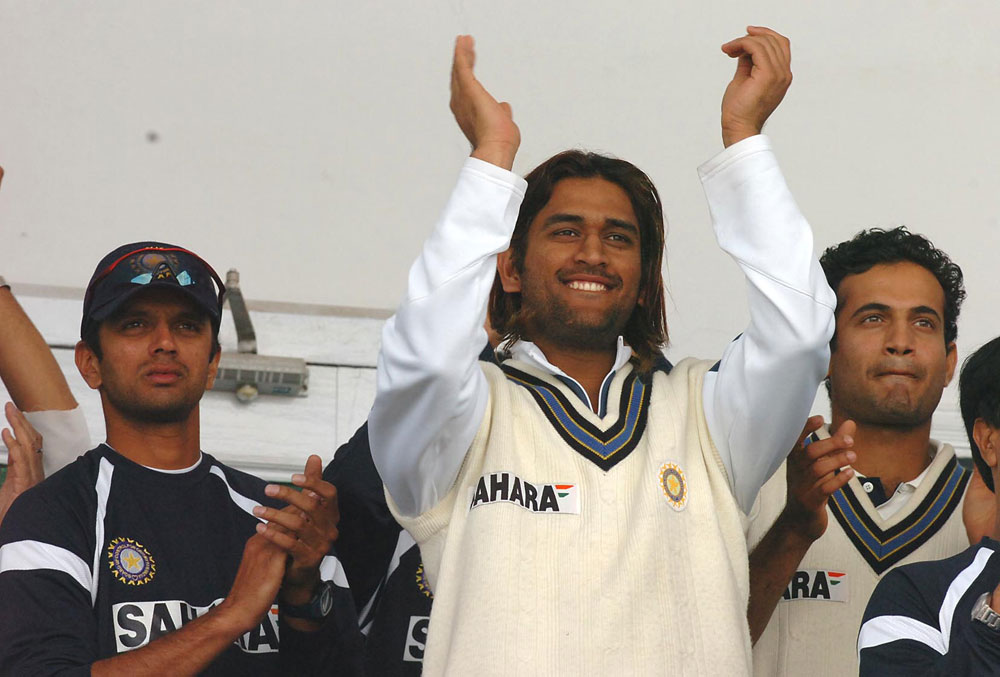 Rahul Dravid, Mahendra Singh Dhoni and Irfan Pathan in the dressing room during the second cricket test match between India and Pakistan at Iqbal Stadium, Faisalabad, in January 2006
Image: Utpaal Sorkkar
---
Published 01.06.19, 11:29 PM
|
---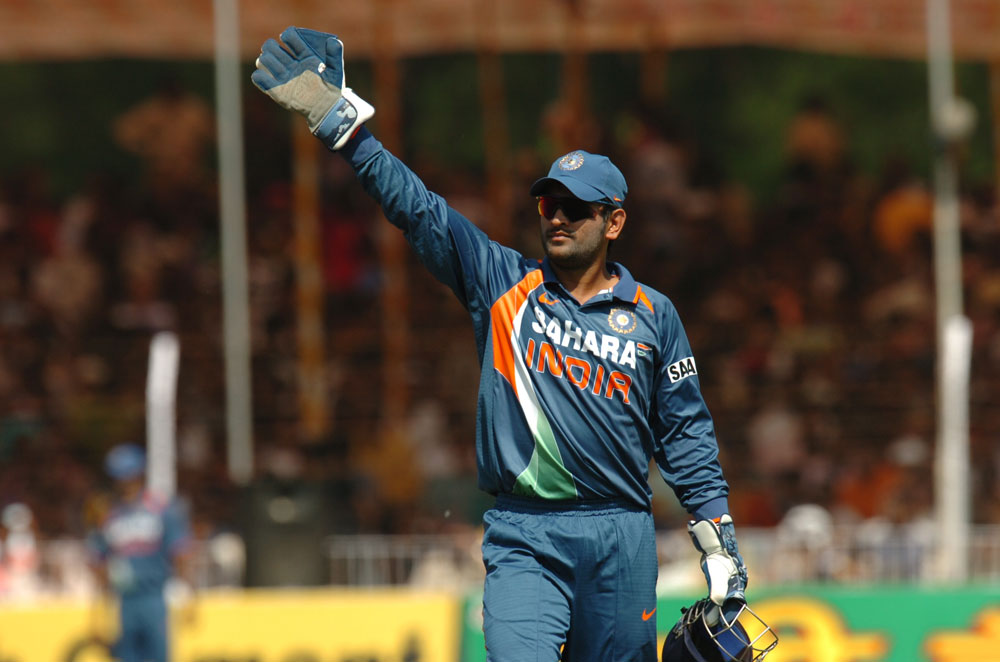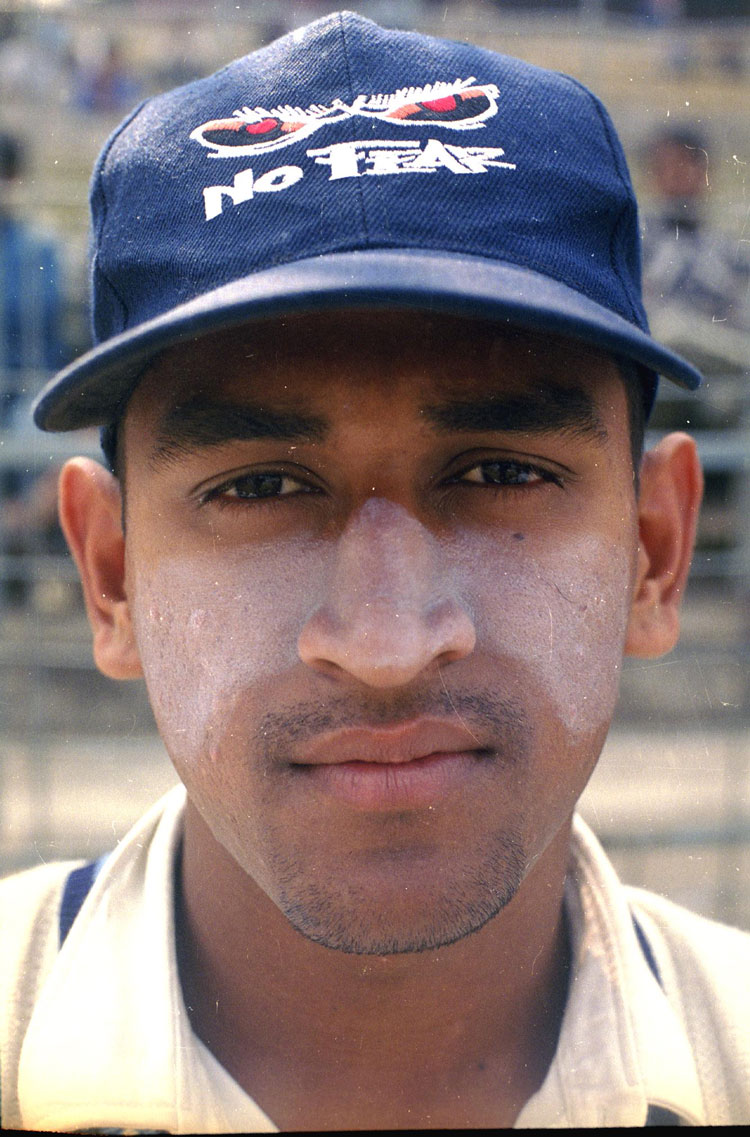 In Aditya Chopra's film Chak De! India there is a scene where two young women hockey players arrive at the stadium in Delhi for a training camp before going to the Women's Hockey World Cup. The two girls, Rani Dispotta and Soimoi Kerketa, are from remote villages in Jharkhand and the man checking them in to the camp cannot believe they are hockey players. For him, the idea that Jharkhand could produce hockey players, let alone women hockey players, seems mystifying. What is more, they do not speak English well, and this sets them apart. But in the end, they prove world-beaters and the film is a celebration of an India that can overcome differences in class, religion, caste and discrimination against women and, led by a man determined to prove that he is a patriot, take on and beat the world. The film proved a great box office hit, grossing $1,49,59,326 and making tremendous social impact while its song "Chak De! India" became the sports anthem of a country hungry for sporting success. It was three days before the film was released that [Mahendra Singh] Dhoni held his first press conference as captain in London, talking about how he was a brand ambassador for Jharkhand, and in many ways Dhoni's career can be seen as the real life equivalent of Rani Dispotta's and Soimoi Kerketa's.
Yet before Dhoni emerged, had a scriptwriter suggested that Jharkhand would produce such a player, no one in Bollywood would have found it credible. Dhoni's is one of those Indian stories that seem to belong to the pages of Indian mythology. He has made a town famous for its mental asylums (it has India's biggest mental asylum, Ranchi Mansik Arogyashala) well known around the world as a sporting centre. And in a state which had produced hockey players, including the man who captained India to their first Olympic hockey gold in 1928, and where, in missionary schools in tribal areas of the state, schoolchildren carried hockey sticks to school along with their textbooks, he emerged as a cricketer of world renown. As Fardeen Khan, a Mumbai filmmaker who captained him in the Under-19 side, says: 'Wherever cricket is played in the world, if they know Jharkhand it is because of M.S. Dhoni. He put Jharkhand on the world map. It's a big thing. Dhoni is such a big brand that he will go down in history books as not only one of the greatest cricketers India has ever produced, but one of the greatest cricketers in the world.'
But the Dhoni story is not quite as straightforward as all that, and if he has become a success, it is both a testament to Dhoni himself and a reflection of how India, and in particular Indian cricket, has changed since the country first took to the game.
His rise also shows that to succeed in India you do not always require a godfather, the famous "pull" that many believe you need. However, Dhoni did have support, though from unexpected sources. The man who got the fifteen-year-old what was in effect his first contract for bat and equipment, Paramjit Singh, was himself not much older — he has since acquired a sports shop in Sujata Chowk, Ranchi's main bazaar — and had nothing going for him except being a stubborn man willing to tell endless tales of how well young Dhoni had done in Ranchi gulli cricket matches, often with a tennis ball. He persistently badgered the Kohli brothers, bat makers in Ludhiana, to take a chance with Dhoni. At one stage, they got so irritated by the badgering they asked in some exasperation, "Bradman hai kya?" [Is he Bradman?], to which the man responded, "Bradman ka baap hai, Sir" [He is Bradman's father]. But in the end, the man who had appointed himself in effect as young Dhoni's agent succeeded, and the Kohlis gave eight bats and other cricket equipment free, despite the fact that it cost Rs 20,000 and they had never seen Dhoni play or really knew who he was. Dhoni had tears in his eyes as he accepted the gift and more tears when he got home and told his parents of what he had brought home. Little were the Kohli brothers to know they were making a huge contribution to Indian cricket or, in the sort of accident of history which seems part of Dhoni's cricket career, that Dhoni's mantle would fall on another Kohli, but one not related to them.
The twists and turns in Dhoni's story are also illustrated in the way he was weaned away from his first love of football by a sports master who should have encouraged his love for the round-ball game. Teachers at Dhoni's school quickly realised that he was never going to be much of a scholar and some of them did encourage him to watch videos of great goalkeepers such as Lev Yashin, Peter Shilton and Dino Zoff. But not his sports master, Keshav Banerjee. 
THE RANCHI KID'S FIRST MENTOR
Banerjee had no cricketing icon from Jharkhand with which to tempt Dhoni. It would have been more logical had Banerjee let Dhoni develop his football skills. Jharkhand had had some football players of note and one famous goalkeeper, Peter Thangaraj, who had settled in the state. Banerjee, a Bengali, should have had football in his blood, but having heard of Ramakant Achrekar and the great cricket coaches who had found fame nurturing great cricketers, he wanted to emulate them. "When will I groom a cricketer?" Banerjee had said in anguish, and when he saw Dhoni he was convinced he had found the boy who, even if he did not become a Tendulkar, would be one India would notice.
It helped that by 1994, when Dhoni first discarded goal-keeping gloves for wicketkeeping ones, cricket was by far the most popular sport in the country. Banerjee could hold out to young Dhoni the prospect that cricket could take him to the world of his dreams. "This is a great game and those into it are heroes in India, you will also become one if you stick to it. Cricket has taken India to great heights, football hasn't. You are in the right place. Do not ever think of walking out."
In such stories of recollections there is always the possibility that the coach who first spotted the youngster is claiming more credit than he should. Banerjee readily admits that he was more of a physical education teacher than a cricket coach and had little to do with Dhoni's batting style. But he did make sure that as a wicketkeeper Dhoni did not catch the ball like a fish with its mouth open, which he was doing when Banerjee first saw him. And whatever the gloss Banerjee may be putting on it, his chat with Dhoni one evening in Ranchi has a nice ring to it and does provide an insight into Dhoni. The pair were talking, sitting on a wooden bench on the edge of a cricket field in Ranchi. The young boy kept looking at an advertisement of a Kawasaki Bajaj motorbike which transformed into a cheetah on the prowl, and Banerjee advised Dhoni that, like the cheetah, he would have to prowl behind the stumps, move at speed the moment he saw prey, a batsman edging the ball or moving out of his crease, and like a revved motorbike "maintain a blistering pace in batting. I told Dhoni that he will have to transform himself from an average player into a powerful man- machine. Only then he would be noticed."
Initially, Dhoni's problem was to get into the school team. The school had a regular wicketkeeper and Dhoni's initial reaction to Banerjee was, "Chance doge?" [Will you give me a chance?]. In his first year he played just one match, when the regular wicketkeeper was away. It was after that boy left school and Dhoni had been playing cricket for a year that he became a regular member of the side.
It is remarkable that Dhoni's cricketing career would replicate his first introduction to cricket. So, Dhoni made his first-class debut on January 12, 2000, when Bihar's regular wicketkeeper, who was also the side's leading batsman and captain, decided he had too much on his plate and gave the gloves to Dhoni. Four years later, in July 2004, sent as a reserve wicketkeeper on an India A tour of Zimbabwe and Kenya, the No. 1 keeper, Dinesh Karthik, was suddenly called away to keep wickets in the ODI matches for the senior Indian side playing in England and Dhoni made his international debut. And, as we have seen, a further three years later, in 2007, with the greats of Indian cricket deciding that T20 cricket was not for them, Dhoni led India to the first T20 World Cup. On every occasion Dhoni seized his chance brilliantly and always got the timing of the next stage of his career right. But because nobody expected him to get the chance, let alone that he would do it so brilliantly, they could never get over their surprise that he was now occupying centre stage. And even today, those who played with Dhoni when he was a schoolboy in Ranchi, and saw him rise through the ranks of Indian cricket, cannot conceal their astonishment at how far their old friend and colleague has come. Dhoni, defying the most unpromising of cricketing backgrounds, would go on to such greatness that he can rightly be said to have ushered in a new generation of Indian cricketers.
Amir Hashmi, a left-handed batsman who made his Ranji Trophy debut for Bihar in the same match as Dhoni, grew up with Dhoni in Ranchi and, like him, also got a job in the Railways under the sports quota working for the Railways at Kharagpur. Hashmi is still with the Railways, based in Dhanbad, and can claim to know Dhoni better than almost anybody else. He told me: 'I played as a child with Dhoni in Ranchi and until he came into the Indian team we played together. The only difference between Dhoni and me was he went to a Hindi medium school. I went to an English medium school. My Papa was a government employee. He worked in Ranchi for the Coal Mines Provident Fund and Dhoni's father worked for Mecon [Metallurgical and Engineering Consultants]. We were all middle class. We were not rich. When we were at school we had cycles. When we played Ranji Trophy we bought motorbikes. Ranchi has changed ever since the state of Jharkhand was formed. Now if you come to Ranchi you will find a Ranchi which is not like the Ranchi of the Nineties when we were growing up. Then Ranchi wasn't a nice place, and there was a lot of crime in Ranchi. After seven you couldn't roam around in Ranchi.'
Dhoni, Hashmi and their friends could not wait to escape dreary, unsafe Ranchi and seek the excitement of the big city. Kolkata: "Whenever we went to Kolkata to play cricket we used to go shopping and look for sales and search for places where they were giving discounts. We used to buy jeans, T-shirts. Dhoni also grew his hair but that was later." Both friends loved Bollywood films, and Dhoni fairly early on hitched himself to its greatest star. "We used to watch a lot of Bollywood films and Mahendra Singh Dhoni loved the songs of Kishore Kumar. And his favourite film was Deewar, one of Amitabh Bachchan's films. We used to recreate the scenes from Deewar and loved to recite the dialogue from the film. Sholay was also very popular. Dhoni was very fond of Amitabh Bachchan movies."
But as they were growing up, Hashmi never for one moment thought that his young friend would become the colossus who would dominate Indian cricket.
'When I first saw him in 1996 he was a very simple lad. Everybody liked Dhoni because Dhoni was very quiet. He hardly said anything, he was very shy. Like me he loved football and both of us from the beginning were great Manchester United fans. We got a Manchester United jersey and a Manchester United cap that we used to put on. Although he had started as a goalkeeper at school he like me also played as a striker and I played in a lot of football tournaments with him in Ranchi. In Ranchi there is a St. Xavier's School and we used to play football at the St. Xavier's ground. We started playing what was called tennis ball cricket. However, it was a lighter ball than most tennis balls, being the ball used in lawn tennis, a green coloured ball that was called the Cosco ball. [India's bestselling tennis ball which is used in the Davis Cup.]'
Reproduced with permission from The Nine Waves: The Extraordinary Story of Indian Cricket by Mihir Bose; Published by Aleph
DHONI INVENTS THE HELICOPTER SHOT
The tennis ball cricket that Dhoni played did produce a new cricketing shot. Hashmi recalls: 'Even when we played as youngsters, Dhoni played the helicopter shot. He learned the helicopter shot from another of our colleagues, Santosh Lal, who unfortunately died two years ago due to kidney failure. What used to happen is that in tennis ball cricket, the bowler would try to bowl a yorker so a batsman could not hit a six. And Santosh Lal used to practise how he could hit the yorker for a six. Dhoni saw him play the shot and told him, "Yeh to badhiya shot hai tennis ball mein" [It's a great shot in tennis ball cricket] and Dhoni started playing that shot as well and by playing that shot repeatedly he got very good at it. He was a very powerful hitter and he used to hit very long sixes. We didn't call it the helicopter shot.'
For Fardeen Khan the use of the term shows the effect of the Dhoni phenomenon: 'We didn't call it anything. This is obviously a marketing thing. What would you call Azharuddin's great wristy shot off his legs which he played throughout his career? It is the most astonishing shot in cricketing history according to me, how beautiful it looked.'
Hashmi, a classical batsman, never much played the helicopter shot. "I used to play shots along the ground." This difference in batting styles may explain why Dhoni and Hashmi had rival cricketing heroes: 'My heroes were Brian Lara and Sourav Ganguly. Dhoni was a big fan of Sachin Tendulkar. Dhoni and I would discuss who was the better batsman. I felt Lara was a match winner. Tendulkar was not a match winner.'
However, playing a helicopter shot with a Cosco ball was one thing. What made the helicopter shot famous around the world was that even when Dhoni, at around fourteen, started playing hard red ball cricket, what Hashmi calls "deuce ball or leather ball" [in Mumbai we called it "season ball"], the helicopter shot remained part of his repertoire. This was all the more remarkable because, as Hashmi says: 'We did not have the infrastructure to play proper cricket. We would be frustrated that we could not play on turf wickets. In Ranchi there was only one ground belonging to Mecon where they had a turf wicket. The other grounds where we practised on were not good. But while compared to other stadiums Mecon was much better, even there the outfield wasn't very good and did not encourage diving.'
This meant most of the cricket was on matting wickets, and in Dhoni's school the matting had to be pulled out from the school auditorium every day and was uneven.
For both Dhoni and Hashmi playing cricket was itself an act of rebellion: 'At that time the feeling was that cricket could damage your life, that playing cricket means you were not studying. Our parents used to say what will cricket bring you. Parents used to think if you are playing cricket your life will be destroyed, you won't be able to have a career. Our parents used to tell us study hard, become an officer, a doctor, an engineer, a chartered accountant. When I became a professional cricketer my Papa was very upset, he said you are not taking your studies seriously, this is not a good thing. I said this is what I am interested in. Dhoni had the same problem but his parents let him play cricket seeing that their little boy was very interested in playing the game. They felt that if this is what you want to do, go ahead. His father thought if he plays the Ranji Trophy and gets a good job the lad will get settled.'
In the Dhoni biopic there is a scene which shows Dhoni's father, Pan Singh, letting young Dhoni play a cricket tournament just before his exam. As Dhoni set off, his father said, "If you've studied and worked throughout the year, then there's no problem if you go off to play today. If you haven't studied every day then one day is not going to make a difference." Pan Singh made sure his son studied, and, says Dhoni, "My dad used to wake me up at dawn every day to study for two hours throughout my years at DAV Jawahar Vidya Mandir because my evenings were crowded with football and cricket practice." Dhoni was well aware that coming from a middle-class family, job security was important. "It can be a tough decision to choose between job security and your dream," says Dhoni.
Pan Singh's dedication would pay off. The man whose job was working as a pump operator watering roads lining the Shyamali Colony where his son's school was located would see his son's cricket prowess get him several jobs, although it was some years before he felt he had been right to let his son play cricket. Dhoni's first job at SAIL (Steel Authority of India Limited) was to play for its cricket team on a salary of Rs 625 a month, but his wages were cut by Rs 25 if he missed practice. Within a year, cricket brought him a job with more money: Rs 2,000 with a bonus of Rs 200 at Central Coalfields (CCL), a subsidiary of Coal India Limited. Then, in 2002, a job with Railways at Kharagpur. Here again Dhoni got a job as a ticket collector because of a Bengali -- divisional manager Animesh Kumar Ganguly's enthusiasm for cricket. He had laid out a cricket pitch at his railway bungalow. There he gave Dhoni a forty-five-minute cricket test, with Ganguly bowling to Dhoni; delighted with the trial, Ganguly gave him a Class 3 job as a train ticket examiner and a place in the team.
The Railways job made Pan Singh feel playing cricket was worth it as it had given his son a secure job.