Mohammedan Sporting connection of Danish Farooq
My father, who is my idol, always tells me about his Mohammedan Sporting days: Danish Farooq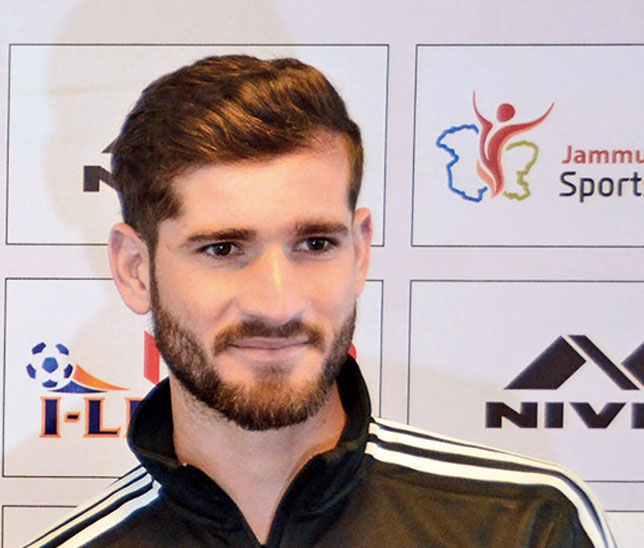 ---
|
Srinagar
|
Published 04.01.20, 10:30 PM
---
Football runs in Danish Farooq's blood. His grandfather was a footballer — "he played at the local level" Real Kashmir's most recognisable face informed. His father Farooq Ahmed turned up for Mohammedan Sporting and his uncle also played for SRTC.
"Football is in my family. My father was with Mohammedan Sporting but was forced to return home by my grandparents following an injury. That was before I was born. I have seen him playing in local tournaments and then coaching budding footballers," he told The Telegraph on Saturday after Real Kashmir's practice session at the Tourist Recreation Centre ground.
"My father is my idol. He always tells me about his Mohammedan Sporting days. Like me, he was a striker too. He also helps me to develop as a footballer. He comes to watch every match and loves to sit in the stands. He doesn't want to sit at the VIP Enclosure," Danish said.
Danish though didn't start his career as a striker. "I was a defensive midfielder. In footballing parlance, you call it a No. 6. Coach (David Robertson of Real Kashmir) during his early days here saw me and said I was wasting myself as a No. 6. He put me as a frontliner, No. 10, and my life changed. During my days as a defensive midfielder, I used to be a big fan of Paul Pogba, but now I watch Lionel Messi and Luka Modric," he said.
Danish had a good game against Chennai City last week scoring a goal. On Sunday Real Kashmir will be up against Mohun Bagan and Danish thinks it would be great to avenge last season's home defeat. "They beat us here, so if we win, it will be sort of a revenge," he said.
Danish is now aiming for a place in the national team. "I want a place in the national team. For that, I have to keep on performing," he said.
On Sunday, Isac Doru technical director of the All India Football Federation, will be watching the match. Danish will hope to catch the Romanian's eyes.