Mirabai Chanu opens India's medal account at Tokyo Olympics
Silver gift for 5 years of sacrifice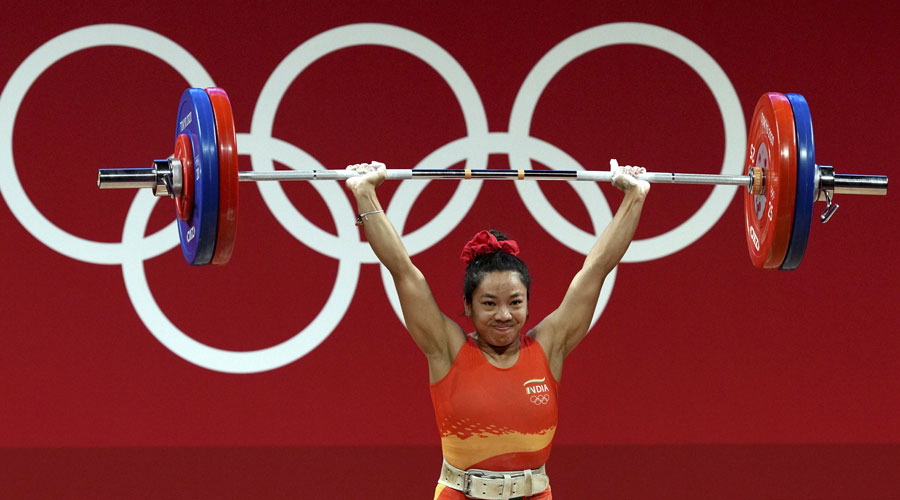 ---
Calcutta
|
Published 25.07.21, 02:37 AM
|
---
An economic downturn, job losses and deaths of near and dear ones. India's woes ever since the pandemic started early last year has been a never-ending story.
But Saturday was special. A silver-lining. In more ways than one.
A 26-year-old, who responds to the name of Mirabai Chanu, gave India something to cheer about. The diminutive weightlifter, whose smile just refuses to go, brought India its first medal — a silver — from the Tokyo Olympic Games with a total lift of 202kg (87kg+115kg).
It's a first. Never ever has India won a medal on the first day the Olympic Games. A second too. Indian weightlifting got its first medal since Karnam Malleswari won the bronze at the Sydney Olympics 21 years ago.
Mirabai's is a story of resilience, inner-strength, comeback and sacrifices.
Five years ago, at the Rio Olympics, Mirabai, then just 21 and a medal contender, saw her campaign ending in a whimper.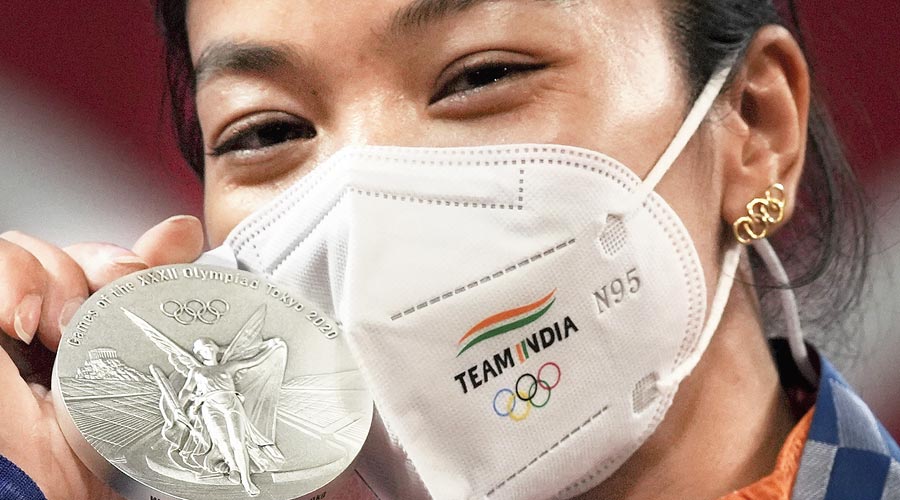 She vowed to come back strongly and worked hard under coach Vijay Sharma. "After the Rio disappointment, I reworked my training schedule and technique. We (coach Sharma and I) put in a lot of effort. I was very sad after Rio, there was a lot of pressure on me and I got nervous, I couldn't understand anything for days but then coach sir and the federation (Wrestling Federation of India) counselled me," Mirabai said during a news conference organised by Sports Authority of India (SAI).
Mission Tokyo
In between there were injuries. A recurring back problem and shoulder injury pegged her back a year ago. But behind Mirabai's infectious smile lies her determination and dedication to excel, to do away with the ghosts of Rio once for an all. That kept her going. A couple of stints under renowned strength and conditioning coach Dr Aaron Horschig at St Louis in the US also did her a world of good.
It was Mirabai 2.0. On Saturday, Mirabai was much more matured, calm and composed. She did not want to let go of the five years of hard work and sported a smile throughout the competition.
She had worked on her weak point, the snatch, and it showed. Mirabai attempted 84kg in her first snatch attempt. She took her time and cleanly heaved the barbell. She lifted 87kg in her next attempt and raised the weight to 89kg, which was a kg more than her personal best of 88kg that she had lifted at the National Championship in Calcutta last year. However, she was unable to better her personal best and settled for 87kg in the snatch event only behind leader China's Hou Zhihui, who created an Olympic record with an effort of 94kg.
In the clean and jerk, world record holder Chanu lifted 110kg and 115kg in the first two attempts. However, she was unable to raise 117kg in her final attempt. But that was enough for the silver. As the realisation dawned on her, an emotional Mirabai hugged her coach Sharma.
Craving for food
The sacrifices an athlete makes for Olympic glory can be gauged when Mirabai revealed she has been to her native Nongpok Kakching village, about 20km from Imphal, for just five days in the last five years. "I have been home for just five days in the past five years. Now I will go with this medal. I will eat food made by my mother. And today I will feast on pizza. Last five years I was craving for that," she said with a smile.
"She was barred from eating any sort of fast food. She is very fond of pizza and ice cream. We made sure her hands stayed away from those," Sharma had earlier told the official broadcaster.
Mirabai hoped her exploits in the international arena and the Olympics win can inspire more girls to take up sport, especially weightlifting. "There will be a change, there are a few girls in weightlifting right now but I hope many will be inspired by me and will feel they can also achieve something in the sport," she said pointing to the silver medal.
ALL ABOUT THE MEDALLIST
MIRABAI CHANU (Age 26)
How it started
She took to weightlifting in 2008 at Khuman Lampak Sports Complex in Imphal although she had initially planned to try archery
Early spark
The girl from the hills honed her skills the hard way in her growing up years doing stuff like wood cutting, fetching water from ponds in milk cans and even using bamboo trunks as barbells
Inspiration
Former Indian weightlifter Kunjarani Devi
Rio debacle
Competing in the 48kg category, she failed to record a lift in any of her three attempts in the clean & jerk section at the 2016 Rio Olympics. She had a single clear lift — 82kg — in the snatch section earlier
Medals
Silver — 2020 Tokyo Olympics
Bronze — 2020 Asian Championships, Tashkent
Gold — 2018 Commonwealth Games, Gold Coast
Gold — 2017 World Championships, Anaheim
Silver — 2014 Commonwealth Games, Glasgow
Record
She holds the world record in the 49kg clean & jerk section — a 119kg lift at the Asian Championships, Tashkent, 2020
Awards
Rajiv Gandhi Khel Ratna Award (2018)
Padma Shri (2018)
Know the discipline
There are two Olympic lifts: the clean and jerk, and the snatch. Each athlete is allowed three attempts at each lift. The best lift in each is combined to determine the overall total. Athletes must successfully attempt the snatch before proceeding to the clean and jerk.