Finisher for cricket's discovery of India, too
Dhoni's ability to read the game, his tactical moves and even his DRS calls showed him to be one of the most astute leaders the game has seen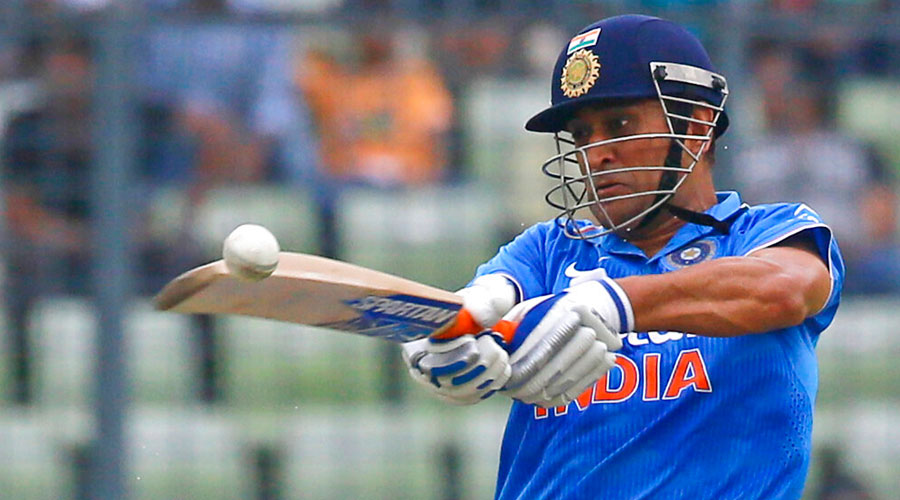 ---
---
When Mahendra Singh Dhoni smote Nuwan Kulasekara for a six over long-on to take India to victory in the 2011 World Cup final, it was about more than just bringing the trophy home after 28 years.
With that one shot, cricket's discovery of India, from the big city to the backwaters, was complete.
When Dhoni started playing in the mid-nineties, Ranchi was still a sleepy town in south Bihar known more for its PSUs — his father worked with Mecon — than for its cricketing provenance.
By the time he had announced he was hanging up his boots on Saturday, as of 7.29 in the evening, Ranchi was a bustling capital city of a new state. Dhoni's journey too had traversed many paths, charted many courses, travelled many air miles. And somewhere along the way, it had taken him to Kharagpur to work as a railway ticket examiner.
The youngster with the flowing, blond-streaked mane had broken through the barriers of class and culture to put a town not known for its sporting prowess on the international cricket map.
Across the country, as live cricket was beamed into its remotest corners, the grounds with their slush and puddles became the budding cricketer's Lord's. Suddenly everyone wanted to wield a willow, like Mahi did. Dhoni's success seemed to have touched off a revolution of the mind among young boys: if he can, so can we.
Not that he was the perfect player — unlike Sunil Gavaskar, Kapil Dev the bowler, Sachin Tendulkar or even a Virat Kohli. Dhoni wielded the willow like a mace, lacking the steely defence of a Rahul Dravid or the silken grace of a V.V.S. Laxman. But he made up with his power and ingenuity.
It was ingenuity that helped him patent the most celebrated stroke in India's cricket history, the helicopter shot, which allowed him to hit a yorker for a six on the leg side with a combination of whirring wrists, twirling arms and twisting torso. It was an innovation he had learnt in the backyards of Ranchi, from his childhood chum Santosh Lal who played what he called the "thappad shot" to impress a girl he liked.
All this after a nightmare international debut in 2004. Dhoni had fallen for a first-ball duck in Chattogram, and in the cruellest of manners — run out. But then skipper Sourav Ganguly kept his faith in the young man, and it paid off for Indian cricket.
For much of the next decade and a half, Dhoni subjected rivals to many agonies — with the gloves, with the bat, and as a shrewd captain of a highly successful team.
Three-and-a-half months after that forgettable debut, Dhoni had announced his arrival with a breathtaking 148 off 123 balls against Pakistan in Visakhapatnam.
He wrote his own keeping manual too, becoming one of the best wicketkeepers India has ever had, his electric stumpings a joy to watch. He would barely seem to move his hands sideways to gather the ball before thrusting them down on the stumps in one lightning motion. Not as spectacular a diver as Wriddhiman Saha or Syed Kirmani, but extremely efficient in his minimalist movements.
As a batsman, Dhoni never quite realised his full potential in Tests. In white-ball cricket, he was among the best ever, at least from his debut till about 2016 before age and slowing reflexes began taking a toll.
His biggest legacy, however, would be as India's "Captain Cool" — the only captain to win all the ICC trophies: the T20 World Cup in 2007, 50-over World Cup in 2011 and the Champions Trophy in 2013. Under him, India also became the top-ranked Test nation in 2009.
Dhoni's ability to read the game, his tactical moves and even his DRS calls showed him to be one of the most astute leaders cricket has seen. His overseas record as Test captain, though, isn't as good as those of Kohli, Sourav or even Dravid.
So, what lay behind his magnetic appeal? After all, that he would retire sooner than later was more or less certain. He had already stopped playing Tests in 2014 and his international retirement was a question of when and not if, more so after the ICC had postponed the World T20, which had been scheduled in Australia from October, because of the pandemic.
To use a Bollywood analogy, Dhoni's career has had an aura like Sholay's.
Ramesh Sippy's blockbuster film, which turned 45 this Independence Day, is not by any stretch of imagination the greatest movie ever made as its tag line proclaimed. Nor is Dhoni the greatest in any of cricket's disciplines. But like Sholay, Dhoni is a sum of many remarkable parts, of many extraordinary moments, all of which have come together to create a legend.
Whether it was handing the ball to rookie Joginder Sharma for the final over of the 2007 World T20 final against Pakistan or pushing himself ahead of man-in-form Yuvraj Singh in the 2011 World Cup title match, Dhoni's instincts rarely failed him. He had also transformed himself into a formidable "finisher", one with ice in his veins. Not for him any display of naked aggression or sledging.
"It's almost as if he doesn't have them; a performance-enhancing gift from birth," India's former mental conditioning coach Paddy Upton wrote about Dhoni's control over emotions in his memoir, The Barefoot Coach.
Age, however, appeared to catch up with Dhoni in the World Cup in England last year. Aged 38, he struggled to time the ball even against mediocre attacks and failed to provide the late assault that was once his hallmark. Some blamed him for the semi-final loss against New Zealand, where his 50 off 72 balls was said to have slowed the chase.
Dhoni had his share of controversies too. His silence was questioned after key Chennai Super Kings official Gurunath Meiyappan, son-in-law of franchise boss N. Srinivasan, was found guilty of betting and the team was temporarily banned from the IPL. Dhoni later said that phase in 2013 was the worst of his life.
But the unflappable leader that he was, Dhoni, who had a few months earlier scored his highest Test score of 224 at Chennai, didn't let the tension get to his players too much, either.
Just before the 2013 IPL final against eventual winners Mumbai Indians at the Eden Gardens, with allegations flying around the team, Dhoni had sensed the unease. As the CSK cricketers waited for the customary huddle wondering what their captain would have to say, Dhoni, calm as ever, told them to see if they could finish top of the Fair Play Award rankings. The tension dissipated.
As the shy boy from Ranchi retires, he will be remembered as a leader of men who preferred to walk the talk. He will be remembered, too, as the mascot of Middle India that cricket only recently discovered.
But hold on a bit: one of the game's greatest finishers isn't finished yet. As you read this, he's probably limbering up to lead his "whistle podu" Chennai franchise to another IPL title chase. Don't go anywhere.