M S Ji
His fourth IPL trophy gloved, Dhoni takes guard as boss of the T20 World Cup think tank. What could that mean for Cricket India?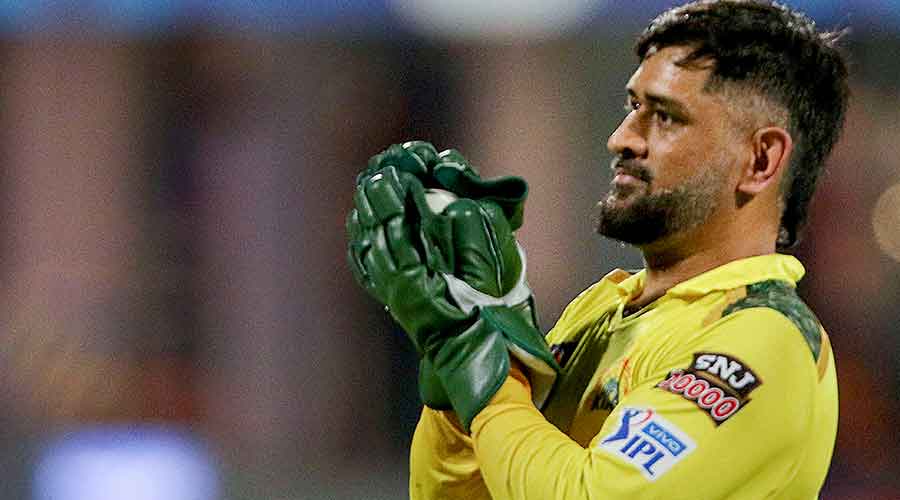 Sourav's out-of-the-box thinking was always going to help. In that context, it comes as no surprise that Mahendra Singh Dhoni is back in the BCCI scheme officially, as team mentor for the T20 World Cup beginning in the UAE next week.
PTI
---
Published 17.10.21, 03:53 AM
|
---
A day into his role as Board of Control for Cricket in India (BCCI) president, Sourav Ganguly did the unthinkable. He cajoled a reluctant Virat Kohli to play India's first day-night Test.
It wasn't a spontaneous nod from the Team India captain, who had maintained for long that sighting the pink ball was a problem once it gets old. But Kohli found it difficult to persuade the board president to buy into his argument.
Sourav's logic was simple: day-night Tests are the only way to bring the crowds back into the stadium and it wasn't feasible to continue with empty stands in the game's traditional format. It also sent out a loud and clear message that the former captain meant business as BCCI chief.
India's failure to win an International Cricket Council (ICC) tournament since the 2013 Champions Trophy in England was another aspect that needed immediate attention. The current board brass has proceeded with one ambition: India has to attain numero uno status in world cricket.
Sourav's out-of-the-box thinking was always going to help. In that context, it comes as no surprise that Mahendra Singh Dhoni is back in the BCCI scheme officially, as team mentor for the T20 World Cup beginning in the UAE next week. Here is someone who shared an excellent camaraderie with the current crop of players and there is no doubting his tactical acumen as captain in the limited overs format — two World Cup triumphs in 2007 and 2011 and the Champions Trophy, besides four IPL titles with Chennai Super Kings. Once BCCI secretary Jay Shah popped the proposal, Kohli had to fall in line.
But what left everyone stunned was the timing of the appointment. Only 48 hours earlier, Kohli's men had won The Oval Test to take a 2-1 lead in the series. Dhoni's return to apex team management sounded like a declaration of lack of faith in head coach Ravi Shastri and Kohli. The growing sense of  disquiet over Kohli's leadership was now more than just a murmur.
In addition to Kohli's own dip in form, what stood out were the controversial team selections on tour. First, it was the decision to play two spinners in cold and blustery conditions in the World Test Championship final in Southampton; and then the benching of Ravichandran Ashwin, arguably the best spinner in the world and a prolific wicket-taker. That could have proved to be the proverbial last straw.
More than being a mentor or guide to players, Dhoni's brief is to specifically help Kohli win his first ICC trophy in what will be his swansong as T20 captain. To put it more precisely, Dhoni will have to handle Kohli with care and be the captain's coach.
Some imaginative field placements, bowling changes and batting order reshuffles can change the course of a match and Dhoni excels at such manoeuvring. His ploy to hand the relatively unknown and unfancied Joginder Sharma the last over in the 2007 T20 World Cup final, when Harbhajan Singh had one over left, or the decision to come ahead of Yuvraj Singh in the decider against Sri Lanka at the Wankhede are now part of folklore. Call it his presence of mind or merely a gambler's instinct, Dhoni remains peerless when it comes to "match reading" in white ball cricket. Every move of his is well-planned and rehearsed; often he catches the opposition unawares. He always thinks ahead of his adversaries and comprehends if a particular player could fit into a situation perfectly. Dhoni is a natural at what he delivers and that is why Michael Vaughan has called him "the greatest ever T20 captain".
There are whispers that Dhoni was consulted before the national selectors sat down to choose the squad for the showpiece event. The decision to include five spinners and bring Ashwin back into the fold had Dhoni's stamp of approval. Don't forget, Ashwin had played most of his ODIs and T20Is under his captaincy.
Dhoni knows the conditions in the UAE well and understands the spinners could benefit out of it. Not long ago, the out-of-favour Kuldeep Yadav recalled how Mahibhai's suggestions from behind the stumps helped in achieving success.
Even after he quit limited overs captaincy in January 2017, Dhoni remained the guiding light behind strategy formulation at team meetings. On the field, Mahibhai's wise counsel always came in handy. "Thoda peeche dalo (pull your length back a little); Aise, aise dalo (bowl like this); Tu bhi nahin sunta hai kya (You too won't listen); Jaddu, thoda off mein dal (Jadeja, bowl on the off stump)," his witty one-liners as picked up by the stump-mic would often turn a match on its head.
The BCCI could consider itself blessed to have a wily former captain at its helm during this hour of transition. Shastri and his support staff's term ends after the World Cup and is unlikely to be renewed. The T20 team, if not the limited overs side, will also have a new captain after Kohli decided to stand down.
So will Dhoni step into Shastri's shoes after the ICC event? Till a few days ago, this could have passed as a multiple-choice question for which the board had no clear answer.
That's largely because Dhoni remains an enigma in Indian cricket. There's hardly anyone, except perhaps Chennai Super Kings founder N. Srinivasan, considered to be his godfather, who can envisage his next move.
The official line has been that his appointment is only for one tournament though there is hope that the association would go beyond the showpiece event. The Super Kings captain recently broke his silence indicating he could play for one more season and the "Whistle Podu" army would get to see his "farewell game" in Chennai.
There is talk that Srinivasan wanted Dhoni to remain with the Super Kings till the next season for a smooth changeover once the new-look squad is in place following the mega auction.
"It is very difficult to read Dhoni's mind. Even when he quit captaincy and international cricket, he never let anyone know about his plans in advance," a board official said.
"Dhoni knows everyone in this Indian team inside out. That he has agreed to this assignment is an indication that this is something he isn't unwilling to explore. If not now, maybe after the 2023 World Cup," the official added.
The BCCI has been in a dilemma over Shastri's successor. Rahul Dravid still hasn't made up his mind on whether to take the plunge. Not everyone would feel comfortable with the return of Anil Kumble.
Several reputed overseas cricketers have shown interest but the board is more intent on having an Indian in charge of the most precious job in world cricket.
Another possibility being looked into is uti-lising Dhoni's experience during high-profile events on a case-by-case basis. With one ICC tournament slotted every year, this could prove to be the proverbial masterstroke.
"For the BCCI, it has been a matter of getting the best of cricketing brains together. It's time to put in the best effort and not worry about what the future holds," the official remarked.
There's no clear vision emerging still. The cards are with Dhoni and how he plays them needs to be followed closely.