Lockdown tips from clampdown land
Ishfaq & Mehraj form fitness group to keep Kashmiris busy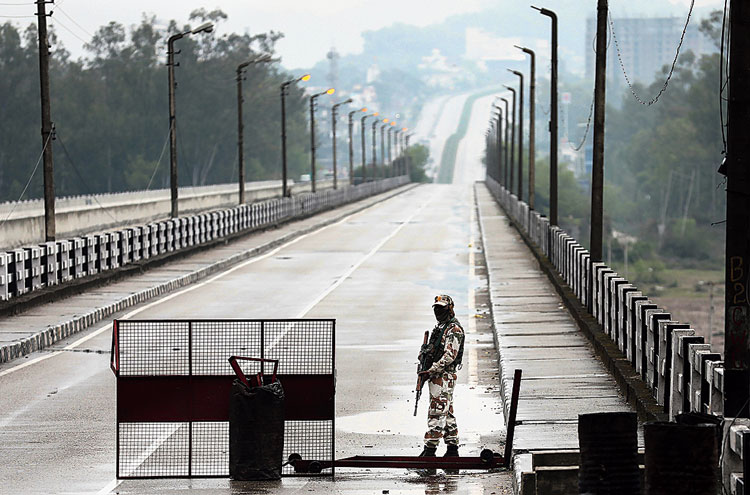 ---
|
Calcutta
|
Published 27.03.20, 08:12 PM
---
For the rest of India, the 21-day lockdown is a first. But for Kashmir it's nothing new.
While the rest of India is struggling to cope with the fact that all have to stay indoors for three weeks to keep the deadly coronavirus at bay, Kashmir has seen worst.
Terrorist attacks, curfews, violence, stone-pelting and then, from August 5 last year, a complete clampdown after the abrogation of the Article 370.
"First of all, what happened last year was a clampdown and not a lockdown. There is a difference. People here did not have Internet facilities, there were no mobile services. Kashmir was completely cut off from the rest of the world.
"In a clampdown, you struggle for basic needs. Whereas in these days of lockdown, you can watch a movie or a series on any OTT platform or have a video chat with friends. This lockdown though was a must since by staying at home and maintaining social distance, we would be able to fight the virus," former India player and Mohun Bagan captain and Ishfaq Ahmed told The Telegraph from Srinagar on Friday afternoon.
"Kashmiri people are used to staying indoors. We grew up with curfews. I have seen 23-hour curfews and markets would be open for one hour in the morning. There was no cable connection, no Internet. I am talking about say some 10 years back. Now, at least, we have 2G connection, so we can access Internet," Ishfaq, who is currently the Kerala Blasters assistant coach, said.
Ishfaq's friend and another former India player, Mehrajuddin Wadoo, says that for a change, there is no anger amongst the people. "People are worried about this virus. There is no room for angst, no reason for feeling slighted. It's a matter of life and death," he says.
According to Ishfaq, staying indoors for a long period can have an effect mentally. "It could lead you to depression and melancholy."
To that, Mehraj added: "The best way is to keep yourself busy in whichever way you can. That would be my message to the rest of India. Stay occupied and avoid any coronavirus news. For example, I am penning down my journey as a footballer. Whatever thoughts are coming to my mind, I am just jotting it down. I have so many fond memories of my days in Calcutta when I played for Mohun Bagan, East Bengal and Mohammedan Sporting. I have no intention to write an autobiography. I am doing this just to kill time."
To keep themselves and other Srinagar people active, Ishfaq and Mehraj came up with a unique idea. They formed a WhatsApp group — fitness21dayslockdown — where they would show you basic exercises. "We do the core exercise or planks and then ask other members of the group to do those and upload the videos on the group. We have 50 members and it's growing every day. We may create a page on Facebook," Ishfaq informed.
However, none of the local players from Real Kashmir FC is in the group till now. "At this moment, they are not part of the group. But they may join," Ishfaq said.
Mehraj believes spacious houses in Srinagar are helping people to beat the lockdown blues. "In Srinagar, the houses are not cramped like you have in the major cities of the country. Here we have lawns where you can take a stroll in the evening. Say in Calcutta, apartments are cramped and since you are not being able to go for a walk, it can get on your nerves," Mehraj, the assistant coach of Hyderabad FC, said.
Both Ishfaq and Mehraj are missing one thing though. And it's the game which made them icons of Kashmir. "Even during the clampdown, we were able to play football. But now it's a different scenario," Ishfaq said.
But a hopeful Mehraj insisted: "You have to stay indoors for your own good. I am confident the world would get back to its old self very soon."