Limitless potential of courage
With a remarkable 2-1 victory in the Test series Down Under, Team India have shown they can not only confront their worst fears, but also conquer them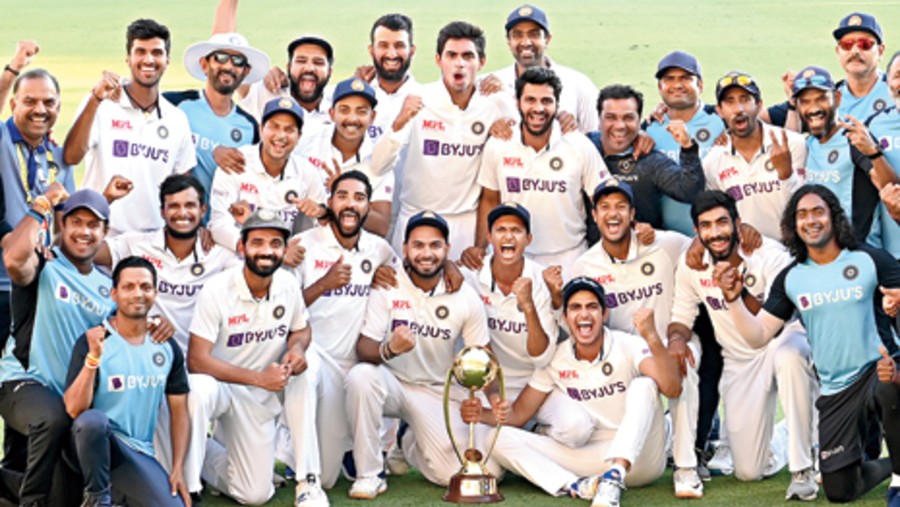 The victorious Team India at the Gabba.
Getty Images
---
Published 22.01.21, 01:03 AM
---
You cannot be brave if you are not afraid. For courage lies not in denying fear, but in responding to it. After being skittled out for 36 in the second innings of the first Test at Adelaide, India, under the deputy leadership of Ajinkya Rahane, had a lot to dread, a lot to fear. The lowest ever total in the country's 89-year-history of Test cricket had prompted a potful of predictions from all corners of cricketing expertise. India to struggle for a win; India to suffer more historic humiliation; India to be hammered; India to be whitewashed, 4-0.
BACKS TO THE WALL
Captain Virat Kohli had flown back to India on paternity leave. India's battery of fast bowlers had begun to deplete rapidly. Stand-in captain Rahane had doubts swirling around his future. Debutants had been waiting in the wings to be called upon with the most onerous duties. And, if the enormity of the task was not grand enough already, Australia, led by a smug Tim Paine, had smelt blood, gauging that India were there for the taking.
But even with the backs to the wall, miracles do happen. Even when the protagonists are unheralded, unexpected, and uninitiated, the courageous know how to pull through.
THE DEFIANCE OF YOUTH
When left eyeball to eyeball with your fears, you can either run or resist.
Resistance is what India opted for during large chunks of the second Test at Melbourne. Rahane's spellbinding century set the tone, and with Australia letting complacency creep in, India sneaked in through the back door to pull off a fantastic win at the MCG, punching above their weight in the iconic Boxing Day Test.
Over to Sydney, and India were in the jaws of defeat once more, about to be gobbled up by the world's most fearsome fast bowling line-up. Step up, pure defiance.
After a solid start to a formidable fourth innings chase by Rohit Sharma and Shubman Gill, and characteristic rear-guard action from Cheteshwar Pujara, Rishabh Pant displayed the kind of defiance that makes reckless courage its primary responsibility. Pant batted like a man possessed, trying to force a win where a draw would have done. In typical Pant fashion, he perished by the sword, leaving Ravichandran Ashwin and Hanuma Vihari — both reeling from wounds — to show some gutsy defiance of their own. But theirs was a defiance of a different kind, the sort that sinks its feet into the sand, refusing to budge, regardless of the waves crashing on shore.
After an edge-of-the-seat draw at Sydney, India came to Brisbane, the Australian fortress that had not been breached for 32 years. India's bowling arsenal heading into the match comprised just the thousand Test scalps fewer than their counterparts.
But what are numbers when you have mastered defiance! T Natarajan defied the most sensational of scriptwriters by turning from a net bowler into a debutant wreaking havoc among the Australian top order. Mohammed Siraj grabbed a five — for, defying personal bereavement and conventional career trajectory, not to mention world-class Australian batsmen. Washington Sundar and Shardul Thakur defied lower order stereotypes, batting with the clarity that comes with being unencumbered by the doubts of age. And then, came Gill and Pant, whose innings of 91 and 89, respectively, guaranteed a fairy-tale climax.
The equanimity of Pujara — soaking up deliveries, tension, and blows — offered India a firm footing, from which Gill and Pant launched to defy fifth day expectations on a tired track. Gill's defiance asserted itself through elegance, through measured aggression and a precise knowledge of when to rattle the bowler's approach. Pant, so often the "nearly man" for India on these occasions, defied the urge to be different, refusing to exercise more caution. Instead, he played like only he can — with the perfect mixture of impulse, improvisation, and intelligence.
When Pant's straight drive gently rolled into the fence to secure victory for India, it was defiance that won the day. Defiance from a young brigade of Indians whose calibrated courage is unlike anything we have seen for the longest time in the longest format.
ONTO BRAVER THINGS
Where exactly do India go from here? How exactly are the highs from this series supposed to be topped?
For starters, India now have a pleasant headache in figuring out which players not to pick for their starting 11 for the first Test against England at home, given the usual suspects would soon be returning from injury. But irrespective of the squad India pick, the spirit of the Ship of Theseus has firmly entrenched itself into the Indian ranks. No matter which parts of the unit you replace, the overall entity remains the same — unflappable, unbreakable, and eventually, unstoppable.
For those used to seeing India being lions at home and toothless abroad, the importance of the current Indian team cannot be overestimated. Against England, India will be favourites; but once they resume their travels, braver things lie in store. Challenges that would have overwhelmed teams of the past will now seem surmountable, for the fear of failure has evaporated.
A new era has dawned upon Indian cricket, one where individual charisma and celebrity step back for collective character and camaraderie to shine through, allowing courage to showcase its limitless potential.
THE IMMORTAL TESTS: INDIA'S MOST MEMORABLE WINS
Where does India's magnificent performance at the Gabba rank alongside sensational outcomes from the past? t2 finds out by revisiting India's stupendous victories in red ball cricket.
CALYPSO MAGIC (1976)
Chasing 403 in the fourth innings against a West Indian attack led by Michael Holding three decades before T20 cricket had even gained international status seems one of those impossible scenarios thrown up by fantasy video games. And yet, this was India's reality in 1976 in Port of Spain, a reality they not only embraced but also championed. In what remains India's highest ever fourth-innings chase, Bishan Bedi's team coasted to the target with six wickets in hand, thanks largely to two sublime centurions — the irrepressible duo of Sunil Gavaskar and Gundappa Viswanath.
THE ENIGMA OF EDEN (2001)
Having enforced the follow-on, Australia were waiting for India to crumble in their second innings at the Eden Gardens, but the collapse never came. Instead, two men — Rahul Dravid (180) and VVS Laxman (281) — constructed a partnership of a lifetime, taking India to 657 in the second innings. With the famous Eden crowd playing 12th man, a young turbanator called Harbhajan Singh bamboozled the Kangaroos, picking six wickets in total, including a hat-trick that turned the tide of an enigmatic encounter towards the most unlikely of Indian victories.
THE RAHUL DRAVID SHOW AT ADELAIDE (2003)
Australia appeared to be in the driving seat after putting up a mammoth first innings score of 556, but the Indian reply almost matched the Aussies, guided by a sterling 233 from Rahul Dravid. Even then, the match seemed destined for a draw, but Ajit Agarkar had other ideas, rampaging through the Australian batting card with six match-turning wickets. Thereafter, it was the Dravid show once more, with India's Wall seeing his team over the finish line with an unbeaten 72.
A BALM FOR A BILLION (2008)
In the wake of the 26/11 Mumbai terror attacks, it was a cricket match that served as a balm for the entire country, uniting a billion hearts in tribute to the strength of togetherness. When India beat England in Chennai after successfully tracking down a total of 387 in the final innings, this was not just a victory for Indian cricket, but a victory for Indian consciousness, forged out of an unputdownable will. The sort of will exemplified by the aggression of Virender Sehwag, the composure of Gautam Gambhir, the confidence of Yuvraj Singh, and above all, the resilience of Sachin Tendulkar, all heroes whose capes seemed longer than ever when soothing the pain of tragedy.
BREAKING THE CURSE OF LORD'S (2014)
Not since 1986 had India won at the Home of Cricket, but something special was about to unfold this time. An exquisite 100 from Ajinkya Rahane set India up perfectly in the first half of the game, but England seized the initiative away from the visitors, looking reasonably secure en route to hunting down 319 in the last innings. Enter Ishant Sharma, and one of the most hostile bursts of fast bowling in Indian Test history. The lanky pacer not only grabbed seven wickets to confirm India's win, but did so by bouncing his opponents out in their own backyard, giving the Englishmen a taste of their own medicine.