Inside the mind of chess champ Tania Sachdev
The International Master believes that "life isn't perfect, but an adventure"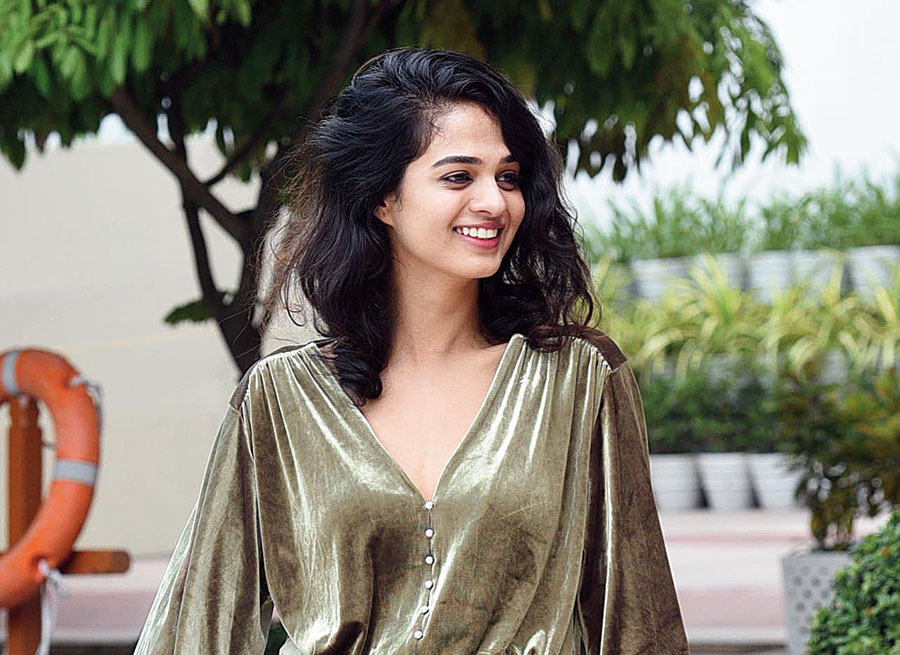 What's Tania Sachdev's go-to outfit? "Jeans, sneakers and a top," she smiled as she posed for the camera at the Taj Bengal poolside.
Picture: Rashbehari Das
---
Published 22.02.19, 01:29 PM
|
---
Rapid Tania...
Loves elephants.
Likes New York City for the vibe, the energy and also London, Reykjavik, Spain and Amsterdam.
She calls the airport her second home.
In her handbag, you will find a book she is reading, her laptop, iPad, "probably a bit of shopping out of compulsion and boredom", a lip balm and a Red Bull (Tania is a Red Bull athlete), a snack or even "an elephant"!
An all-time favourite show: Rick and Morty.
A must-watch on Netflix: The Short Game. "It is my nine-year-old nephew who sat me down and made me watch it!" she said.
A book close to her heart: A Palace of Illusions by Chitra Banerjee Divakaruni.
She likes Taylor Swift, Selena Gomez and enjoys hip-hop and listens to a lot of Bollywood as well. "I never listen to Bollywood when I am in Delhi!" she said.
And all-time favourite song: Ignition by R. Kelly. "I feel I can move to that beat anytime. I am a bathroom dancer!"
Currently binge-watching: You.
A recent watch: 500 Days of Summer.
Favourite actor: Ranveer Singh.
Favourite actress: Alia Bhatt.
The first thing that strikes you about Tania Sachdev is her really strong grip. Vivacious, with a radiant personality that oozes positivity, this 32-year-old chess champion believes that "life isn't perfect, but an adventure". "I am never going to be Tania in another life. This is me as Tania here, now," she says. We met the International Master at Taj Bengal when she was in town to commentate for Tata Steel Chess India 2018 partnered by The Telegraph.
Your grip said it all… one feisty lady! So, people don't mess with you?
(Laughs) Yeah, I would want to believe that. I think I am a strong person. That doesn't mean you don't have an emotional side, but I don't think someone can just take me for a ride. It's very important to not mess with me.
Where do you get your strength from?
I think inside and from the support group and the people around you, the environment you have been brought up in… just the way our parents made us strong people, made us believe in ourselves with absolutely no barriers and no-hold-back attitude. Strength comes from travelling, exposure, from seeing that your reality is not the only reality in the world. I think you get stronger as you grow older because all these things keep adding layers.
But I think the most important thing is to have a lot of inner strength, especially in a game like chess. It's a lonely game when you are on the board. Many times you have to push yourself, pull yourself together. You are going to make mistakes on the board, come out of it and play better.
No one else plays chess in your family?
It's just me, but it is a very sporting family. My father used to play football in his college, my mum was a state-level badminton player, my brother played golf. So, I was really fortunate that even though I came from a city — when I was young, there wasn't much of a sports culture in Delhi, the only sport was cricket, pretty much all over India but more so in the north — I came from a family which thought that sports in general makes you a better version of yourself even if you don't end up becoming a professional player. So, they were very supportive about it when they saw that it wasn't just going to be a supplement to my academic life. My dad taught me how to make moves by reading the handbook and learning along with me.
What was the trigger then?
It started really young. I had all these activity classes… dance, painting. I was hyperactive as a child and had older siblings who were in higher classes and I wouldn't let them study. So to channelise my energies in something productive, they had all these stuff going on. They knew somebody who was teaching chess locally. As the classes happened, my parents saw that there is something in there because it wasn't very normal for a child to enjoy training chess because it is an unconventional game.
For me, it was an activity that I was doing, but it was they who really pushed me into the game for the first few years. I started training more and playing locally. In about two-and-a-half years, I was playing the national championship, the British championships.
It's true for any sportsperson in the country and all over the world — when a child is young they don't understand the potential or what direction to take. They are just doing what they are being told. Parents play a massive role in judging the talent and interest that may exists and it is really their responsibility to decide whether to invest in it or not.
I was curious. I have been that wild child in my family where I ask questions about things I can't understand. I don't think there is anything like a stupid question in this world.
When did you fall in love with the sport?
That's an interesting question. When you win, I think that is the biggest motivator. Winning national age group titles, when I won the British championships — U-8, U-9, U-10 — I was still too young to feel that this I want to do as a profession. But deciding this is what makes me happy happened when I was graduating from school. That's when I really had to take a call. There were scholarship offers from universities that I had been dreaming of going to, but I was already playing for the national team. I think winning the Asian Chess Championship for Women in 2007 was a big turning point for me. That was special with the national anthem playing… then you feel that this is different from everything else that you see around you and you want more of it.
Chess has given me so much. I love travelling and believe that it's one life… whatever you can do, whatever difference you can make, just do your best. So, chess has given me that platform to explore the world in so many different ways. I am also very competitive. I love the rush of playing.
It's a huge kick, no?
I think sports in general is. Of course you have bad tournaments and you might lose games, but the thing I want to do most after a bad tournament is play my next tournament. That just keeps you going. Of course, having a bad game is really hard, but it doesn't make me question my existence and my life. I want to become stronger is what it makes me believe in. I really need to work harder. I feel it is a huge learning experience, but that's over time, in the beginning I would obviously get cranky (laughs).
Do you then calm down easily?
It takes a while. What helps me calm down after a really bad game is quickly going through the game, venting it out. Then you just go for a walk, get some food…
What is your comfort food after a bad loss?
I love Italian food. So, a really heavy dose of carbs… pizza and pasta are pure comfort. (Laughs)
And, a celebratory meal?
A bigger dose of pizza and pasta!
It's been more than two decades of chess for you. Has your approach to the board changed?
Of course. I started playing chess professionally after I got out of school. When I was playing for the Olympiad, that's when I would really say that chess became a proper profession for me. Earlier when you are a child, you could be distracted. Now you have a routine already. You know what puts you in the zone. You learn that with time and incorporate that as a daily routine.
I think it's really important to have a routine during a tournament.
I really like it when I have a good rest. I don't like to wake up very early. You wake up fresh and prepare for your opponent a little bit, just go through your lines and have a general idea of what you want to do, try and think about the kind of positions you want. It's really important to be fresh for your game. Chess is a very long-game format. It's very stressful and there is a lot going on inside the mind. You are just trying to keep your focus and calm. It's not that easy, especially when you know a lot is at stake… whether you are playing team championships or a round that means a lot for your result. You have no one else to rely on but yourself on the board. It comes with the amount of work you put in at home. Your physical fitness matters because it is your stamina.
What are the keys to sustain a long career?
There's a lot more that I would want to achieve in chess. I want to improve my rating, my game and continue playing for the Indian team. I have been playing since 2008 now and that's one of my biggest highs, representing India at the chess Olympiad. I come from a patriotic family… there is that emotion… my grandfather was in the army.
Where I am right now, I would not like to be anywhere else. Of course, it's never easy. It's been over 15 years of playing professionally now and playing seriously and working at the game. In the beginning it's not easy because you are not leading the normal way of life.
The first 10 years of when I started playing, whatever chess there was, was in the south and it was hard to find trainers, somebody who guided you in the right direction. My family supported me even financially and I am really blessed that if I wanted to travel to play, it was easier. By the time I was 15-16, the federation was changing, tournaments started happening, more people came into the game, there was media attention to chess, generally the sports scenario in India was developing.
There is no better time to be a sportsperson than today, much better than even when I was 20. Starting a sport and becoming a strong player is hard but it's not as hard as being a good player and becoming the best in the world. We shouldn't be thinking about two-three medals, right? I am sure there will be a lot more in future, but that infrastructure to make that leap is still evolving. It's positive and it takes time.
And you need icons for kids to take up a sport…
That's absolutely true. When I was nine-10, I had the opportunity to play an exhibition match against Vishy Anand (Viswanathan Anand). It was in Delhi. That motivates. Today we have someone in badminton, tennis, chess that young boys and girls can look up to.
Do you feel that people don't take you seriously because you are woman chess player?
You know, I really don't care. There was no difference in the way we were brought up or treated at home. That instils a lot of confidence in you and the idea was never to become a strong woman chess player, a woman Grandmaster… these are obviously titles that come your way. I was the only one coming from north of India… being the only girl… a lot of people also thought 'okay, she just got lucky' and when I wouldn't, it would be like: 'See, we told you so'. This happened a lot when I was younger. That would bother me but then you let your work do the talking and eventually people shut up.
How did commentary happen?
It started in India. There was a world championship match in 2013… Vishy and Magnus' (Carlsen) match and literally a few days before the match I got a call from the federation. I had never done anything of that sort before, but I always had media interest. I enjoy talking to people. Now when I look back, I am like: 'What was I doing?' (Laughs) You obviously get better at it. I have been hosting the Gibraltar International Chess Festival, one of the strongest open tournaments in the world, I did Millionaire Chess in Las Vegas, the London Chess Classic and Champions Showdown.
Playing is still my priority and I have realised that you have to choose. Playing chess makes me the happiest. As long as I am a part of the Indian national team, it's not even a question of what is important to me, but I really enjoy it.
Are your preparations different?
Totally. I think the stamina to work for seven-eight hours happened when I was much younger. Now, if I work well for about four hours a day, I would very happy. On an average, it is about three-four hours of chess every day. Especially before a tournament, I make it a point to let everybody know that this is my priority now. If I have a trainer with me, I can work for about eight hours. Working alone is a challenge for me. The strongest players in the world know how to work and that is what separates the good players from the best and the elite. I like to wrap up by 5.30-6pm and have the evenings to myself.
Does chess and life lessons overlap sometimes?
I am an emotional person, but chess has taught me that just because you want something badly and feel that you deserve it, it's not going to happen. Even if I am feeling really emotional about something, I have learnt to think more objectively.
What is the biggest challenge for a chess player?
To try and be in the best shape and feeling really good. The body and mind go hand in hand. If you don't have a good level of fitness, you would not be able to give five-six hours of play. You are going to play 11 games. You can feel the exhaustion set in in the middle of a game. I really do enjoy playing table tennis and badminton. I do a bit of yoga and gym. I really mix it up.
You love fashion too…
I love dressing up. I don't think I could show up for a game not looking professional. I would never wear slippers or a ganjee to a game. I could wear stilettos or sneakers, but not flip-flops. I like a bit of make-up. Now that I think about it, I wear lipstick to all my games. Why not? A bit of kajal never hurt anyone.
Tania's top picks…
The national championship win in 2006-07
Winning the Asian Women Championship in 2007
The Arjuna Award in 2009
Winning a bronze medal in the Istanbul Olympiad in 2012
Making her grand master norm in Reykjavik in 2016
Commonwealth golds in 2016 and 2018