Surya 2.0 looks at new dawn
Yadav, 30, adjusts style to shed 'impulsive' tag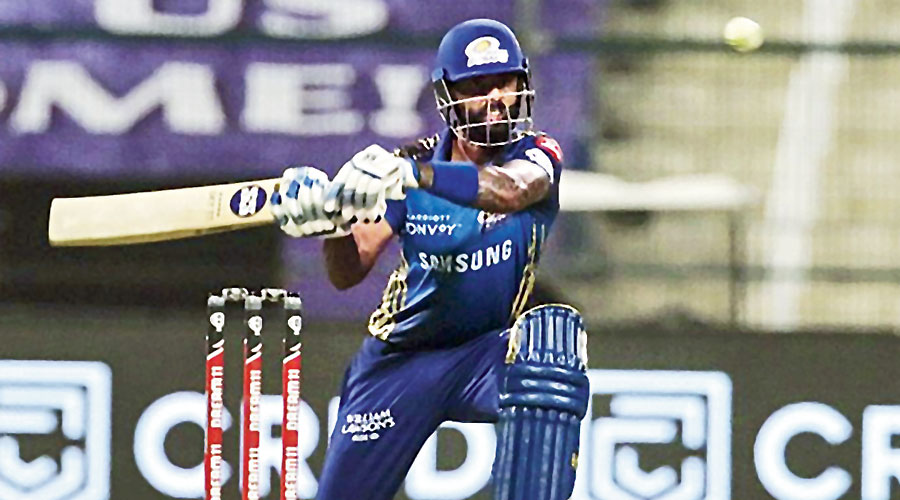 ---
|
Calcutta
|
Published 14.10.20, 03:23 AM
---
Every IPL throws up a talent who's destined to go far. Suryakumar Yadav was considered one such when he made his IPL debut eight years ago but his inconsistency came in the way. Now, at 30, the Mumbai Indians batsman is trying to re-emerge as a batsman good enough for the India cap.
His instinctive, some called it impulsive, stroke play was what got him to the Mumbai Indians squad in 2012, post his domestic debut in 2010. And his approach to batting remained the same, never mind the situation of the game.
But in this IPL, the Mumbai Indians No. 3 batsman appears to have curbed his impulsive streak a bit, focusing more on timing, placement and finding the gaps instead of going for the fancy shots right from the start.
His unbeaten 47-ball 79 versus Rajasthan Royals in Abu Dhabi did feature a cheeky shot or two, though. One of them being the ramp shot over the wicketkeeper's head off a searing delivery from Jofra Archer. That too, after being hit on the helmet the previous delivery.
His 53 versus Delhi Capitals was no less valuable as it helped lay the foundation for Mumbai Indians' victory on a tricky Abu Dhabi wicket.
"It wasn't easy batting out there. But the way Surya played, it reflects how he has grown in terms of maturity," former Mumbai coach Sulakshan Kulkarni, who has seen Suryakumar since his early days in cricket, told The Telegraph.
"I've also been tracking Surya's progress since his U-23 days. I knew that he was courageous, but the way he has been batting at present, including in these IPL matches, we can see he is more mature now and playing with a lot more responsibility," pointed out Vinayak Samant, who coached Mumbai the last couple of seasons.
Hence, it's baffling that he is yet to get an India call-up. According to Kulkarni, Suryakumar's lack of consistency in the three years after 2014 is one of the reasons.
"In 2012-13, he was one of the standout performers when Mumbai won the Ranji Trophy for the 40th time. But after 2014, he wasn't consistent enough. I think that kind of hampered his chances of bagging an India berth," Kulkarni said.
Even in the IPL, Suryakumar's average in the three editions post 2014 — when he played for Kolkata Knight Riders — dipped below 30.
Kulkarni wants Suryakumar to try and focus on finishing the job for his team. "I was very angry with him about the way he threw it away after reaching 50 in Sunday's match (against Delhi). I said that when I spoke to him after the game was over.
"These things matter when the national squad gets selected. Surya did play a few games for India A, but given his talent, he should have played some matches at least for India," Kulkarni asserted.
Samant, however, believes that with a little bit of luck, the 30-year-old can make the India T20I squad. "The impression I had after speaking to the selectors is that he is most likely to be given a chance in the T20I team if anyone among the current players fails to perform," Samant said.