Finding the right combination of players for an Indian Premier League (IPL) team is not an easy task. Talent scouts go around the globe in search of exciting players, domestic matches in cricket-playing countries are followed closely to tap the promising ones and predictive models are drawn before an auction to snatch the right players for the right price. But not everything goes according to plan on auction day. Besides the money and the data, instinct comes into play too. The result is that team owners often end up spending lot more than they had planned to. And there is no guarantee that those they have spent crores on will deliver.
"Although IPL owners have learnt over the years and they are more data-driven than ever before, there will be outliers that can surprise anybody. The auction for this season was no different," says Siddartha K. Rastogi, professor of Economics at the Indian Institute of Management, Indore. Rastogi has come up with predictive models to arrive on the potential worth of a cricketer during auctions.
As seen in the past, predictions and instincts can come crumbling down once the tournament starts. Some of the most heralded players can deceive and falter. Andrew Flintoff, Ben Stokes, Chris Gayle, Ishant Sharma are some examples from the past who made more news during the auction than on the field. "A tournament like the IPL is about holding your nerves and believing in your own ability to perform," says Sitanshu Kotak, assistant coach of the now defunct IPL franchise, Gujarat Lions.
Agrees Mugdha Bavare, Mumbai-based sports psychologist. "The IPL is all about soaking in the pressure. Some local Indian players who have played only Twenty20 in front of large crowds are better at it than more heralded international players," she says.
The "expensive buys" will be under pressure to perform. The eight franchise owners this year had around Rs 145 crore to splurge on the players. Not everything went according to plan; there were quite a few surprises at the auction. We look at the top 10 buys this season, why these players commanded the prices that they did, and what we can expect from them at IPL 2019.
Jaydev Unadkat
Rs 8.4 crore
Rajasthan Royals
A brilliant student in school, Unadkat's cricket coaches thought he would opt for higher studies. Says Kotak, his former Saurashtra coach, "He was a very focussed cricketer from his teen years. He has come into his own in the last few years." Unadkat, 27, commanded a decent price in past IPLs too. In the 2018 auction, he was bought by Rajasthan Royals for Rs 11.5 crore. But this year, he was released and bought back for a lower price. There were others interested in him, such as Kings XI Punjab and Chennai Super Kings, but Royals had the last laugh. His Ranji Trophy form has been excellent so far. "Success has not gone to his head and he still works as hard as ever," says Kotak.
Varun Chakravarthy

Rs 8.4 crore
Kings XI Punjab
Played as wicketkeeper-batsman for his school, but unlike Unadkat, he graduated in Architecture, didn't play cricket during graduation and until two years after that. Chakravarthy, 27, claims he had not seen a single cricket match at length during this time. He opted for fast bowling and played local cricket in Chennai, gave up his architect's job and concentrated on the game. He took to spin after an injury and it is his mystery spin bowling that teams were ready to shell out crores for. His unusual action and bowling variations bamboozled batsmen at the tennis-ball tournaments in Chennai. He likes shooting short films and perhaps has one ahead of him. A confident player with several top scalps playing for Tamil Nadu T20 team, he may hold a surprise or two.
Sam Curran
Rs 7.2 crore
Kings XI Punjab
This 20-year-old from England is the son of the former Zimbabwe cricketer, Kevin Curran. He was spotted by the talent scouts of the Surrey county club and there has been no looking back since for this left-arm swing bowler and batsman. He made it to the England Test team within no time. He had several Indian batsmen in trouble during last year's Test series in England, and was declared man of the series. Kotak says Curran may have been a costly buy as he is yet to be tested in Indian conditions. He is a classic predictive model buy, according to Rastogi. Curran, a self-confessed "attention seeker", says he loves it when the world watches him. IPL fans will keep that in mind.
Colin Ingram
Rs 6.4 crore
Delhi Capitals
If his form in the just concluded Pakistan Super League (PSL) is anything to go by, Delhi Capitals can expect fireworks from this destructive left-handed batsman from South Africa. Ingram, 32, was a bit of a late bloomer. He made his ODI debut for South Africa almost a decade ago without much success. But his T20 scores in several leagues have been impressive. He can roll his wrists and surprise batsmen with his sharp leg spins. This may have been another reason why Delhi went into a bidding war over him. With Ingram not expected to get a call from his country for this year's ODI World Cup that begins late May, the franchise can relax that he will be with them until the end of the tournament.
Carlos Brathwaite
Rs 5 crore
Kolkata Knight Riders
He wanted to be like Rahul Dravid when in school. And like his idol, started his career as a number three batsman. But his shooting height and aggressive mindset meant that he could try fast bowling, and use of the long handle meant he could be an aggressive batsman too. And he became one. During the auction of IPL 2016, Brathwaite, 30, first came into limelight and that is when Delhi Capitals (then Delhi Daredevils) went bonkers trying to acquire him and paid Rs 4.2 crore after winning the bid. This was 14 times his base price of Rs 30 lakh. Chuffed, he single-handedly won West Indies the T20 World Cup in 2016 after hitting 34 runs off just 10 balls. This again seems to be a classic predictive buy and KKR were keeping their powder dry at the auction for him.
Axar Patel
Rs 5 crore
Delhi Capitals
Patel, 25, will be donning a new jersey after four long years with the Kings. It was his performance in the IPL over the years that got him an India cap in both ODIs and T20 Internationals. India captain Virat Kohli has praised him for his confidence. This slow left-arm orthodox bowler is not afraid to toss the ball high even in the T20s. In the recent past, he has taken wickets and also performed with the bat while representing Gujarat. He may have lost the confidence of the Team India selectors, but he has the talent to justify a Rs 5-crore bid.
Mohit Sharma
Rs 5 crore
Chennai Super Kings
When M.S. Dhoni backs a player, it is to the hilt. Sharma is one such cricketer. The 30-year-old believes Dhoni knows him "inside out". His captain gives him a plan and he sticks to it. It was this loyalty that saw Dhoni take him under his wings as CSK captain and later in the ODIs as India captain. He started his IPL career with Chennai and he is back in familiar conditions this year, but at a price better than ever before. Dhoni may have had a role in picking Sharma. The slow home wickets and Sharma's many variations, suited to local conditions, may have convinced the CSK bosses to go with their captain's choice.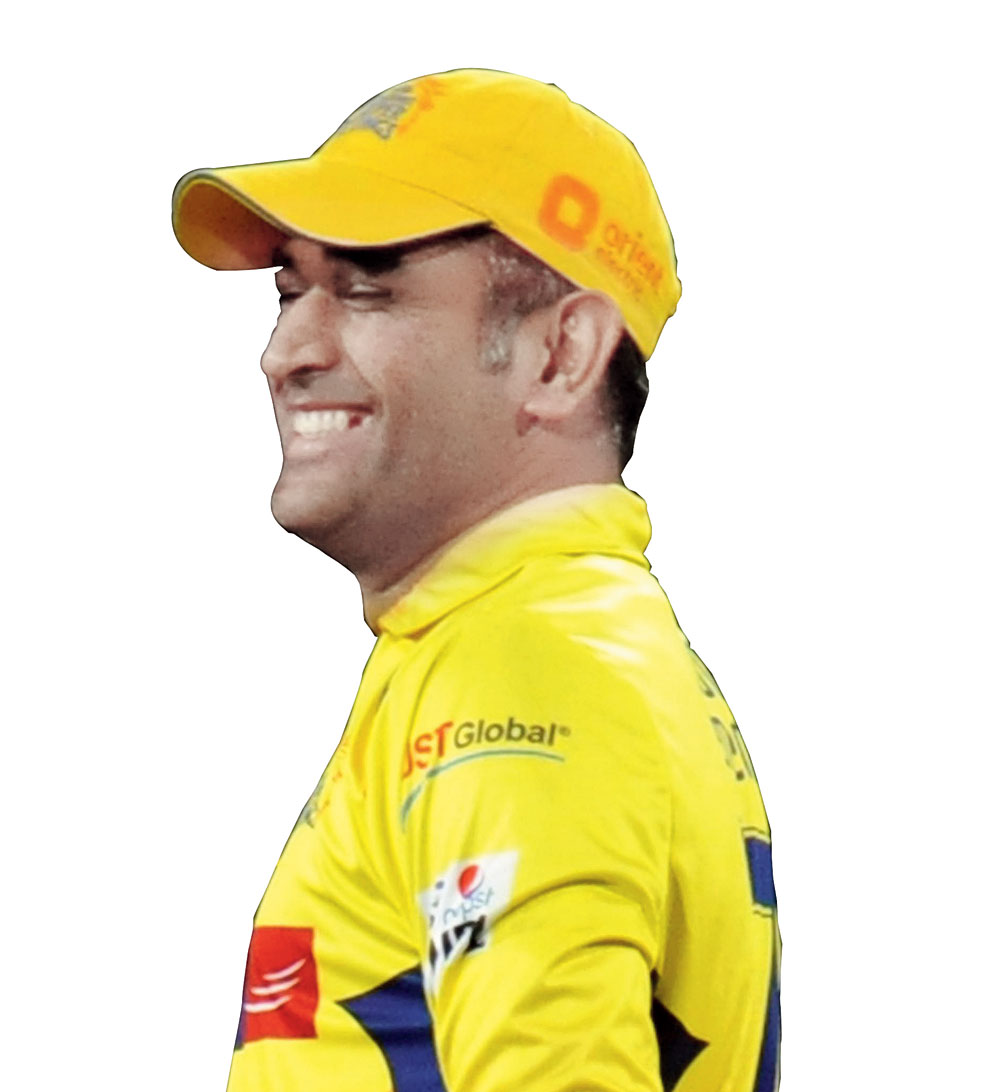 M.S. Dhoni Picture by Gautam Bose
Shivam Dube
Rs 5 crore
Royal Challengers Bangalore
His smiling face peeping out of sports sections did not go unnoticed by the officials of the IPL teams even as they walked in for the auction in Jaipur last December. The Mumbai all-rounder had hit five sixes off five deliveries in a Ranji Trophy game against Baroda the previous day. The 25-year-old's proclivity for sixes is well known. Many are predicting that he will break into the Indian team very soon if he continues to bat and bowl the way he is doing. Royal Challengers have been lacking a serious all-rounder and Dube may have filled the gap.
Mohammed Shami
Rs 4.8 crore
Kings XI Punjab
The millions that the Kings spent to buy Shami is most likely not the first thing on his mind, what with the charges of harassment brought against him by his wife. But off-field troubles notwithstanding, Shami is in a zone of his own when he is on field. His form in the recent ODI series against Australia is proof of that. There has been no slowing of pace even after so many years at the international level and the 29-year-old is as accurate as ever. He may not get to display his skills to move the old and the new ball in the shorter format, but Shami will enjoy bowling on the green-topped home pitches when he is playing for Kings XI.
Prabhsimran Singh
Rs 4.8 crore
Kings XI Punjab
The way Royal Challengers Bangalore, Mumbai Indians and Kings XI Punjab tried to outbid each other, it seemed that all three had done their homework on Singh, 18, except that they may not have thought that he would command Rs 4.8 crore at the end of the bidding. Singh likes to bat like former India opener Virender Sehwag, but he wants to be like the former Aussie great, Adam Gilchrist — basically, aggressive batting and great wicketkeeping. The Patiala boy is yet to play a single senior-level game for his state or country. Former India wicketkeeper Kiran More says that he was impressed the moment he saw him behind the stumps. More says, "He looks a natural behind the wickets and his batting is very good. He is a great India prospect too. I didn't expect the bidding war over him but I have no doubt about his future."