Augusta Masters: In the end, Tiger Woods plays for himself
But the veteran said he was grateful, after all he has been through, to have played this year at the tournament he has won five times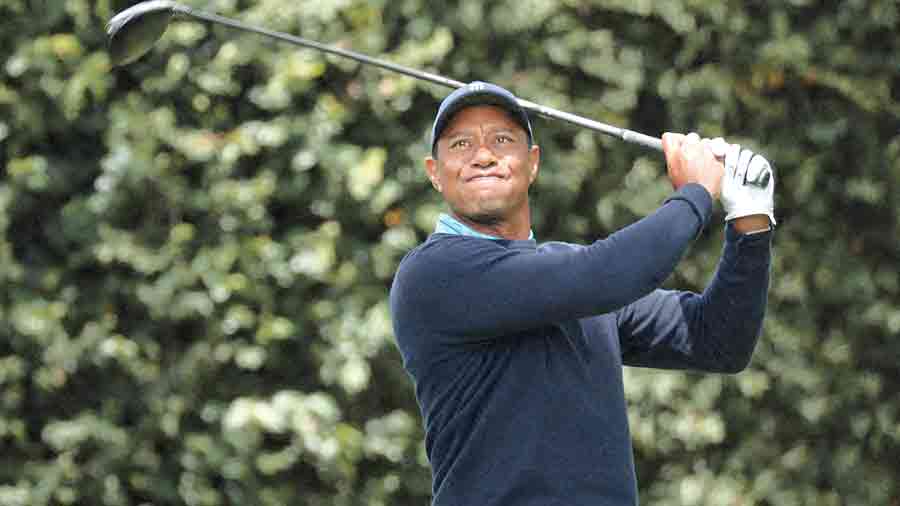 ---
Published 12.04.22, 12:44 AM
|
---
Tiger Woods had 212 yards to the fifth green on Sunday. Holding a long iron, he swung with appropriate velocity and rhythm. But something was amiss at contact with the ball, and in the millisecond it took for Woods to transition from downswing to follow-through, he let go of the club. It flung to the ground over his left shoulder.
The shot bounced 30 yards short of its target, and Woods grimaced. His shoulders sagged. He retrieved the club from the grass and slowly limped forward heavily favouring a right leg surgically reconstructed after his car crash on February 23, 2021.
The 2022 Masters, which began with a smiling Woods thrilled to be back at the Augusta National Golf Course surrounded by a supportive group of colleagues, was playing out for himself in its final hours in small, humbling ways.
Woods's miscue on the fifth hole of the final round was one of many gaffes, in this case the second of three consecutive bogeys on the front nine. Ever since his startling, inspiring opening-round one-under-par 71, Woods has wilted piecemeal — betrayed by a sore right leg, a balky back bothered by chilly weather and the demands of walking and playing for seven successive days for the first time in 17 months.
By Sunday, the crowds that swarmed his opening rounds had thinned considerably. But as Woods walked uphill to the 18th green, the fans who had waited for him applauded thunderously.
After a double bogey on No. 17 and a four-foot putt for par on No. 18, Woods finished the round six-over par, 13-over for the tournament — his worst career score at the Masters. He pumped hands with his playing partner, Jon Rahm, tipped his cap to the crowd and walked off the green, smiling and limping.
It was not the conclusion Woods envisioned when he willed himself to make an improbable return to elite competitive golf less than five months after declaring his days as a top player all but over.
But Woods said he was grateful, after all he has been through, to have played this year at the tournament he has won five times. He said the week was his greatest achievement for a tournament that he did not win.
"The people who are close to me understand, they have seen it," Woods said. "The things that I've had to endure, they appreciate it probably more than anyone else. Because they know what it takes to do this at this level."
(New York Times News Service)