Crespo hunch: Argentine turnaround
Lautaro best to partner leo upfront, says former striker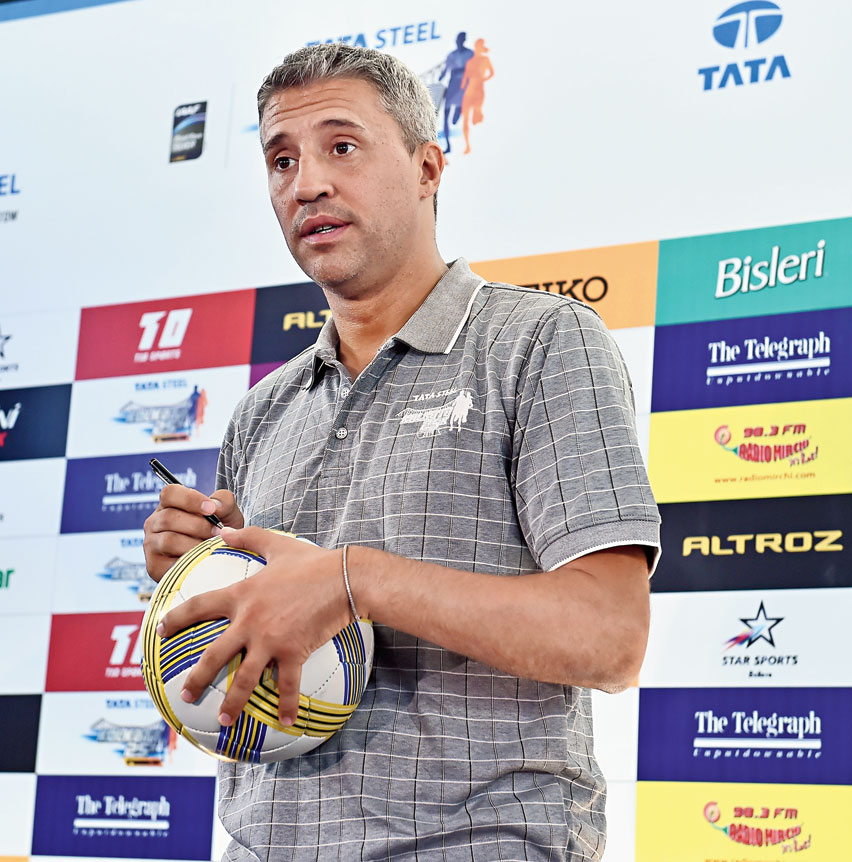 Hernan Crespo signs a football during the Tata Steel Kolkata 25K media conference on Friday
Picture by Santosh Ghosh
---
Calcutta
|
Published 13.12.19, 10:01 PM
|
---
Hernan Crespo has a hunch — that something special is round the corner for the Argentina national team.
Argentina haven't won a major international trophy since 1993 Copa America, even though in every big tournament they start as one of the favourites.
Now under Lionel Scaloni, Argentina are in the middle of a rebuilding process with an eye on the Qatar World Cup.
"We have started a new era under Scaloni. In 2019 Copa America we showed promise. I tell you, I have this sensation that there is something special round the corner… We will get another chance in the next Copa. We need time... It's a new project. Until the next World Cup, it's very important to do well.
"That will also be the last chance for the Lionel Messi era — a chance to do something special in Qatar," the former Argentine striker told The Telegraph on Friday.
The riddle which must be giving Scaloni sleepless nights is who will partner Messi upfront. Argentina have an embarrassment of riches upfront, but one player who looks to be the best to partner national team captain is Lautaro Martinez.
According to Crespo, the situation will decide who will play alongside Messi.
"If Scaloni goes with a 4-4-2 formation, then Messi and Lautaro should be playing upfront. If the situation says we should play 4-3-3 then Sergio (Aguero) can come into the frame. A coach acts to a situation. Lautaro is the best amongst the new crop," he said.
Argentina, for the record, played in the 4-3-3 format in the last friendly of 2019 against Uruguay when Messi, Aguero and Paulo Dybala started. But against Brazil, on November 15, it was 4-4-2 with Messi and Martinez in the first eleven.
Crespo, who is Argentina's fourth highest goalscorer with 35 strikes, also had words of praise for Dybala. "Dybala has the talent to be part of the first eleven consistently. But the national team standard is so high that it's difficult to get a place."
Argentina fans have got used to the taunt that their players lose composure when they turn up in their national team jersey. The last time they won the World Cup was in 1986, under Diego Maradona's captaincy.
Crespo, however, said Argentina never had luck on their side. "Maybe with a little bit of luck we could have won the World Cup in Brazil. You need a lot of luck in big tournaments. Take the 1990 World Cup as example. Argentina qualified as the best third-placed team and went all the way to the final."
Till the 1994 World Cup, 24 qualified teams were divided into six groups of four. The top two teams and four best third-place finishers from the six groups advanced to the knockout stage. The World Cup became a 32-team affair from 1998.
Crepso refused to go into the hackneyed debate of who is better — Maradona or Messi. "Why should I get into that? We are very proud and lucky to witness two eras… I prefer to be proud of the fact that they are both Argentines.
"When it comes to social impact, Diego is ahead of Messi. But if you do the number crunching, then it's Messi. He is playing at such a high level for 10 years in a row. It's mind-blowing. In Diego's case, it wasn't like that."
For a striker, it's very unusual to be a big fan of former Italy and AC Milan defender Franco Baresi.
"I used to watch AC Milan during my growing up days and was a huge fan of Franco Baresi. I was in Parma and it was also the last season for Baresi. For me, it was a big achievement to play against him. You know playing in Italy was itself a dream come true and when I realised that I would be playing against Baresi, I was over the moon," Crespo, who is in town as the Tata Steel Kolkata 25K international event ambassador, said.
Crespo was in a very jovial mood during the interaction. Asked about the 2005 Champions League final when his AC Milan lost to Liverpool in tie-breaker despite leading 3-0 at half-time, he said laughing: "2005? I do not remember. I wasn't there."
And Neymar? The reply came with a dose of sarcasm. "That's Brazil's problem not mine."