Govt visa punch puts Novak Djokovic on backfoot
The defending champion is included in the draw as top seed and is due to face fellow-Serb Miomir Kecmanovic for his opening round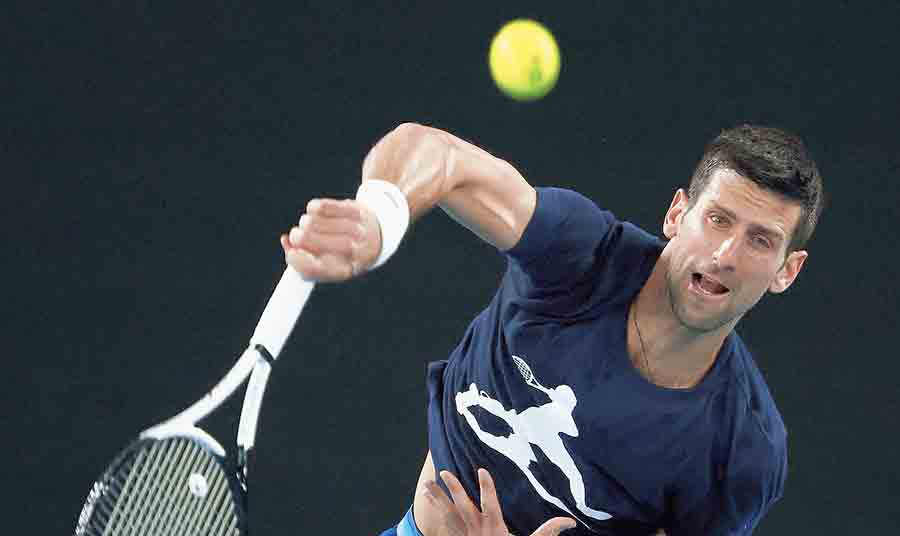 ---
Published 15.01.22, 03:26 AM
|
---
Will Novak Djokovic, the world No.1 tennis player, take part in the Australian Open in a record-seeking campaign from Monday? The answer to that question is still very much up in the air.
Late on Friday Djokovic was ordered by the Federal Court of Australia to present himself for an interview with immigration officials on Saturday. On Friday, Australia cancelled Djokovic's visa for a second time, saying the unvaccinated star may pose a health risk.
Immigration minister Alex Hawke used his discretionary powers to cancel the visa, but Djokovic took legal recourse again later in the evening.
And thus the imbroglio continues and the Australian Open organisers must be tearing their hair in frustration. Because a lot rides on whether or not Djokovic is allowed to play, including a necessary change in the draw where Djokovic's spot will have to filled.
Djokovic, the defending champion, is included in the draw as top seed and is due to face fellow-Serb Miomir Kecmanovic for his opening round match next week.
But should Djokovic be allowed to play? Perhaps not. It must be noted that his credentials as a player need no validation. He has proved it beyond doubt that he is one of the finest to grace the tennis court, even if he is not one of the most loved ones.
But this is not about his talent. It's about a stance he has taken that can be potentially dangerous to the world.
Even as the whole world has been trying to fight the Covid-19 pandemic with vaccination and WHO-approved protocols, Djokovic has staunchly disregarded them. He not only opposes vaccination, it has now come to light that even in an infected state he has given interviews and done photo-shoots and even perhaps interacted with children.
That doesn't really portray him as a responsible citizen of the world.
Australia's handling of the Djokovic issue has raised eyebrows. The country has been historically careful in letting in foreigners and what they carry into its borders so that there is no bio-security threat to their flora and fauna, which are unique in many ways. Australia has perhaps one of strictest Covid-19 protocols in the world now, both for citizens and visitors.
Covid-19 vaccination is a priority and exemptions are allowed only after stringent checking.
The very fact that Djokovic was granted exemption by the Victoria government and that exemption was challenged by the Federal government shows that the rules and regulations are not clear. Or, even worse, the rules were bent for someone who is clearly perceived to be in a privileged position. Of course Tennis Australia will want Djokovic to be a part of their grand slam. Not only is he the world No.1 and the top seed, he is on the cusp of history. He is looking for a record 21 grand slam singles title as well as a 10th Australian Open crown.
On Friday, Hawke said in a statement: "Today I exercised my power under Section 133C(3) of the Migration Act to cancel the visa held by Mr Novak Djokovic on health and good order grounds, on the basis that it was in the public interest to do so."
Under Section 133C, Djokovic would not be able to secure a visa to Australia for three years, except in compelling circumstances.
Hawke said he had carefully considered information from Djokovic and Australian authorities, adding the government was "firmly committed to protecting Australia's borders, particularly in relation to the pandemic".
Australia has endured some of the world's longest lockdowns, has a 90 per cent vaccination rate among adults, and has seen a runaway Omicron outbreak bring nearly a million cases in the last two weeks.
The reasons quoted by Hawke were pertinent even when Djokovic was granted the exemption. The superstar proclaimed on social media on January 4 that he was on his way to Australia to take part in the grand slam. Not much has changed in his status since then so the question will hang heavy on Australia as to why the exemption was granted in the first place.
The detention that followed did more harm to the country's image than good. And made a hero out of Djokovic. Serbia, understandably, rallied behind its superhero though the Prime Minister Ana Brnabic said Djokovic could face sanctions if it were found he had attended a Belgrade Tennis Association event, featuring children, knowing he had tested positive to Covid-19 a day before.
Who will win this remains to be seen, but round-for-round anti-vaccination proponents are getting publicity and Djokovic is becoming a poster boy for their beliefs.
Could all this have been avoided? Yes. Had only Djokovic taken the jab in time like most of his tennis peers he could have just concentrated on what he does best – play tennis and write his name in the record books.
(Written with agency inputs)