Novak Djokovic used every bit of his experience, relentlessness and fitness to beat a cramping Carlos Alcaraz 6-3, 5-7, 6-1, 6-1 at the French Open on Friday and move one win away from a record 23rd grand slam title.
The No. 1-ranked Alcaraz produced one particularly brilliant shot — one that went viral within minutes and could be talked about for years — en route to claiming the second set of what, at the time, was a closely contested and thrilling showdown.
But in the end, this highly anticipated match-up was as anti-climactic as can be.
That's because early in the third set, after nearly two-and-a-half hours of exertion and tension in 30°C heat at Court Philippe Chatrier, Alcaraz's body began to lock up. First, his hand began to cramp. Then his legs. And so, at 1-all, Alcaraz needed to take a break and get treated by a trainer. Because it was not a changeover, Alcaraz was required to forfeit the following game and fell behind 2-1.
From there, it was pretty much all over. Djokovic, who is 36, was able to cruise to the finish against Alcaraz, who is 20, making for the widest age gap in a men's grand slam semi-final since 1991.
It was a surprise to see a player of Alcaraz's stature lose physical condition at such an early stage, never mind the heat of Paris.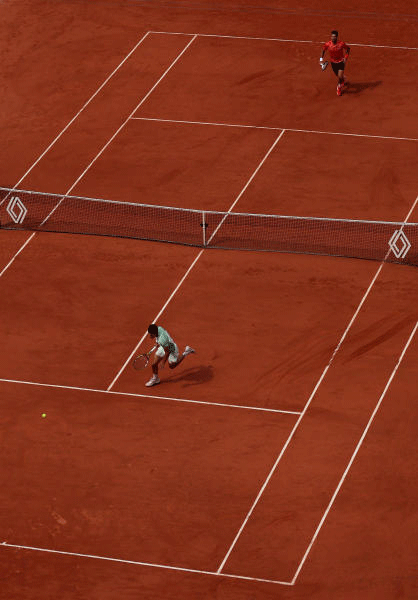 Carlos Alcaraz sprints back and while sliding away from the net gathers enough flexibility and power on the turn to strike a forehand winner that earned applause from Novak Djokovic. Getty Images
As is his wont, Djokovic had been moving the ball so skilfully around the court that Alcaraz was forced to continuously run around retrieving just to stay in the game.
All that must have drained his reserves of energy to the point where his calf abruptly locked up on him.
The spasm happened in the third game of the third set. At that stage, the match was evenly poised. But one cannot compete with a 22-time grand slam winner when the body is malfunctioning.
Alcaraz insisted on seeing out the contest, and his mobility improved slightly over the next hour or so. But he would win only one more game — the penultimate game of the match — before going down in 3 hours and 23 minutes.
Score one for the old guys.
It was the 45th grand slam semi-final for Djokovic and the second for Alcaraz.
"I feel for him. I feel sorry. ... I hope he can recover very soon," Djokovic said. "I told him at the net, he knows how young he is. He has plenty of time ahead of him. He's going to win this tournament, I'm sure, many, many times."
Not this time.
Instead, it is No. 3 Djokovic who will meet No. 4 Casper Ruud in Sunday's final.
Ruud — a two-time major runner-up last year, including in Paris — and Alexander Zverev — the runner-up at the 2020 US Open — played the second semi-final later on Friday. Ruud won 6-3, 6-4, 6-0.
Djokovic is hoping to leave Roland Garros this year with his third French Open title and his 23rd Slam championship overall, which would break a tie with Rafael Nadal for the most by a man in the history of tennis. Djokovic will play his 34th grand slam final, his seventh at Roland Garros, where he lifted the Musketeers' Cup twice, in 2016 and 2021.
Nadal was absent from his favourite tournament this year because of a hip injury.
The 36-year-old Serbian was facing the ultimate test against Alcaraz, who had bulldozed through the draw, only for the machine to break down in abrupt fashion.
"Tough luck for Carlos. Obviously at this level, the last thing you want is cramps and physical problems in the last stages of a grand slam," said Djokovic.
"It was probably difficult for him to decide whether he should retire or continue until the last point but he's a fighter, so respect to him for that."
The first set was a little edgy, and no wonder. The much-awaited clash had started with Djokovic going for the throat and breaking for 3-1 before saving four break points and taking the opening set after almost an hour.
The second set was extremely compelling. With Mike Tyson watching from the stands, both players traded punches and Djokovic was on the ropes in the second set, with Alcaraz playing several spectacular shots.
After an exchange of breaks, the 20-year-old Spaniard levelled as Djokovic overcooked a forehand and it appeared that the momentum had shifted.
"It is not easy to maintain that intensity," said Djokovic, who has now won his last 100 grand slam matches in which he bagged the opening set.
"Towards the end of the second set, he was the better player. I had to be aggressive, to take the ball early otherwise he would be the aggressive one. He is very fast, very dynamic so I had to match that and do even better, which was very exhausting."
It was, however, the youngest player's body that capitulated first in a contest that could have been a classic.
Written with reports from AP/PTI, Reuters