French Open: Child's play for King Rafa
The Spaniard annihilated Djokovic, the world's No. 1 player, 6-0, 6-2, 7-5 to equal Federer's record of 20 Grand Slam singles titles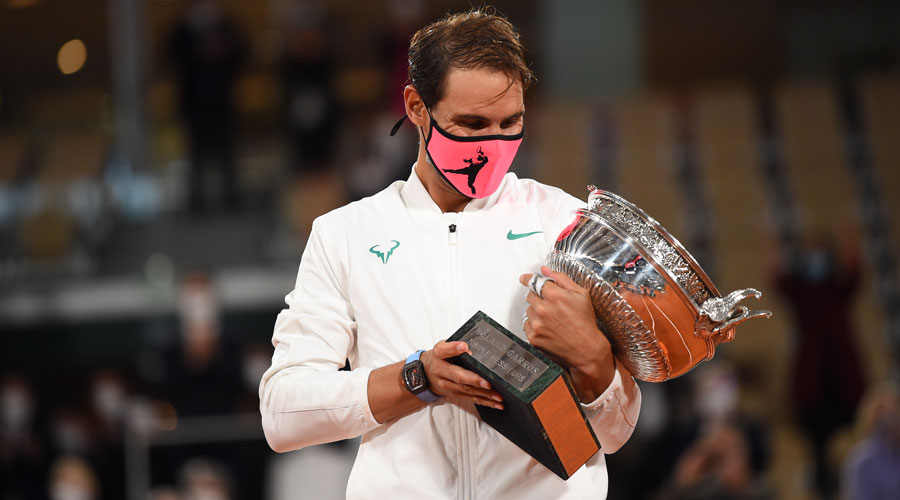 ---
|
Paris
|
Published 12.10.20, 02:45 AM
---
Neither Novak Djokovic nor Roger Federer could resist Rafael Nadal on Sunday.
Nadal made astonishingly quick work of them both in the French Open final, annihilating Djokovic, the world's No. 1 player, 6-0, 6-2, 7-5 to equal Federer's record of 20 Grand Slam singles titles.
It was arguably Nadal's finest performance at Roland Garros, which is quite a statement considering that he had already won 12 Grand Slam singles title on the same rectangle of red clay.
There was nothing unlucky about No. 13. He was on task and on target from the very start against Djokovic, ripping groundstroke winners, running down drop shots and keeping his unforced errors to a strict minimum. He made just two in the opening set, giving Djokovic little time or space to find his range.
Djokovic, the 2016 French Open champion, is one of only two men who had defeated Nadal at Roland Garros. He had beaten Nadal in their last three Grand Slam finals against one another.
The most recent of those came at the 2019 Australian Open, where Djokovic overwhelmed Nadal 6-3, 6-2, 6-3 in what Djokovic still maintains was the finest performance of his career. Nadal could only purse his lips, shake his head and say "too good."
But that rout took place on a hardcourt, Djokovic's best surface, at the major tournament he has won most often. Sunday's payback came in Nadal's kingdom.
"Sorry for today," Nadal said to Djokovic in his post-victory remarks.
"In Australia he killed me. It's clear today was for me. That's part of the game. We've played plenty of times together."
This was not a French Open like any other, however. It was moved from the spring to the autumn because of the coronavirus pandemic, making for cooler temperatures that rendered Nadal's topspin forehand less lively than in the past. The crowds were limited to just 1,000 paid spectators per day at Roland Garros.
It was also the first French Open to be played with a retractable roof and lights, which meant that Nadal had to win his quarter final match over Jannik Sinner well after midnight. Because of rain in the afternoon on Sunday, the final was played with the roof closed — a first in the history of the tournament, which was first played at Roland Garros in 1928.
"Everybody knows this court is the most important court in my tennis career," Nadal said, before striking a more somber tone.
"We are under very tough circumstances," he said, a mask on his face. "In some ways it's not that happy because we can't celebrate the tournament in a normal way."
"Today, you showed why you are the king of clay," Djokovic said during the awards ceremony.
"I experienced it in my own skin. It was a very tough match. I'm obviously not so pleased with the way I played, but I was definitely overplayed by a better player today."
Nadal, 34, did not drop a set in seven matches, and Sunday's victory was his 100th in a match at Roland Garros.
October 11, 2020