Why hurry for ISL, poser for East Bengal
Only after Bagan joined hands with ATK, the red and gold brigade suddenly woke up to the fact that they also should be playing the No. 1 league: Shyam Thapa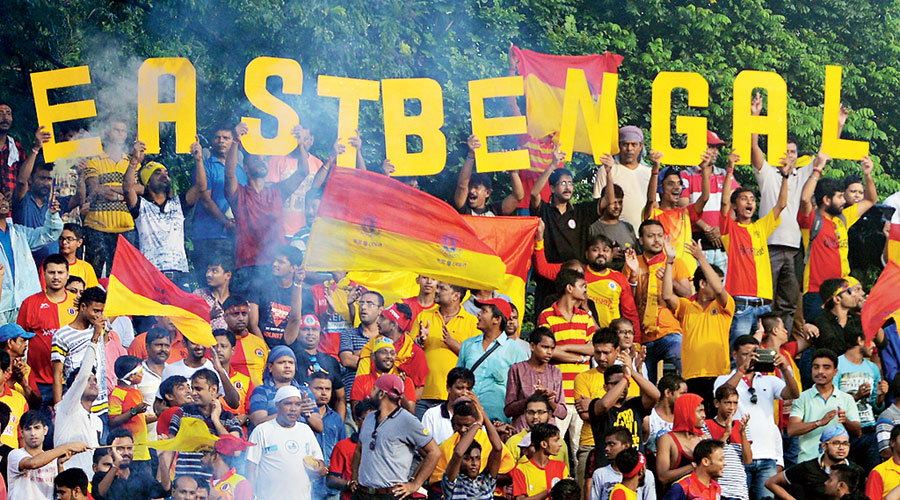 ---
|
Calcutta
|
Published 01.08.20, 12:48 AM
---
East Bengal should play the Indian Super League (ISL) on their own merit and not by asking anyone and everyone to pitch for them. That's what former players, who wore the red and gold jersey with great pride, feel.
After it became clear in the last few days that East Bengal, which turns 100 on Saturday, would not be a part of ISL at least in 2020-21, the club appears to have gone into a face-saving mode.
"I think they are rushing into things. In this time of pandemic, it's not easy to find an investor. There's no harm if they play next season onwards," former East Bengal player and coach Subhas Bhowmick told The Telegraph on Friday.
"Where is the need to be so restless to play in ISL? Only after Bagan joined hands with ATK, East Bengal suddenly woke up to the fact that they also should be playing the No. 1 league," Shyam Thapa, another former player and chairman of All India Football Federation (AIFF)'s technical committee, said.
Dipendu Biswas, who played for East Bengal with distinction, agreed with Bhowmick and Thapa. 
"Given the fan following and their history, East Bengal should be playing on its merit. I do not understand why there is such a fuss about the club missing out on ISL this season. Heavens will not fall, isn't it?"
East Bengal got back the sporting rights from their erstwhile investors, Quess Corp, on July 17. 
A day before that, club officials called on chief minister Mamata Banerjee and had a discussion regarding new investors. 
A few names like Abhishek Bachchan and Singapore-based Universal Success Enterprises Limited owned by Calcutta-born NRI Prasoon Mukherjee did the rounds, but nothing materialised.
On Sunday, the Asean Cup-winning players wrote a letter to the club secretary Kalyan Majumdar saying: "We think playing in ISL is not our primary issue, but our main motto is to stand by the millions of suffering people." And on Friday, the Football Players Association of India (FPAI), a body which looks after the interests of Indian footballers, got itself embroiled in a controversy after shooting off a letter to the AIFF and Football Sports Development Limited (FSDL) — organisers of the ISL — calling for East Bengal's inclusion in the top-tier league.
"We, the association, sincerely urge you to include East Bengal in the ISL without any hesitation or delay," FPAI general manager Cyrus Confectioner said in the letter.
Within hours its president Rennedy Singh sent out a media release saying he had no prior knowledge about the letter.
"I was not taken into consideration, on the sending of such a letter, and it is wrong to come out in support of any one particular club as we are here only to support the players," the former India captain said in a media release.
When contacted, senior East Bengal official Debabrata Sarkar said club "never asked anyone to send any letter to anyone."
"FPAI should be asked under whose behest it was sent," he said.