Setbacks of past make victory sweeter for Argentina
Thousands h thousands filling the streets of central Buenos Aires with blue-and-white banners as they watched Messi lead their team to a place in Sunday's World Cup fina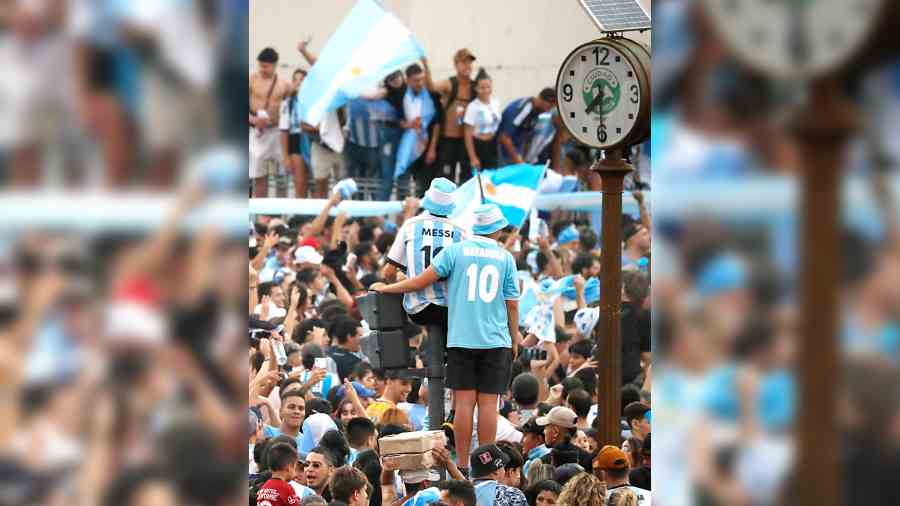 Fans celebrate in Buenos Aires on Tuesday after Argentina won their semi-final against Croatia to advance to Sunday's World Cup fina
---
Buenos Aires
|
Published 15.12.22, 06:22 AM
|
---
The streets of Argentina turned into a party on Tuesday with thousands filling the streets of central Buenos Aires with blueand-white banners as they watched Lionel Messi lead their team to a place in Sunday's World Cup final.
As soon as the match ended 3-0, people were out on the streets waving flags out of their cars, jumping singing in joy. The fans climbed onto bus stops, street lamps and sculptures to celebrate, with some banging drums and tooting horns.
"I'm in complete ecstasy," said 31-year-old Emiliano Adam, who works at an advertising agency and was celebrating by wearing the country's flag as a cape. "This is the first match that didn't make me suffer, the first time I could enjoy a match from beginning to end."
The sky-high hopes for Argentina only increased here after the quarter-final against the Netherlands, an agonising match that ended in a penalty shootout and led to a collective feeling that the team that had shocked the world by losing its opening match against Saudi Arabia had finally found its groove.
"This was the antithesis of the last match, we won easily, with ample advantage and without moments of so much tension and stress," said Valentina González, 31, a social media manager.
Tuesday's win and reaching the World Cup final was even sweeter due to the initial difficulties that the team faced in the tournament, she said. 
"It seems that it always has to be difficult to get there, but we get there and we win. It's as if there is no winning without suffering," the 27-year-old said.
Argentina will play the World Cup final at Lusail Stadium against defending champions France. 
"I'm excited because a final is the best. We cannot hope for more," said Mauricio Gasandrea as he celebrated in the crowd. "It's an amazing feeling as an Argentine. Just look around at this."
Sunday's final will be Messi's last chance to win the World Cup. The 35-year-old has piled up honours and accolades at the club level but success with the national side has been limited to the 2021 Copa America.
He came agonisingly close to winning the World Cup in 2014 only for Argentina to lose to Germany in extra time.
"We have been waiting for a long time for this to happen again," said Martin Duarte, wearing an Argentina jersey. "We mourned the lost finals for years, but here we are again, a new final. I'm happy and excited."