In Croatia's loss, exit of an icon
For Luka this is the last World Cup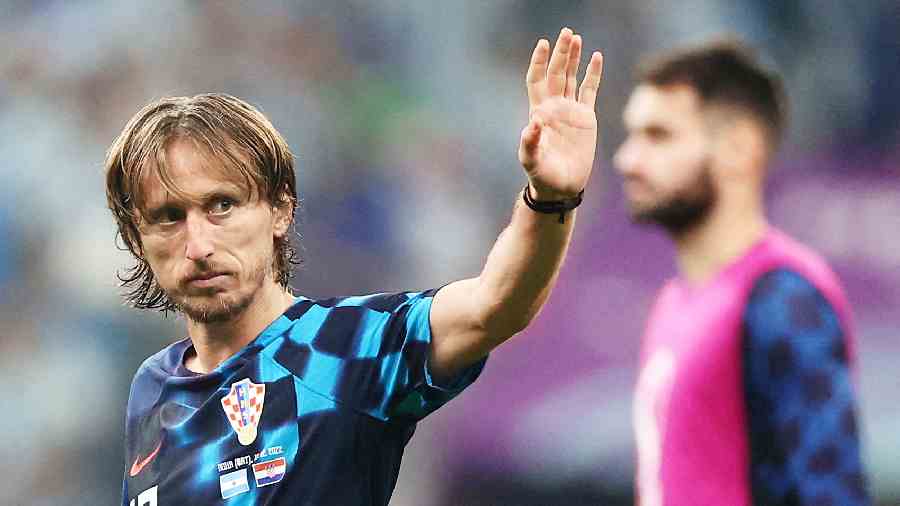 Luka Modric waves to supporters after the match as Croatia are eliminated from the World Cup.
---
Doha
|
Published 15.12.22, 06:37 AM
|
---
Eleven minutes after that piece of Messi magic, Lusail Stadium was still pinching itself in disbelief, when the giant screens flashed Croatia's substitution. Out Luka Modric, in  Lovro  Majer. The stadium, dominated by Argentine fans, rose on its feet again. This time for a standing ovation to a man who, even at 37, runs like a 20-year-old. 
Modric was sombre as he calmly took his seat in the dugout. No grand gesture to the crowd or outpouring of emotion for a man whose understated brilliance can still be overlooked despite everything he has achieved.
After the match, there was a warm hug from former Real Madrid teammate and unused Argentina substitute Angel Di Maria. Modric's teammate Mateo Kovacic came and the captain put an arm around the Chelsea player. Probably discussing how memorable it would have been to play a second successive World Cup final. They had lost to France in Moscow in 2018. 
For many of his peers like Messi, Cristiano Ronaldo, Robert Lewandowski, this is the last World Cup. Modric is also expected to follow suit. In the summer of 2026, when the World Cup goes to North America, Modric will be some months short of 41. Unlike in Russia when Croatia, stacked with talented players, were expected to scale greater heights, in Qatar very few had given them a chance to be in the semi-finals.
Some upsets in the group phase saw them pitted against Japan in the Round-of-16 when it could have been either Spain or Germany. Japan were overcome thanks to goalkeeper Dominik Livakovic's exploits. Mighty Brazil were next. One of the memorable moments of the match was when Neymar put Brazil in the extra-time, the camera focused on Croatia's captain. Modric gave a cursory glance at the giant screen to get an idea of how Neymar had managed to break through the compact Croatian defence, then steeled himself and got ready for the action. A few minutes later, 117th to be precise, he played a pass on the right to Mislav Orsic whose assist helped Bruno Petkovic to equalise. The match went into tie-breakers, Livakovic again was there and Brazil were out.
Ahead of Tuesday's match, a group of Croatian fans were singing and dancing on the aisles of the Lusail Stadium, saying Modric will do to Argentina what he did against Brazil. The television reporters, not to lose out on the footage, were egging them on. A few minutes into the match, Croatia took control and Modric was in the thick of the action throughout. Whether playing a pass from the deep on the flanks or leaving Alexis Mac Allister in his wake or running back to deny Julian Alvarez a look at the goal with a timely header, it was business as usual for Modric.
But once they conceded the penalty the game just went out of their grip. "That goal took the match in a different direction. Before that Croatia had full control," coach Zlatko Dalic admitted in the postmatch news conference.
Argentina coach Scaloni's decision to pack the midfield with four players also did not give Croatia much space. "Fair winners, they were better," Modric acknowledged at the mixed zone. But he was bitter about the penalty awarded to Argentina after Livakovic clattered into Alvarez inside the box. "For me, it wasn't a penalty. It killed us," he said.
"We have to regroup fast and win the third-place match," Modric said, speaking of the next challenge. Will he announce, like Messi, that Qatar would be his last for Croatia? He may. Wherever Modric's story goes from here, his status as a World Cup great is secure.