East Bengal's season of title riches
Junior jackpot in turnaround triumph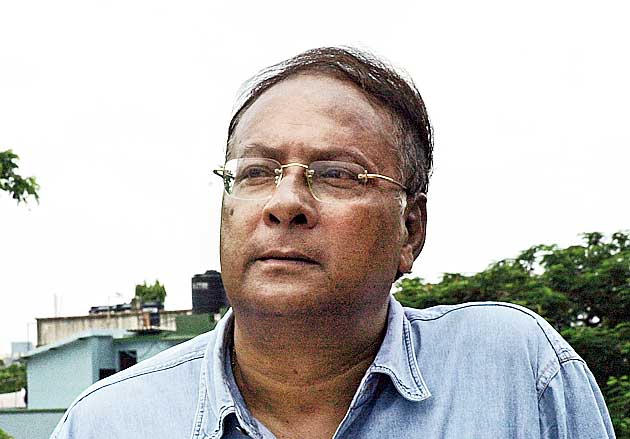 Subhas Bhowmick
Telegraph file picture
---
Calcutta
|
Published 27.04.20, 11:40 PM
|
---
April 28, 2004 - A memorable day for East Bengal. That was the day when the Maidan giants won back-to-back National League titles, which also happens to be the last time they became national champions.
They defeated Indian Bank 3-0 and were declared champions with two rounds to spare. Sixteen seasons have gone by, but that title has remained elusive since.
East Bengal club management was unhappy with team's performance that season and was mulling appointing a new coach in place of Subhas Bhowmick just after three matches of the National League in 2003-2004 season.
The title holders did not start the league well and were clearly down on confidence. They only had two points in their kitty from three matches.
On December 9, 2003, they drew their third match against JCT. Waiting for the return flight to Calcutta the next day at the Ludhiana airport, the mood of the team was rather sombre. Suddenly Brazilian midfielder Douglas da Silva came close to Bhowmick and said: 'Coach, if you don't stay, I will leave the club.'
Bhowmick's reply was: 'A coach should always carry his resignation papers in his pocket. Whatever happens to me, you just focus on your job and prove the critics wrong.'
As it happened, Bhowmick stayed back. East Bengal got back to winning ways and bagged the National League.
'We had a great start to the season as the club won the Asean Cup. But complacency crept in after that and we had to suffer. In the Federation Cup quarter finals, we lost against Vasco,' Bhowmick recalled.
In between, East Bengal also lost in the finals of the Durand Cup and the IFA Shield, to Salgaocar and Mohun Bagan, respectively.
What triggered that turnaround? 'Douglas gave me the CV of Cristiano Junior which was very impressive. I immediately told the club officials to sign up the striker. It worked for us.
'I told my players if you fail, I will take the responsibility. But if we win the credit will be yours,' Bhowmick said.
Junior was on the target from the very first match he played. He scored against Churchill Brothers and East Bengal registered their first win in the league in the fourth round. In the very next match, they defeated Tollygunge Agragami, again riding a Junior goal. But against Dempo SC, the club lost 2-3.
East Bengal lost ten points from the first six matches. In the seventh round, the club beat Mahindra United and after that they didn't look back. Bhowmick's side remained unbeaten in the next 14 matches and won 12 of them, which helped them to bag the title. East Bengal finished the National League with 49 points from 22 matches.
In 20th-round, against Indian Bank at home, Bhaichung Bhutia, Douglas and Dipankar Roy scored one each to take East Bengal home.
After the first leg, Dempo had a point's lead over East Bengal. The Goan club had 22 points from 11 matches. So the second leg match between Dempo and East Bengal became crucial. The home team played a defensive game and managed to get a point from the match. This irked fans and club officials, but Bhowmick didn't care. 'I always worked on my own terms. I just told my players that I will take care of everything,' the then East Bengal coach said.
Junior scored 15 goals in the league and was the highest scorer. Bhaichung also scored 12 goals. 'We were playing defensive games. Our opponents started to feel that we will play well but not win the game. The jinx was finally broken after Junior joined the squad and we had a very good run upfront,' Bhaichung recalled.
'Bhowmick also played an important part and motivated us. He was the one who tried to give club football an international exposure,' the former India captain said.
Douglas, who was a vital cog of the team, said that self-belief worked for the players. 'We had the best team in the country and we always believed in our quality. And it worked for us,' Douglas said.
Sandip Nandy, Sangram Mukherjee, Surkumar Singh, M Suresh, Mahesh Gawli , Deepak Mondal, Debjit Ghosh, Saylo Malsawmtulunga, Suley Musah (captain), Sasthi Duley, Bijen Singh, Chandan Das, Subhas Chakraborty, Alvito D'Cunha and Mike Okoro were the others who played an important part in East Bengal's last national championship title.
After that season seven East Bengal players joined other clubs. As a result, the club's performance started to go south. And non-Calcutta teams made it a habit of winning the national championships. Mohun Bagan won the I-League (National League was renamed the I-League from 2007-2008 seasons) twice and East Bengal finished at second spot five times.