Qatar 2022: Argentina find its new brand of heroes
It gives us great confidence to have played well: Alexis Mac Allister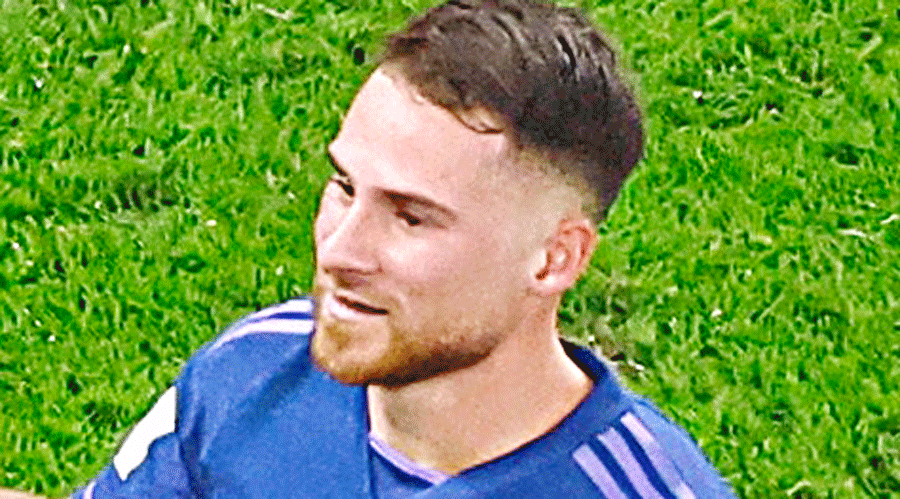 Argentina's Alexis Mac Allister.
Twitter
---
Doha
|
Published 02.12.22, 04:01 AM
|
---
For someone who began the season with an own goal, Alexis Mac Allister has come a long way.
A regular feature for Brighton & Hove Albion in the English Premier League this season, Mac Allister, of Irish descent, was not even in the starting eleven when Argentina took the field against Saudi Arabia in the first Group C match on November 22.
The 2-1 humiliation forced coach Lionel Scaloni to ring in changes and Mac Allister came up with a performance against Mexico which silenced all doubters. And against Poland on Wednesday, came his first international goal.
Argentina went into the dressing room at half-time at Stadium 974 on Wednesday with Lionel Messi squandering a penalty. At any other time a Messi penalty miss — the 39th of his playing career — would have meant the morale would be down but not with this young team. Argentina came back stronger.
Just about a minute into the second half, Mac Allister got on the end of Nahuel Molina's cross and, despite making weak contact, he saw his shot creep over the line with Polish keeper Wojciech Szczesny, who had been making save after save, beaten. 
"Today, it was a great team game, the best of the group, it gives us great confidence to have played well," the 23-year-old said minutes after the whistle blew in the Poland game.
Signed by Brighton in 2019 when the English club was told about a certain player turning up for Argentinos Juniors, Mac Allister was sent back on loan to the club. He then turned up for his favourite Boca Juniors on loan and came to England for the 2019- 20 season. Since then his curve has just been ascending. He has signed a new contract that commits him to the club until June 2025. 
Growing up, he idolised Juan Roman Riquelme, liked Pablo Aimar and then Messi was his hero. In Brighton, he is known for scoring goals but it's a surprise that Mac Allister ranks third in the English Premier League for winning back possession in the middle-third of the pitch this season. Only defensive midfielders Declan Rice and Rodri are ahead of him.
Having made his national team debut in 2019, Mac Allister was not on Scaloni's radar for most of the time. He earned his recall in January this year but Covid-19 had other ideas. Finally, in March, he got his first chance to wear the national team jersey after almost three years.
Though his season for Brighton began with an own goal against Manchester United on August 7, Mac Allister has since then got his name on the scoresheet five times, a feat that earned him a place in the Argentina squad.
And he has justified the choice. Very few would have expected him to be the star of the midfield, but Giovani Lo Celso's injury before the World Cup and then Scaloni's loss of faith in Papu Gomez's ability after the Saudi match catapulted Mac Allister to the Argentine eleven. The award for most valuable player award on Wednesday is a testament to his enormous talent and a recognition of the energy he has brought into the Argentine midfield. 
"We wanted to make amends for that Saudi Arabia game because we knew we could play better," Mac Allister said after the match. "We've managed to find that calm we needed ... we played well collectively and it fills us with confidence."
Collectively is the key word.
Argentina seem to be slowly coming out of Messi's shadow and increasingly look like the team which had a 36-match unbeaten streak. Messi, who became the first player to have assists in five different World Cups when he teed up with Enzo Fernandez against Mexico, did not have any hand in two of the goals against Poland. Molina and Mac Allister teamed up for the first while Enzo Fernandez scooped it for Julian Alvarez for the second.
To start with Molina, Fernandez and  Alvarez was a bold move but it paid off. "The boys who have come in today (Wednesday) have done well, but we always think about the team," Scaloni said. 
"We have 26 players who can play, we have had changes and injuries and it helps knowing who can help. We have alternatives and all of them offer something different," he added.
At the mixed zone, Messi was asked about the penalty miss. "I was really frustrated to have missed it, because I knew that a goal could change the whole match, that it makes you play in a different way. I think from the penalty I missed, the team came out stronger."
True. The youngsters are clearly driving this team.