Doubters of Italy's chances of going all the way at Euro 2020 have pointed to their comfortable path to the quarter-finals, but that will all change on Friday, up against a Belgium side whose leading marksman knows the Italians all too well.
Romelu Lukaku enjoyed one of the best seasons of his career in 2020-21, voted player of the year in Italy's Serie A as the Belgium forward fired Inter Milan to their first top-flight title in 11 years.
Next in his sights are club teammates and players used to trying to stop him on a weekly basis in Serie A as Belgium and Italy, who have won four out of four games each at Euro 2020, go head to head in Munich in the last eight.
Italy are on a record unbeaten run of 31 matches, last losing back in September 2018 against Portugal. However, such a run has not convinced everyone, given Roberto Mancini's side have beaten lower-ranked opposition in Switzerland, Turkey, Wales and Austria so far. The goal conceded to Austria in their 2-1 victory in Saturday's last-16 tie was the first in 12 matches.
With Lukaku in town, spearheading the attack for the world's top-ranked team according to Fifa, Italy will have no such easy ride.
"We know Lukaku well because we also face him in Serie A," Italy and Napoli defender Giovanni Di Lorenzo told Uefa.com. "We know he is a great striker, he had a wonderful season with Inter. He is to be kept under observation."
Dries Mertens is another Belgium player looking forward to the clash. Mertens broke Diego Maradona's goalscoring record at Napoli last year and has played with many of the Italians he will be up against in Munich.
"It is special to play against Italy because I've lived there for the last eight years and I know all their players," he said on Wednesday.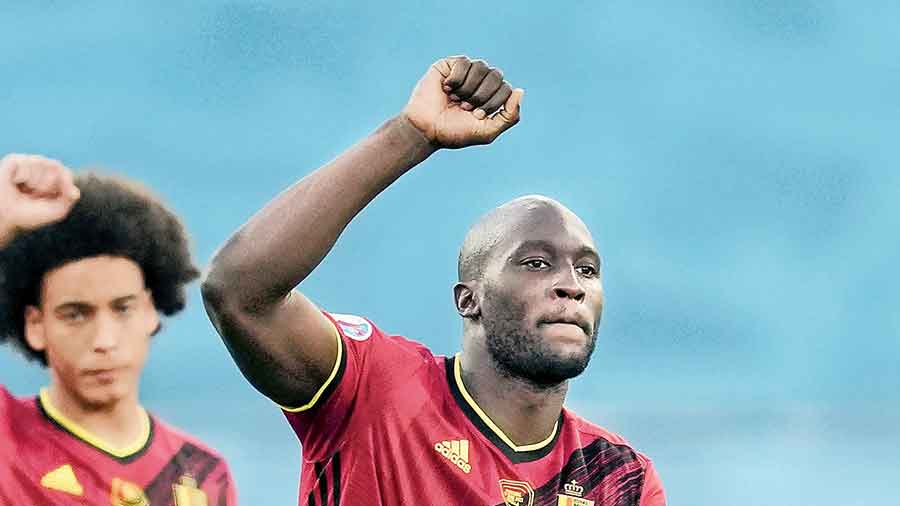 Romelu Lukaku Sourced by The Telegraph
Mertens is a big admirer of Italy's national team, among the most impressive at Euro 2020 so far.
"This generation can play football. They have won a long series of matches and conceded few goals. They have a good mix between youth and experience," he said.
Italy will also be the favourites, asserted Mertens, despite Belgium being top-ranked by Fifa.
But Belgium, too, have big dreams for their "golden generation", still in search of a first major tournament trophy.
"It is not the last chance because I believe in the future of the Belgian football," Mertens said.
Italy go into the clash facing their first real test of the tournament so far, up against the top-ranking national team.
While Mancini's side have impressed so far in the tournament, midfielder Jorginho is wary of how tough Friday will be. "We are aware there isn't room for mistakes."
PLUS-MINUS
Strengths
Italy: Lack of star power has been a blessing for this Italy who have excelled as a unit. Roberto Mancini's side is energetic, with relentless pressing, especially by the front three. They look the most streetwise of all the teams in the last 8 and is unlikely to squander a lead if they get one Belgium: They use an effective wing-back system and have some fantastic players who can change games in an instant. And in Romelu Lukaku,
Belgium have a striker who overpowers even the toughest of defenders easily. The Inter Milan striker is also well-acquainted with the Italian style
Worries
Italy: Mancini is sweating over the fitness of captain Giorgio Chiellini, who has been nursing a calf injury. The experience of Chiellini, who is playing his fourth Euro finals, would have come handy in restricting the imposing Lukaku
Belgium: Kevin De Bruyne, who rolled an ankle in the last match, and Eden Hazard, with a hamstring injury, are doubtful vs Italy. Without these two playmakers, the Belgian side loses some of its potency, as was evident in the group league game against Denmark
MATTER OF FACT
Italy are unbeaten in 31 internationals (W26 D5), breaking a national record that had lasted since the 1930s
Mancini's side have conceded just one goal in their last 12 games
Belgium's only win (2-1) against Italy in a competitive match came in Euro 1972. That too was a quarter final match
Opposing coaches Roberto Martinez and Mancini were in charge of Wigan Athletic and Manchester City when the two teams met in the 2013 FA Cup final. Wigan won 1-0 to lift their only major trophy and Mancini left City two days later
Inter's Lukaku faced Italy keeper Gianluigi Donnarumma in four Milan derbies and scored in each of them