England's controversial march into Euro 2020 final
Laser beam directed at the eyes of goalkeeper Kasper Schmeichel, two footballs on the field, and a contentious spot kick -- the Three Lions have clearly been gifted a berth in the summit showdown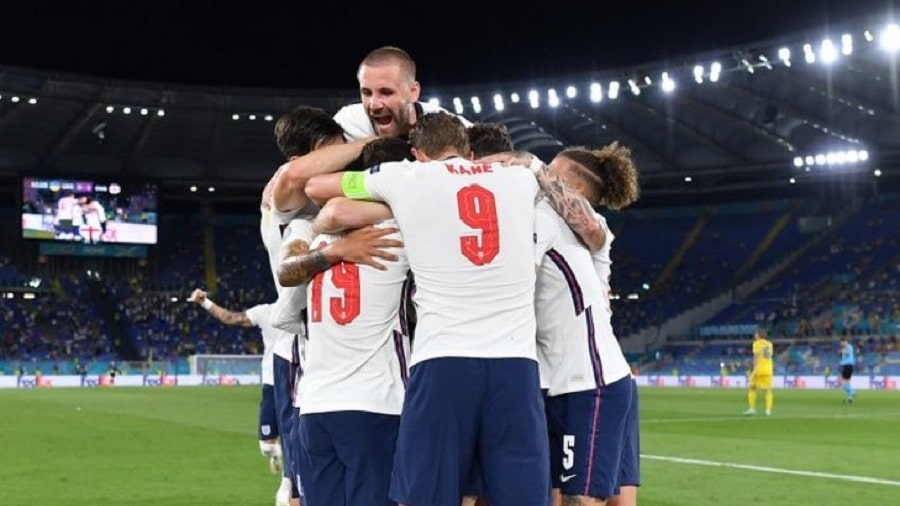 England will face Italy in the Euro 2020 final on July 12.
File Photo.
---
Published 08.07.21, 11:08 AM
|
---
Harry Kane scored once again for England. But this time around, there are too many questions stopping one from jubilantly shouting 'it's coming home'.
When the Three Lions were level with Denmark 1-1 in the first period of extra time, Raheem Sterling went down following a challenge from Mathias Jensen and Joakim Maehle. Well, that's what it looked like on the spur of the moment. Referee Danny Makkelie's decision went the Three Lions' way, and to make matters worse, the Video Assistant Referee (VAR) did not do its job. Then, as the dust settled on the matter, with video clips taking social media by storm, it was too late. England were 2-1 ahead and on their way to the first ever European Championship final. For someone watching the replay over and over again, Makkelie's decision looks far from convincing.
This has also split the world of football into two. Former footballers, famous club managers, and fans are sparring over this issue. "For me it was no penalty, I don't understand why VAR has asked the referee to look at it," Arsene Wenger, who coached Premier League club Arsenal for 22 years, told beINSports. 
Jose Mourinho, who has spent considerable time in England as Chelsea and Tottenham Hotspur manager, seconds Wenger. "It's never a penalty. The best team won, England deserve to win. England was fantastic, but for me it's never a penalty," he told talksport.com. 
Denmark coach Kasper Hjulmand is understandably livid. "We're disappointed it was decided that way. ... It was a penalty that shouldn't have been a penalty, and that annoys me right now. We're disappointed, we're very disappointed," he told ESPN after the match.
But there are people who are lock, stock and barrel in favour of the penalty. One of them is referee Mark Clattenburg. "Danes will argue that the penalty decision was harsh...but it wasn't a clear and obvious error," he said.  After the match, Sterling told inews.co.uk, "I went into the box and Maehle stuck his leg out and touched my leg, so it was a clear penalty."
Laser beams, two footballs!
But the penalty earning a dubious distinction is not the only controversial highlight of the match. While Harry Kane limbered up to take the spot kick, there was a laser pen trained at the eyes of Danish goalkeeper Kasper Schmeichel, clearly aiming to distract him. At a time when eagle-eyed cameras zoom into almost every nitty gritty of the match, how was this missed? Schmeichel not being rattled by such a nasty attempt from the Wembley crowd makes for another story.
Someone put a laser pen on Kasper during the penno😂😭 pic.twitter.com/RL4hxTBFpD

— Clarkinohh (@clarkinohh) July 7, 2021
And then, some real high-school stuff, if we can call it that, was highlighted by viewers on social media. There were two balls in the field as Sterling looked to attack. In a tournament that has 22 video match officials appointed for VAR duties at the UEFA headquarters in Nyon, Switzerland, such technical ignorance would have probably been inexcusable in another game.
There were literally two balls in the field placing Danish at disadvantage n ref ddnt stop the game, just let sterling attack..
On top of it they gave a penalty for diving on the Same play.
English media being cheats plus hypocrites but that's nothing new is it. pic.twitter.com/BKQrNw0Qft

— abhi 🖤🤍 (@DYBALAMASK15) July 7, 2021
England have become the butt of all jokes on social media right now. Here's how the tweets are having a field day:
Congrats to England 👏🏼 Happy for my British friends 🤍⚽ Nevertheless amazing fight from Denmark during the whole tournament 💪🏼 A very doubtful penalty!? 🤔 #ENGDEN #Euro2020

— Mesut Özil (@MesutOzil1088) July 7, 2021
They'll be putting that penalty in the British museum with all the other stolen shit 😹#EURO2020 #EnglandDenmark pic.twitter.com/C7QtiLGgBv

— sem (@wifeysem) July 7, 2021
No #penalty. As simple as that. England deserved to win, but not this way. #EnglandDenmark pic.twitter.com/ga2t01yRLp

— Niccolo' Tosi (@niccolotosi) July 7, 2021
From ecstasy to agony.

Denmark fans celebrate Kasper Schmeichel saving Harry Kane's penalty - only to realise the England striker scored the reboundhttps://t.co/OYqfCjWQsO pic.twitter.com/XSTWo1yxYW

— ITV News (@itvnews) July 7, 2021