England vs India: Virat Kohli 63 runs away from reaching 23,000 international runs
Skipper has amassed 22,937 in 487 innings so far; Sachin Tendulkar is the fastest to enter the elite club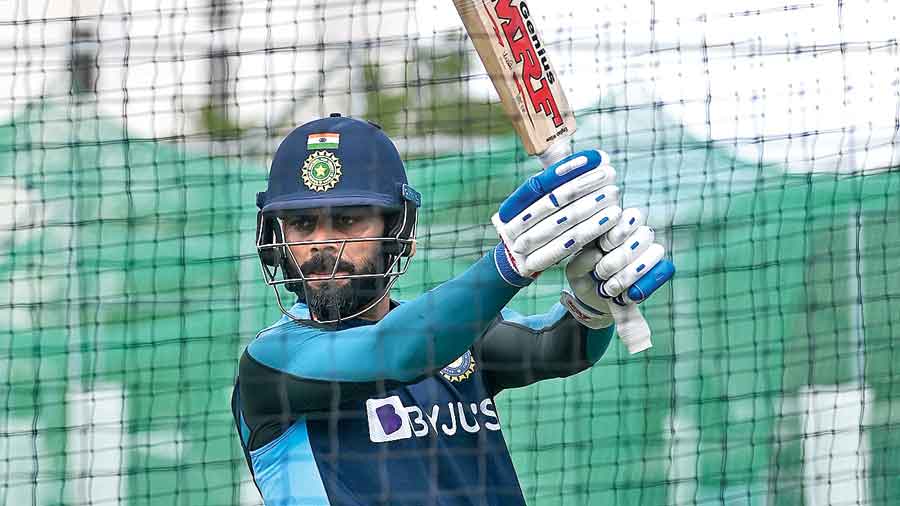 ---
Published 25.08.21, 12:58 PM
|
---
Virat Kohli might not be having a great time with the bat, but there's no stopping him from taking rapid strides towards another milestone in international cricket.
The Team India captain is only 63 away from 23,000 international runs, and will be expected to reach the coveted mark at the Headingley Test that begins today. Kohli, who has amassed 22,937 runs in 487 innings so far, is expected to become the fastest to the historic milestone. As of now, Sachin Tendulkar is the fastest to have achieved the feat in 522 innings. The other batsmen in the club are Kumara Sangakkara, Ricky Ponting, Mahela Jayawardene, Jacques Kallis and Rahul Dravid.
Among other milestones in sight, Rohit Sharma is only 100 away from reaching 15,000 international runs, while all-rounder Ravindra Jadeja is two scalps away from 450 wickets across formats. Ravichandran Ashwin, who is yet to take the field in the ongoing five-match series, is close to surpassing Harbhajan Singh's Test wickets tally of 417. The Chennai spinner needs only five more scalps to get past the veteran.
Team India take pole position in WTC rankings
The Indian cricket team took the top spot in the latest World Test Championship standings with 14 points after its massive 151-run victory over England in the second game of an ongoing five-match series. The rain-forced draw in the opening Test gave India four points and the outright win at Lord's 12 points. However, the team has 14 points in total, instead of 16, as it was docked two points for slow over rate.
According to the WTC rules, teams cop one-point penalty for each over short. Each match-win is worth 12 points while a tie gives teams six points. Four points are awarded for a drawn result. India are followed by Pakistan (12 points), who beat West Indies by 109 runs to level the series. The Caribbean side also has 12 points as it had won the opening match of the series and is placed third in the table.
England are placed fourth with two points. They also lost two points, earned from the drawn opening match in Nottingham, because of their slow over rate.
(With PTI inputs)