Warner pat for Bumrah
David Warner's 128 not out off 112 balls took his tally to 1201 runs across all formats this season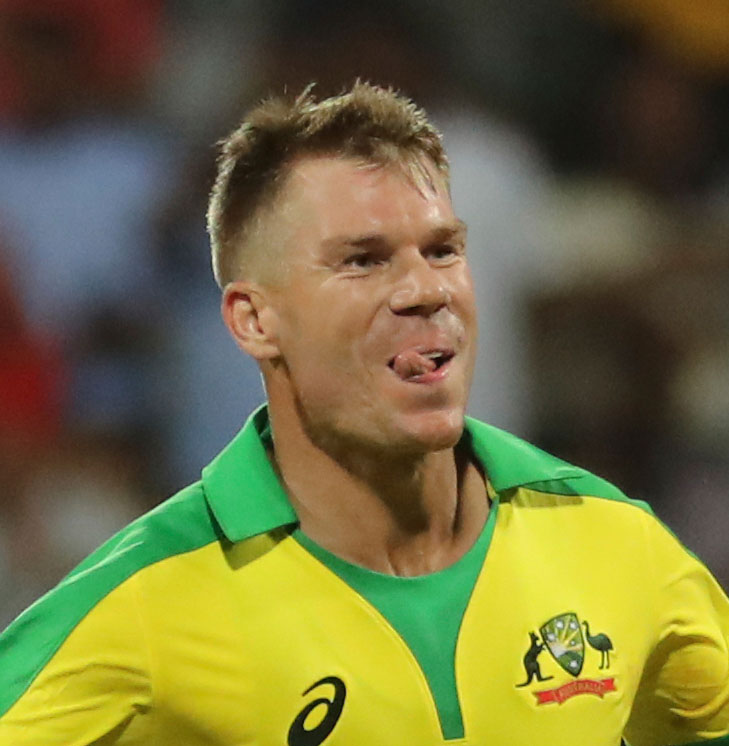 ---
Mumbai
|
Published 15.01.20, 09:40 PM
|
---
Life has just been a series of peaks and troughs for David Warner.
The year-long ban after the ball-tampering scandal in the Cape Town Test in March 2018 was followed by a successful World Cup during which he top scored for Australia with 647 runs in 10 matches at 71.88. The Ashes proved to be another low point in his career where he averaged 9.5, the worst series in history by an opening batsman across 10 innings.
He didn't sulk though on returning home, rose like the proverbial phoenix and is now on track for the greatest summer by an Australian batsman, after his fifth century of the season at the Wankhede on Tuesday.
Warner's 128 not out off 112 balls, during the 10-wicket demolition of India, took his tally to 1201 runs across all formats this season at an average of 171.57.
This includes his maiden T20I century against Sri Lanka and 335 not out versus Pakistan, the second highest Test score by an Australian.
With a maximum of 14 innings still available, Ricky Ponting's record of 2436 in 2005-06 is within the left-handed opener's reach.
Warner recalled how he spent more time at the nets this summer than any time in his career and the results are showing.
"It's not by fluke that I'm coming out here and doing what I am doing," Warner said. "I look back at the beginning against Pakistan, I trained a lot going into the first Test match.
"JL (coach Justin Langer) pointed out I had been batting for almost two hours in that session which is unlike me. I didn't play a Shield game leading in and I felt like I needed bat time. It put me in real good stead for the summer.
"I have a hunger and a desire to score runs all the time. I look back at that little phase there (in England) and it was just a small hiccup. I wasn't out of form, I was out of runs.
"I'm really making the most of it at the moment, my feet are moving well. I'm getting my head over my front leg, my weight is going through the ball. All those small things are coming into play.
"When you are in that kind of form and touch and everything is going well for you, you have to make sure you are practising the same and doing all the hard work," Tuesday's Man of the Match remarked.
Warner's 258-run unbroken opening stand with captain Aaron Finch shook India out of their comfort zone and provided them with a harsh reality check. It was only their second 10-wicket loss at home.
The pair has an enviable record against India — 954 runs from 10 ODIs, including three-century stands with an average of 106.
"The most pleasing thing for me up at the other end was seeing Finchy transfer his weight into the ball very well," Warner said. "He talks about not doing that as consistently, but tonight was probably the best that I've ever seen him bat. The way that he played was fantastic. It was great to have that winning partnership and be clinical there and (win) none down.
"We complement each other on the field but we're great mates off the field and I think we know each other's games and personalities so well that now we can have honest conversations out there.
"If we're playing shots that we shouldn't, we reassure each other about that… We complement each other, it's just great to go out there and play the way that we do. When he's going, I know what my role is and when I'm going he knows what he's role is and we communicate that straight away and I think that's the best thing about our partnership, it works very well."
But Warner is no mood to take it all for granted, especially Jasprit Bumrah.
"I can't imagine someone like Brett Lee running in from almost the boundary and just sort of staggering in there and all of a sudden 150km per hour… it takes a while to get used to and that's great skill from Bumrah, that's how he's always bowled as a kid growing up and you've just got to watch real hard…
"He's got great change-ups as well, I think, if I'm to give any advice and I take this as well, you've got to be nice and still. His bouncers surprise you, his yorkers surprise you and then when he bowls the change-up it's very, very difficult," he said.
But given their form, do Finch and he look to open in the 2023 World Cup in India with optimism?
"I think we'll speak to our wives first. We'll both be 36 or 37, I've got three kids — I hope that's the last one," he quipped before sharing a good laugh.
"And in that three years you've got form, wives, family. Take one step at a time. We'll look to the next game in Rajkot. We actually spoke about this at the team meeting — not looking too far ahead."