Mohammed Shami's advice for youngster Umran Malik
'Mix pace with accuracy and discipline'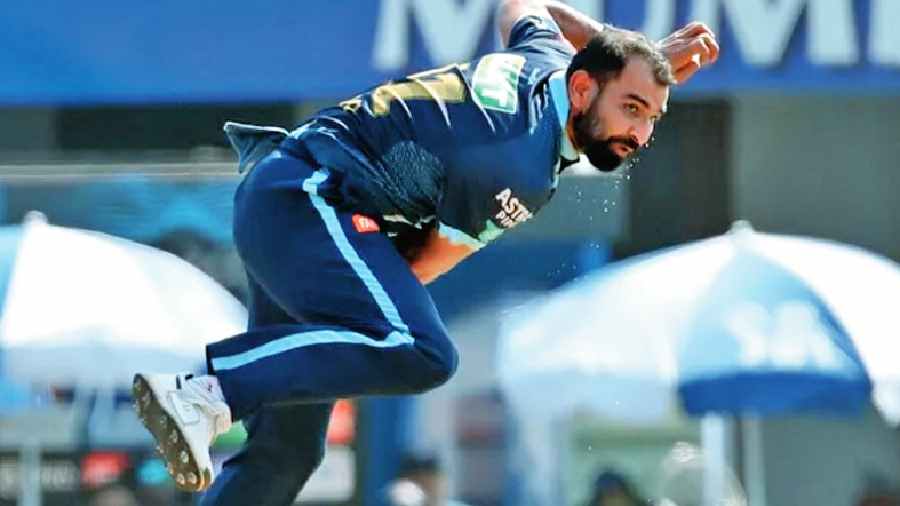 Mohammed Shami during this IPL
Sourced by The Telegraph
---
Published 14.05.22, 02:23 AM
|
---
Umran Malik may have set the IPL on fire with his sizzling pace but Mohammed Shami wants him to concentrate more on accuracy and discipline.
The Sunrisers Hyderabad pace sensation clocked the fastest ball of IPL 2022 recently, bowling one at 156.9kmph against Delhi Capitals.
"He has got incredible pace and a good future but still needs some time to mature. Personally I'm not a big fan of pace. I still believe if you can bowl 140kmph and move the ball both ways, then it's enough. He needs to mix pace with accuracy," Shami said during a media interaction on Friday.
"Let me make one thing clear: no one is afraid of pace now. A lot depends on your length and swing. Only these two aspects can save you in cricket," the fast bowler remarked.
"It's obviously very heartening to see talented youngsters doing well. When you see someone performing with swing and pace you get some clarity about how good he will be for the country. But experience is also very important.
"It's essential that he stays with the experienced guys and gets to play more matches. Training and preparation are two vital aspects for a fast bowler. That thought and experience has to be there," Shami said.
Shami didn't hide the fact that he is delighted to see the fast bowling cupboard brimming with talent. He is also pinning hopes on Lucknow Super Giants pacer Mohsin Khan, who has ten wickets in six matches.
Mohsin had during the lockdown in 2020 trained with Shami at his residence in Amroha in Uttar Pradesh. He picked up a few tricks during those sessions. Shami though feels the 23-year-old quick still needs to develop his game plan.
"Feels good to see that the future of Indian cricket is in safe hands... Talking about Mohsin, he used to practise with me. He is young and strong but needs to focus on his game plan.
"You've to prepare a routine both physically and mentally. If you build your set-up at a young age, you can reap the benefits for many years. When we started playing we didn't have many pacers who had played at the highest level to go up to and seek advice. But today's generation has a lot of options.
"Mohsin is young and strong. He needs to follow a routine and practise accordingly. If you have to set yourself up physically and mentally, this is the time to mould yourself. It will help you in the long run," he said.
Even Yash Dayal has been impressive, according to Shami. "Yash can also make an impact. He can swing both ways and develop into a good bowler. I haven't had the time to work with him much but seems to have a good future," Shami felt.
Shami isn't worried that he has an economy of 9.54 in T20Is. In IPL 2022, his economy is slightly better, 7.87 in 12 matches.
"If you are looking at the economy rate of a fast bowler you should also have to see at what stage he bowled. If he has bowled in the powerplay, then you shouldn't mind if he has gone for runs since you need wickets then," Shami explained.
"Yes, control is important but you should also take into account the conditions. T20 is a short format where you get very little time to think and hence a lot depends on the way things unfold on that particular day. I don't think the economy of any genuine fast bowler who loves to attack is less than 8... but it doesn't matter much.
"Whenever I have been the given the opportunity to perform with the white ball I have tried my best. The last three seasons I have remained among the top bowlers. Whenever I have been given a responsibility I have tried to fulfil it. I think I have performed in my role 100 per cent," said the star performer for Gujarat Titans, who has 16 wickets in 12 matches.
Shami feels Hardik Pandya has performed exceptionally as Titans captain and has been able to keep his emotions in check.
"After he became captain, he has become more normal, his reactions have been tempered. I advised him to control his emotions on the field because the entire world would watch him," Shami said.
"It is very important as a leader to be sensible, understand situations and he has performed that role to perfection. He has kept the team together. I have witnessed a lot of changes in him as a captain," he said.