The Indian Premier League (IPL) is not just commercially important for the Board of Control for Cricket in India (BCCI), it is also the playground of dreams and aspiration for many domestic cricketers who hope to grab a share of the spotlight to build their careers.
That is exactly why the announcement of IPL XIII dates brought much relief for Kolkata Knight Riders' pace duo of Sandeep Warrier and Prasidh Krishna. It has in a way offered some clarity to their plans in this pandemic-stricken season.
"Of course, now that we know that the IPL will finally happen, it's a sense of relief for us. To speak of myself, I had last played a competitive game back in March (a league game in Chennai) and then the next four months were all about a standstill state because of the lockdown.
"So for sure I was worried and anxious about what lay ahead. Now that we have the IPL dates, there's some clarity about the season and we can thus work on our preparations accordingly," Warrier, in his second year with the Knight Riders, told The Telegraph from Chennai.
Warrier could play only three matches for the Knight Riders in IPL 2019, but the pacer has since then become an India A regular, having toured the West Indies and New Zealand last season.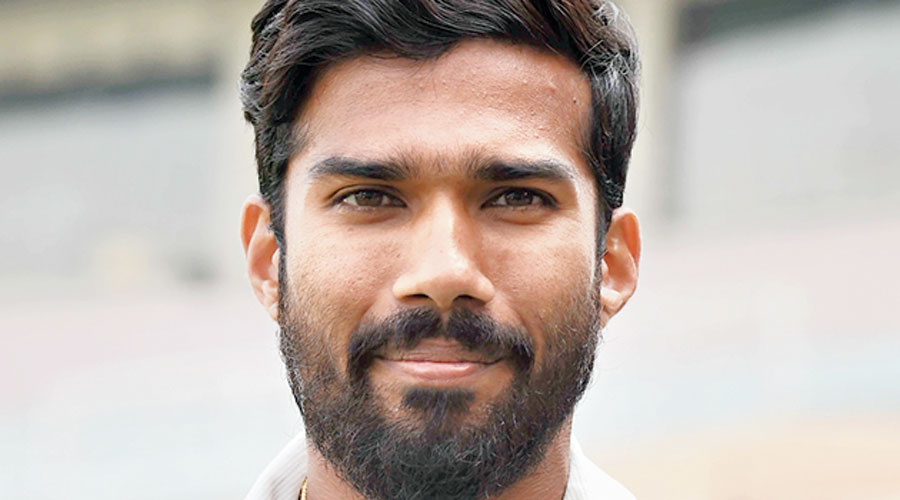 Sandeep Warrier Sourced by the correspondent
On the other hand, Prasidh, who featured in 11 matches for the Knights last year, will be resuming bowling very soon.
"For almost four months, we weren't sure what would happen. Preparation-wise, I did the necessary stuff to keep myself in shape and motivated, but there wasn't any kind of surety whatsoever. That seemed to be the case even over the last few weeks.
"But at present, since we know that September 19 is the date the IPL begins, we are indeed relieved and it's serious practice calling now. I will resume bowling very soon, maybe within the next few days, as there's a task ahead," the 24-year-old Karnataka pacer, who is considered to be a promising talent by India captain Virat Kohli, said from Bangalore.
Roped in by the franchise in 2018 after impressive showings in the preceding Vijay Hazare Trophy, Prasidh's name was mentioned by Kohli back in January during the home T20I series versus Sri Lanka, when he indicated that the youngster could be a "surprise package" in the squad for the T20 World Cup in Australia, which has now been postponed owing to the pandemic.
Both Warrier and Prasidh are raring to get back on to the field, even if that is in a bio-secure environment in the UAE, which will host the IPL this year. "What matters for me now is playing cricket again. Till there's a proper vaccine to counter the virus, we need to adapt to whatever measures that are being taken to ensure our safety," said Warrier.
Prasidh echoed Warrier in saying: "I'm sure the authorities will have proper security arrangements in place and that everything will be in order. At the moment, what's important for us is to return to playing cricket and for that, I'm ready to follow all necessary guidelines."