England as complete a team as you can have, says Mike Gatting
'Virat's very much from the lead-from-the-front school'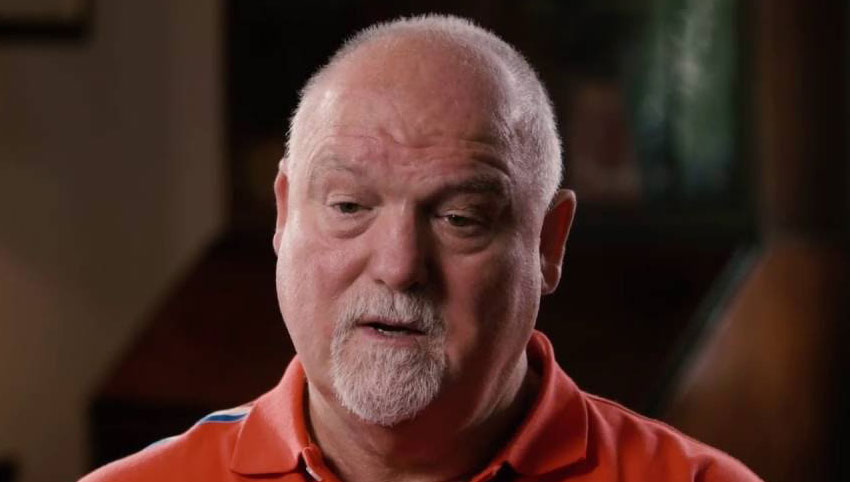 Michael William Gatting
(Screengrab from Youtube)
---
Leeds
|
Published 04.07.19, 09:08 PM
|
---
Michael William Gatting, a former captain of England and among the most solid with the bat in his generation, spoke to The Telegraph on Thursday evening.
Gatting, a Middlesex legend, is now 62.
Excerpts...
Q England have made the semi-final of a World Cup for the first time since 1992. Your thoughts?
A Very pleased, without a doubt. This has certainly been England's best ODI team for some time, if not the best of all time. I hope this form continues.
Q Clearly, the match against India, in Birmingham, proved to be the turning point... England won pretty big there and, then, thrashed New Zealand. Were you nervous in the lead-up to Birmingham?
A Most in England were a bit nervous. Given the position then, being nervous wasn't out of place at all.
Q How would you explain England's somewhat roller-coaster ride in this World Cup? Favourites... Almost out... Then smashing their way to target No.1, the last four...
A The fantastic thing about this World Cup is that there have been lots of good teams, sides capable of causing upsets... Look at Afghanistan... They haven't disgraced themselves. Rather, they gave some teams, including India, a scare... I must add this is a fair format, better than having two groups and the possibility of two rained-off matches knocking a top team out... England have had ups and downs, but delivered when it counted.
Q Seen a more exciting opening pair than Jonny Bairstow and Jason Roy?
A There have been a few... Gordon Greenidge-Desmond Haynes, Matthew Hayden-Adam Gilchrist... Jonny and Jason were expected to make an impact and they have. At the right time, after Jason returned from injury... The consistency of the Jonny-Jason pair has, of course, been nothing short of awesome. They dominate.
Q Jason, it appears, is indispensable...
A Absolutely no disrespect to Jason, but if a team is looking to be the best in the world, it cannot depend on one or two individuals. My personal view remains that nobody is indispensable.
Q England's strengths?
A Actually, this is as complete a team as you can have... Seamers, spinners, all-rounders in the form of Ben Stokes and Chris Woakes... If you look at the top six, then it's probably the strongest of all time... For that X factor, you have Jofra Archer bowling at 90 mph.
Q Weakness?
A (Laughs) England themselves. To elaborate, if England had played sensibly, they wouldn't have lost to Sri Lanka. Besides England themselves, I don't see a weakness.
Q Captain Eoin Morgan has been getting much credit for the way England's approach to white-ball cricket has changed. As a former captain, how do you rate Morgan?
A Eoin is excellent at working with people, he knows what they want and helps them relax. Eoin has helped create an environment where the players are the best they can be... Eoin is a people's man when it comes to managing.
Q Has there been a standout captain in this World Cup?
A I've seen very good captains... India's Virat Kohli, Kane Williamson of New Zealand... Australia's Aaron Finch has had to deal with issues, but has done so successfully... Naturally, there's Eoin in this group.
Q Australia and India were the first two teams to qualify for the semi-finals. The fourth should be New Zealand as Pakistan have an impossible task ahead of them on Friday. How do you expect the last-four stage to play out?
A It would be nice to have an India vs England final, but I reckon both will end up playing each other in one semi-final, with Australia taking on (as things stand) New Zealand in the other one. If there's a repeat of India-England in Birmingham, then I'd expect India to try and get back at England for Sunday's result... Fair to say that the four best teams will be in the semi-finals. As for making the final, it would depend on the quality of cricket put forward by the teams. Obviously, being a former England player, I'd like us to play at Lord's on July 14.
Q Under your captaincy, England tripped at the final hurdle in 1987. Once before (1979) and, then, in 1992 too. What will it take to win the World Cup?
A It's simple: A good team performance, not by one or two individuals. To win a World Cup, you have to play well as a team, something we didn't do in the 1987 final against Australia at Eden Gardens. Also, I played a shot which many felt I shouldn't have.
Q The reverse-sweep off Allan Border?
A Yes... Look, you play the shot you feel is most appropriate for the moment. But there are times when it doesn't come off and there may be consequences.
[Gatting got out for a well-set 41, making it 135 for three and the momentum was lost. Eventually, chasing 254, England finished on 246 for eight.]
Q One more... Some words on Virat and the present India team?
A For the first time, a captain from India has such a fine set of bowlers. (Jasprit) Bumrah leads the way and he's among the world's top two or three. Any captain would be delighted at being able to throw the ball to somebody with Bumrah's skill. He delivers on such a regular basis... To talk of Virat the captain, he's very much from the lead-from-the-front school and is fortunate to have big influencers like Mahendra Singh Dhoni and Rohit Sharma, the vice-captain, in the team. There are experienced heads in the dressing room... India are formidable.