Border-Gavaskar Trophy: India have edge but pace real threat
Legendary opener feels despite all talk about rank turners, it is Aussie pace attack that could pose a 'real threat' to Indians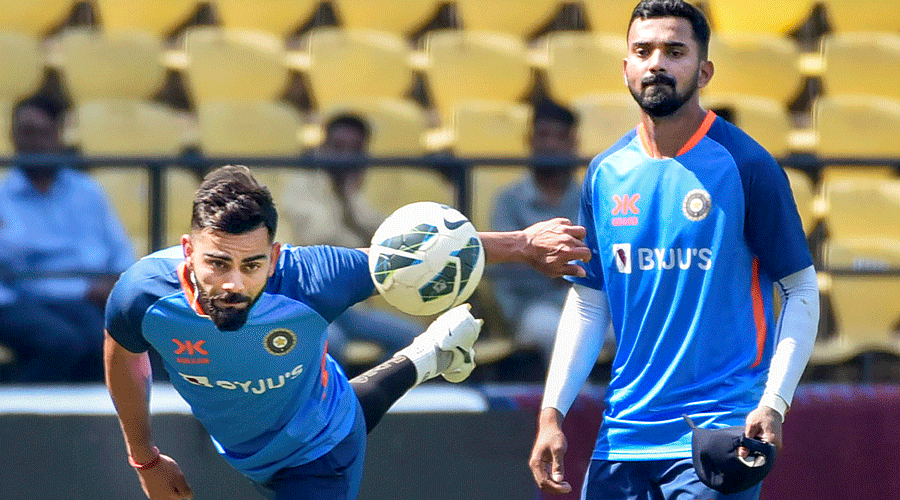 Virat Kohli (left) and KL Rahul during a practice session in Nagpur on Tuesday ahead of the Test against Australia.
PTI picture
---
Published 08.02.23, 04:29 AM
|
---
The Border-Gavaskar Trophy — named after former captains Allan Border and Sunil Gavaskar — is never short of thrills and surprises that are associated with Test cricket. Having lost two consecutive series to India on home soil, the Australians will be keen to take revenge when the fourmatch series gets underway in Nagpur on Thursday.
Gavaskar spoke to The Telegraph on his thoughts ahead of the opener. The legendary opener feels despite all the talk about rank turners, it is the Aussie pace attack that could pose a "real threat" to the Indians. As hosts, Rohit Sharma's men will have an added advantage but predictions can't be made since both are "superb teams".
Excerpts...
Q: An India-Australia series is always intense, right from the build-up, and is never short of mind games, drama and controversies. What really sets it apart and contributes to such fiercely contested matches?
A: Indians have always loved the Australian cricketers since the time of Sir Don Bradman, who was possibly more revered in India than anywhere else in the world. Indians have loved the brand of cricket that the Australians played. There were only three tours (of Australia in the first 30 years) since India's Independence — in 1947, then 1967, and 1977-78, the first season of World Series cricket. Today, Cricket Australia will jump over hurdles to invite India every year if possible.Be that as it may, the third tour of 1977-78 went to the final Test with both sides having won two each and finished on the final day of the last Test with India falling short by 47 runs of the target of 493 set by the Australians. Those were not the television rating days, but there were huge crowds for every Test match and Cricket Australia realised that having India tour regularly was good business.
It was on that trip in 1977- 78 that the Indian players realised how smartly biased the Australian umpires were. All that pointing of fingers at Indian umpires, when their own umpiring was shockingly ridiculous, was like three fingers being pointed back at them. Since then there has been plenty of great series not just between the two teams, but the battle between the individual players has lifted the game to a different height.
Q: There's been a lot of talk about Australia's decision to skip tour games because green tops were offered in the past and so they preferred net sessions. Don't you think it's unfair to blame India since that's been the practice all over?
A: The funny thing is that whoever the remark was attributed to, used the words "it was probably a green pitch". Well, either it was or it wasn't. There is no 'probably' in it. If it were indeed green pitches, then it was to give the Indian batters practice against the Australian quicks, who, as always, would be the dangermen.
Q: Does this mean Aussies will be short on match practice?
A: Well, the next few weeks should provide the answer to that.
Q: Australia are coming here having won in Pakistan and Sri Lanka. Wiser by the experience, will they be better prepared to deal with the Indian conditions?
A: Yes, both those wins were very special because no team in the subcontinent is easy to beat on their home grounds. They will definitely take heart from that and try and use the experience of those wins on this trip.
Q: The first Test is always important. Whoever wins is expected to enjoy an edge but what are your predictions for the series?
A: Both are superb teams and in cricket, you cannot predict. But, as always, the home side starts with an advantage with the crowd support, awareness of ground, weather and pitch conditions.
Q: Given the conditions, can the Australian pace attack led by Pat Cummins make a difference? The Australia captain had a pretty successful Pakistan tour...
A: Yes. Cummins is a terrific bowler and, as we have seen in the past, when the Australians are successful, it is their pace attack that has done the damage. With JoshHazlewood likely to miss the first Test with an injury, the advantage could well lie with India.
Q: During their last tour in 2017, Nathan Lyon captured 19 wickets in seven innings. How much of a threat will hebe on Indian wickets given some of the Indian batters' vulnerability against spin?
A: If memory serves right, the first time he took a five-wicket haul was in the subcontinent (5/34 on debut vs Sri Lanka in Galle, August 2011). Being the top bowler that Lyon is, he will always be attacking and probing, but the real threat is likely to be the pacers.
Q: Kuldeep Yadav's transformation and consistency have been the talking point of late...
A: Kuldeep has bowled quite superbly in the white-ball game in recent times and his confidence will be very high. Eventually, every wrist-spinner has to have the confidence of the skipper and if Kuldeep has the confidence of his captain, then he could be a game-changer.
Gilchrist sees batter Green at six
Sydney: Adam Gilchrist feels Australia will play all-rounder Cameron Green as a pure batter at the No.6 spot in the first Test against India beginning on Thursday.
Green, 23, is recovering from a surgery on the index finger of his right hand.
"Such is the way of this psyche of the selectors and this team, I think they'll start with Green at six, assuming he's fully fit and not hindered by that finger injury at all," Gilchrist told Sen Radio.
"I think that's the nature of this group, they're pretty trusting of each other."
Green, who has played 18 Tests, has an average of 35.04 with the bat and impressed in the three innings in Sri Lanka last year. He has also taken 23 wickets with his seam bowling, with 5/27 as his best so far.
"The way he played in Sri Lanka, it almost looks like Green develops before our eyes every time he plays a game of cricket.
"I reckon the steps forward he took in Sri Lanka, they'll be hoping he can keep that process going."
While Green, even if he plays, will not be able to bowl, Australia will also not get the services of pacers Mitchell Starc and Josh Hazlewood in the opening Test.
PTI